BimmerWorld Welcomes Olympic Gold Medalist To Its Driver Squad for His IMSA Debut at Daytona Next Friday
January 23rd, 2017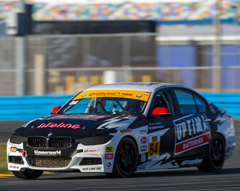 Olympic gold medalist swimmer Tyler Clary has said all along that he wanted to become a professional race car driver when his days as a world-class swimmer are over.
That dream will get a major boost on Friday. Clary is scheduled to join James Clay and Tyler Cooke as the co-drivers of the BimmerWorld Racing No. 84 OPTIMA Batteries BMW 328i in the BMW Endurance Challenge, the season opener for the IMSA Continental Tire SportsCar Challenge series, on the 3.5-mile road course at Daytona International Speedway in Daytona Beach, Fla.
BimmerWorld, based in Dublin, Va., fields two turbocharged BMW 328is (F30 chassis) in the Street Tuner class of that series, which begins 2017 with a four-hour race that supports the Rolex 24.
Clary, who won gold in the 200-meter backstroke in record time at the 2012 Olympics, tested with the team at Daytona earlier this month. He is expected to qualify the car on Thursday afternoon and then take the green flag on Friday at 12:15 p.m. for his IMSA debut.
"Tyler is a friend of Jerry Kaufman, one of our 2016 team drivers, who introduced us at Lime Rock last year, where we briefly discussed his racing goals," explained Clay, BimmerWorld team owner. "In just over six months Tyler has ramped up, proven himself behind the wheel of cars, and earned his IMSA pro license in anticipation of his Daytona debut. This is quite the amazing path, and we are excited to be part of the journey."
Clary set up a GoFundMe.com fundraiser to help raise money for his appearance. On the page, he said he fell in love with racing as a youngster while doing fundraisers for his local swim team at Auto Club Speedway in Fontana, Calif. He has competed in the Toyota Pro/Celebrity race at the IndyCar Long Beach Grand Prix, trophy trucks in the desert, Legends cars at Charlotte Motor Speedway, and Skip Barber formula cars, to name a few.
Last September he tested a Spec E46 3 Series BMW with BimmerWorld Racing at VIRginia International Raceway in Alton, Va.
Late last year he also did two multi-hour races and ended up on the podium both times.
"The first was with DriveGear Motorsports at Summit Point [Summit Point, W.Va.]; it was an eight-hour AER event where we ended up with a second-place finish," Clary said. "The most recent one was with Team LMR at Circuit of The Americas [Austin, Texas] in early December. We battled from a 24th starting position to a third-place finish."
The latter was an eight-hour World Racing League event where he drove an ex-BimmerWorld car, a former ST-prepared E90 BMW.
Clary said he also learned a great deal at the "Roar before the 24″ test at Daytona earlier this month.
"It's hard to put all of the things I learned at the Roar into a short quote!" Clary said. "It is a brand-new car to me, a brand-new track, and a different caliber of competition. I learned that Turns 3 and 5 are easy to overdrive, that Turn 6 can be questionable on exit, and that the Bus Stop has a large potential impact on your lap time if it isn't executed correctly."
In the weeks since then, Clary has been doing his homework.
"I've been watching race video and visualizing as much as possible," he said. "Also, going over the data again from the Roar is helping me remember the nuances of the track and is reminding me of where I can still make significant improvement.
"I think the key thing for me to remember going into this week is that I have a huge wealth of experience around me in James, Tyler, Greg, and Ari," he added. "I look forward to picking their brains more about strategy and mindset for my stint.
"To be competing at this iconic track with a series-leading team is a dream come true," he concluded. "I am inspired by the premise of sharing the same pavement with some of the greatest drivers that the world has ever seen. It feels great to be part of a team that is so passionate about being the best. It reminds me how powerful competition can be and how potent a group of people with the same goal is."
Recent support from Pervasive-Intel has helped make his racing debut possible, but Clary's GoFundMe page is still active for those looking to contribute.
It might seem like he is being thrown into the deep end of the pool, but he's been dreaming of this day since he was a child, even before he worked in a merchandising trailer at the races in a fund-raising effort for his swimming club.
With the experienced BimmerWorld team to help him, one gets the feeling it won't be long before he's going for gold again. This time it may be for a gold Rolex watch, though, instead of an Olympic medal.
Live video streaming and live timing and scoring will be available on imsa.com and imsa.tv. The television broadcast will be on FOX Sports 1 on a tape-delayed basis on Saturday, Feb. 11 at 11:30 a.m. All times are EST.
For more information, see TylerClaryRacing.com, BimmerWorldRacing.com, and IMSA.com.
FOLLOW BIMMERWORLD AT: https://www.facebook.com/bimmerworld
STAY UP TO DATE WITH BIMMERWORLD NEWS AT: http://www.bimmerworldracing.com
ABOUT: BimmerWorld is renowned as a leader in BMW aftermarket and tuning expertise and competes in the Continental Tire Series with a pair of BMW 328is (F30) where the Virginia-based outfit has become a routine winner and Championship contender.
Tags