BimmerWorld Announces 2017 Plans
December 9th, 2016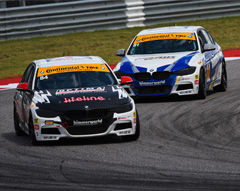 BimmerWorld Racing Principal James Clay announced today plans for the 2017 racing season. BimmerWorld will focus their efforts on the team's two BMWs with a focus to win the Street Tuner (ST) class championship in the International Motor Sports Association (IMSA) Continental Tire SportsCar Challenge series in 2017.
Clay, of Blacksburg, Va., and Tyler Cooke of Matthews, N.C., will continue to co-drive BimmerWorld's No. 84 OPTIMA Batteries BMW 328i. Stepping into the team's No. 81 BMW 328i will be two drivers from the Next Level European (NLE) program: Ari Balogh of Menlo Park, Calif., and Greg Liefooghe of San Francisco.
"We are excited about our 2017 program and we have been hard at work on it since October," said BimmerWorld Racing Principal James Clay. "We continue to spend the time we have before season start improving our BMWs even further, testing and concentrating on making BimmerWorld Racing the best we can. IMSA's Continental Tire Challenge ST class is very competitive and you have to enter the season and each race at your top form. We are going to focus on doing just that."
Although BimmerWorld's sister team, Next Level European, was a successful venture with an early victory and podium finishes, at this time Clay does not plan to field its two Porsche Caymans in the series in 2017 in order to put their full attention on the BimmerWorld program.
"We are rooted in BMW, love the brand, and I want to focus fully on our core strength.  With the Series' changes pending, including GT4 and TCR adoption, we won't build a third BMW to join the fight but instead concentrate on running the two F30s we have," Clay said. "Losing Seth and Dan for the 2017 season feels like a loss in the family, but having Ari and Greg in a BMW will be great. Ari is a BMW guy at heart, and Greg joined the team in a BMW in 2011, and both are eager to be back in the Munich car."
Although Seth Thomas, Dan Rogers, Kyle Tilley and Jerry Kaufman won't be with the Dublin, Va.-based outfit in 2017, there are already plans in the works for 2018. "With BMW's GT4 M4 on the horizon, we are already looking forward to a reunion tour after the 2017 season," Clay said.
Both current BMW cars are turbocharged and using the F30 chassis. The No. 84 finished tenth in the Continental Tire series point standings in 2016. BimmerWorld won four pole positions in 2016 and ran at the front of the field at multiple events as it developed the F30 turbo-powered platform. It delivered the car's first podium finish in the series at Sebring in March.
BimmerWorld started prepping for 2017 immediately following the 2016 season finale at Road Atlanta, where they led the most laps. They look forward to getting the 2017 season started with testing at Daytona at the Roar Before the 24 Jan. 6-8. The 2017 Continental Tire SportsCar Challenge season opener is the BMW Performance 240, a four-hour race on Daytona's 3.56-mile road course on Friday, Jan. 27 that supports the Rolex 24.
The balance of the 2017 schedule for the Continental Tire SportsCar Challenge includes: Sebring 150 at Sebring International Raceway, March 15-18; Continental Tire Challenge at Circuit of the Americas, May 4-6; Continental 150 at Watkins Glen International, June 29-July 2; Continental Tire Challenge at Canadian Tire Motorsport Park, July 7-9; Continental Tire Challenge at Lime Rock Park, July 21-22; Continental Tire Challenge at Road America, August 3-6; Oak Tree Grand Prix at Virginia International Raceway, August 25-27; Monterey Grand Prix at Laguna Seca, September 22-24; and Continental Tire Challenge at Road Atlanta, October 4-7.
FOLLOW BIMMERWORLD AT: https://www.facebook.com/bimmerworld
STAY UP TO DATE WITH BIMMERWORLD NEWS AT: http://www.bimmerworldracing.com
ABOUT: BimmerWorld is renowned as a leader in BMW aftermarket and tuning expertise, and competes in the Continental Tire Series with a pair of BMW 328is (F30) where the Virginia-based outfit has become a routine winner and Championship contender.
Tags