BimmerWorld Takes Top-5 in Season Opener at Daytona
January 28th, 2015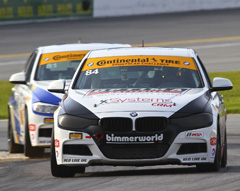 BMW experts open their 2015 Championship account with a strong run to fifth at Daytona
Round 1 of the 2015 Continental Tire Series Championship at Daytona International Speedway almost went according to plan for the BMW aftermarket and tuning experts at BimmerWorld. The team's new F30-based 3281 turbos were plenty fast as team owner/driver James Clay and co-driver Jason Briedis qualified second and finished fifth in the 2.5-hour endurance race piloting the No. 84 OPTIMA Batteries-sponsored entry.
The sister No. 81 BimmerWorld BMW 328i driven by Tyler Cooke and Andrie Hartanto was less fortunate, succumbing to fuel supply-related issues before the green flag waved. Daytona left Clay and the BimmerWorld program with a glimpse of the F30's capabilities against the opposition, and a renewed sense of determination to place both cars inside the top-5 at the next race in March.
"The F30 BMWs are going to be contenders all year, and it was good to see them come out strong at Daytona," said Clay. "I am happy that our new partners at OPTIMA Batteries had a strong finish in the No. 84 car, and personally quite satisfied with that drive, but I know we should have had the sister car right beside us, and that is disappointing. We have two months until the next round, and we won't be resting until everything is sorted."
QUOTEBOARD: Daytona Race
No. 81 BMW 328i: Tyler Cooke and Andrie Hartanto
Cooke: We didn't come out of Daytona in the ideal situation but everyone has one bad race and hopefully we got that out of the way and now we can focus forward. I'm looking forward to Sebring because I have many laps on the track and the F30 proved it was fast last year. We might not have made a lot of laps at Daytona but in the laps we did, the car proved it had the speed. Sebring will be a race for us to get back in this Championship and BimmerWorld has never been a team to settle for second.
Hartanto: In the end it is racing and stuff happens, and all I want is to represent my sponsors to the best of my ability. We will have an uphill battle from now on and can't afford any more issues. My feeling with the team is positive and I'm sure that we can bounce back. Sebring is one of the toughest tracks to learn, however, but we have more than a long break which I will use to train myself thoroughly.
No. 84 OPTIMA BMW 328i: James Clay and Jason Briedis
Clay: The track had less grip mid-corner than it had previously all weekend, and it made the corners run between gears, which was a little tough to work with. Overall though, the winter improvements in the car's handling were evident and I am very happy with a good start to the season.
FOLLOW BIMMERWORLD AT: https://www.facebook.com/bimmerworld
STAY UP TO DATE WITH BIMMERWORLD NEWS AT: http://www.bimmerworldracing.com
ABOUT: BimmerWorld is renowned as a leader in BMW aftermarket and tuning expertise, and competes in the Continental Tire Series with a pair of BMW 328is (F30) where the Virginia-based outfit has become a routine winner and Championship contender.
Tags