BimmerWorld Signs United BMW as New Sponsor for GRAND-AM Program
February 28th, 2011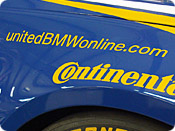 Race-winning Continental Tire Sports Car Challenge team to benefit from new parts partnership with United BMW; BimmerWorld's aftermarket business will also use United BMW's OEM components
Positive growth and momentum continues to build for BimmerWorld Racing as the four-car GRAND-AM team announced the signing of Roswell, Georgia-based United BMW as the team's official supplier of BMW OEM parts.
With BimmerWorld's expansion to four cars in the GRAND-AM Continental Tire Sports Car Challenge racing series this year, the need to keep its two production-based BimmerWorld M3s and both BMW 328is prepared with the highest quality factory BMW parts is greater than ever.
Together with United BMW's support for the 2011 racing season, BimmerWorld owner/driver James Clay says the collaboration between the two companies will compliment BimmerWorld's racing efforts and their thriving street car business.
"We are excited to have United BMW as a part of the BimmerWorld team this year. Ultimately, we are racing street-platform BMWs and having a strong relationship with a BMW dealer like United–one that is so passionate about these amazing machines–will pay great dividends. Their support and knowledge about the BMW parts we need to run our cars is a perfect resource for our team, and for our BMW parts customers as well."
With performance at the heart of everything BimmerWorld does on and off the race track, United BMW's extensive stock of BMW Performance parts will find their way into cars that pass through BimmerWorld's facility in Dublin, Virginia as well. In kind, United BMW will also benefit from BimmerWorld's impressive line of race-proven aftermarket products.
"United BMW is a very complimentary pairing for our BimmerWorld parts business," Clay continued. "Through unitedBMWonline.com, their team provides Genuine BMW Parts and Accessories, as well as BMW Performance Parts, and in the future, it will also include offerings from our BimmerWorld catalog. Similarly, we will be expanding our parts offerings to include more of the BMW Performance line and Genuine BMW Accessories. This expanded and combined effort will reach more BMW owners and enthusiasts to provide the level of product and service we are collectively known for."
United BMW's Steve Maguire says that joining forces with BimmerWorld's aftermarket and road racing businesses will help to showcase their extensive BMW catalog.
"We felt this was a perfect match for our business and the right opportunity to raise the profile of www.unitedBMWonline.com expand and increase awareness of our offerings to BMW enthusiasts across the country. We have watched BimmerWorld grow to be a leading race team competing in the GRAND-AM series, and they are always running at the front in very professionally turned out BMWs, which is important. Their business philosophy and core values are very similar to ours; deliver quality products together with a team dedicated to delivering the highest level of customer service. With our focus on promoting Genuine BMW Parts & Accessories through our website, and BimmerWorld's focus on performance parts, it makes for a perfect partnership."
The growth in popularity of the Continental Tire Series, coupled with the increase in online and linear coverage of the series, played into United BMW's decision to align itself with BimmerWorld. With all four of BimmerWorld's GRAND-AM cars carrying United BMW branding, and a heavy emphasis on the online parts solutions that they make available for BMW racers and enthusiasts everywhere, both parties expect their partnership to help serve the performance-minded BMW owner better than ever.
"United BMW Roswell, through our BMW Parts & Accessories website www.unitedBMWonline.com, has grown to be the leading BMW Dealer in the e-commerce marketplace," explained Maguire. "We wanted to expand awareness of our business to a wider audience through an exciting environment and could think of no better place than the GRAND-AM Continental Tire Sports Car Challenge series. It offers close racing in cars that are purchased right off the showroom floor, and with sensible modifications for safety and performance, uses mostly stock components that can be purchased online directly from a company like ours. It's a very appealing marketing platform."
BimmerWorld's next race–which features the debut of United BMW's branding on the fleet of BimmerWorld 328is and M3s–is March 5th in Homestead, Florida. Follow the team's progress on www.BimmerWorldRacing.com, and tune-in to watch the race on March 19th at 2 p.m. ET on SPEED.
###
Courtesy: BimmerWorld Media Services
[email protected]
More information about the team, cars, and drivers can be found at www.bimmerworldracing.com
Information on BimmerWorld's Customer Car Services can be found at www.bimmerworld.com
Details on PowerFlex Suspension Bushings can be found at www.powerflexusa.com
Tags
Tags not found
RELATED ARTICLES
Related article(s) not found