BimmerWorld Earns Top-6 Finish with Wilden and Michaelian on GRAND-AM GS Debut at Daytona
February 1st, 2011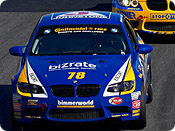 BimmerWorld's new BMW E92s show plenty of speed and reliability in first outing
The bar was set exceedingly high for the BimmerWorld Racing Continental Tire Sports Car Challenge team after nearly winning the Street Tuner teams' and drivers' championship at its first attempt. Adding two new cars to the team for 2011–to run in the bigger, faster Grand Sport class–required unparalleled amounts of work and dedication in the off-season, as two new BMW M3 V8s were transformed into GS race cars in just a matter of months.
And with a highly competitive showing at the opening round of the 2011 GRAND-AM championship last weekend at Daytona International Speedway, BimmerWorld's efforts in the Grand Sport (GS) category made for a seamless transition from one season to the next.
2009 GS driver champion Ken Wilden and his teammate Bob Michaelian drove their Bizrate.com-sponsored No. 78 BimmerWorld BMW E92 chassis to a remarkable sixth-place finish in their maiden race with the team. With the majority of the BMW E92 runners in GS armed with years of experience racing their GRAND-AM M3s, BimmerWorld's quick progress with their new GS cars impressed Wilden.
"We have a lot to do and a lot to learn with the E92, but we aren't miles off. What I like about this team is that right after the race, [team owner] James Clay called us right into the trailer and had us detail every little thing we as drivers thought could be improved. He didn't want to celebrate; he wanted to create a plan to make us faster for the next race."
Despite the team's business-like approach, Wilden rejoiced in their race result.
"Taking sixth was a great way to start the year for Bob and me. Our goal is to be in the top-6 at every round, and if we can do that, we'll have a shot at a championship."
Michaelian, a driver who is accustomed to being at the sharp end of the field, came away from their sixth-place at the GRAND-AM 200 with similar impressions.
"Kenny and I both feel like there is a huge amount of potential with the car. The fact that this was the first race for BimmerWorld in the GS class, and both cars were already very competitive gives us a lot of confidence. We know that with more work, both cars will be vying for podium finishes. The BMW E92 platform has proven that it can win races and championships. We are definitely looking forward to the opportunity to work with James and Seth to further develop the program at BimmerWorld."
Having raced and won for a well established GS team in 2010, Michaelian was quick to offer praise for the BimmerWorld team after his first race with the Dublin, Va.-based outfit.
"The overall takeaway was that we were super impressed with the operation that BimmerWorld has put together. We were able to work very closely with the crew to improve the Bizrate.com car over the weekend. The progress we were able to make over the test days and throughout the race weekend was really encouraging. The crew, strategy, and pit stops were all first rate. I don't think we could have asked for anything more in our first weekend."
The potential was also there for James Clay and Seth Thomas in the No. 79 Johnstone Supply sponsored BimmerWorld BMW E92. After posting impressive times throughout practice and again in qualifying, a penalty for body contact forced Clay to pit lane, and around a big track like the 3.56-mile Daytona circuit, losing the slightest amount of time will can ruin a race.
"We should have been right there with Ken and Bob, but we were penalized and had to accept it and move on," said Clay. "It wasn't the outcome we wanted, but we did learn a lot with both cars and seeing the No. 78 do well will only make us work harder. The GS class is just as intense as ST has proven to be, and the top cars are well-sorted and highly developed. Getting our E92s to that state is our mission in 2011, and we'll be pushing to get there as fast as possible. It will be an intense month of work until we go to the next race at Homestead."
As a veteran member of the BimmerWorld team, Thomas says he was delighted to see the hard work that went into building two new E92s pay off at the season opener.
"I won't lie and say we're where we want to be. Winning is about the only thing we'll consider as a good result, but with that being said, we have a good foundation to build from here. Ken and Bob drove their hearts out, and the BimmerWorld mechanics should be proud to get a top-6. It isn't easy in GRAND-AM. But I'm really proud of the team and our teammates. Having two great drivers like Bob and Ken makes all the difference, and these new E92s are just awesome.
"The build quality is like nothing I've seen, and they still have that BimmerWorld DNA. They brake better than anyone out there, and we're going to get the handling to that level too. Just give us some time. I'd say we exceeded expectations for our first GS race, and the cars were 100 percent reliable. Everyone huddled up after the race to brainstorm on our next steps to move up the finishing order, and all of our partners and sponsors are right behind us pushing like crazy to get us into Victory Circle. We'll get there. I'm as confident of that as I've ever been."
BimmerWorld races with unrivaled support from key business partners. Learn about them by visiting Bizrate.com, CRC Industries, Escort Inc., GearWrench and Johnstone Supply.
Tune into SPEED on February 5th at 3 p.m. ET to watch the race broadcast, and follow BimmerWorld's progress as they ready themselves for Homestead-Miami by visiting www.BimmerWorldRacing.com.
###
Courtesy: BimmerWorld Media Services
[email protected]
More information about the team, cars, and drivers can be found at www.bimmerworldracing.com
Information on BimmerWorld's Customer Car Services can be found at www.bimmerworld.com
Details on PowerFlex Suspension Bushings can be found at www.powerflexusa.com
Tags