BimmerWorld Set For Daytona IMSA Season Opener With Turbocharged BMWs
January 27th, 2016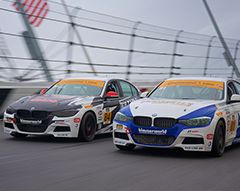 Two years of steadfast development for the BimmerWorld-build turbocharged F30 (328i) platform has the BMW aftermarket and tuning experts prepared for an exciting season of IMSA Continental Tire Series Championship action.
Coming off a strong pre-season at Daytona International Speedway earlier this month, the Virginia-based team returns to the famed Florida circuit to kick off 2016 with the No. 81 BimmerWorld BMW F30 driven by newcomers Jerry Kaufman and Kyle Tilley, and the No. 84 OPTIMA Batteries BMW F30 piloted by team owner James Clay and young series veteran Tyler Cooke.
Drawing from BimmerWorld's extensive efforts to shape the turbo F30s into race-winning packages during the 2014-2015 IMSA Championships, Clay is confident the team's developments, which also filter down to its customers, will have the BimmerWorld BMWs vying for a title at the end of the year.
"This F30-platform BMW with the 4-cylinder N20 motor has taken a bit of work to dial in for racing, but after this winter's extensive work I feel like we have tremendously improved if not completely resolved the nagging issues.  The car was competitive and fast last year and we are all ready to see it win!" Clay said.
Clay is also keen on the evolution of its driver pairings, and the progress made by BimmerWorld's experienced mechanics and engineers with the new season about to start.
"I am excited to race with Tyler and have that level of experience to dial in our car, and Jerry and Kyle are a great addition to the team and will hit the ground running," Clay continued. "The crew was off to the best start ever at the recent test in our 14 years of pro racing starts, and while preparation is everything in racing, we clearly have a team of guys that will be able to dig in and make luck when we are coming up short. I am pumped for the year."
With racing serving as the arena for BimmerWorld to test and finalize new aftermarket components for its clients, Clay is also proud to have the start of the IMSA season coincide with the launch of a new BimmerWorld.com website where BMW owners can find the company's extensive array of performance tuning products.
"Our BimmerWorld performance BMW parts business, and all the tremendous customers that support us in that business, are what keep us on track and enable us to develop and race these new BMW platform cars," he said. "We have been hard at work for the last two years and are celebrating the launch of our new BimmerWorld.com website this month.  We invite our fans, and all BMW owners, to check out the new site's capabilities and offerings – we have a lot of excitement on all fronts this season at BimmerWorld."
For the No. 81 driving tandem, the chance to test at Daytona before the big race was a huge help, and with the spectacle of endurance racing descending on the legendary track, both drivers anticipate memorable experiences on their Daytona race debuts.
"The test is a fantastic event because Daytona can be an intimidating venue to race at," Kaufman said. "Track time at the test was pretty limited, so it was critical to get up to speed quickly and make sure the car setup will work for the long race stints.  Coming back to Daytona for the race is beyond exciting.  The fans are truly terrific, and I'm thrilled to finally race in front of such a great crowd."
"I am incredibly excited to be part of the race weekend!" Tilley added. "I can't wait to get out on track Wednesday! At the test, we spent the time working through some items we had with the car, as well as adapting our respective driving styles to suit the F30 platform. Jerry and I have had some time to analyze video and data, and I think come race day we will see a big improvement."
For Cooke, moving up to race once more with Clay is a perfect fit for one of IMSA's burgeoning talents. With a race-winning co-driver, and the support of OPTIMA Batteries with the No. 84 BimmerWorld BMW F30, Cooke believes his fourth year with the team will be his best.
"It's been great learning throughout the three years I've been with BimmerWorld to become the driver I am today," he said. "James and the rest of the team have really helped me to develop into a more professional driver and now running with James I feel we are going to be a tough car to beat.
"Running at the test a couple weeks ago showed we both had a lot of the same feedback and ran similar times to each other. From all the offseason development BimmerWorld has done, and with James being a very fast driver with lots of knowledge, we are going to be a strong car this year."
FOLLOW BIMMERWORLD AT: https://www.facebook.com/bimmerworld
STAY UP TO DATE WITH BIMMERWORLD NEWS AT: http://www.bimmerworldracing.com
ABOUT: BimmerWorld is renowned as a leader in BMW aftermarket and tuning expertise, and competes in the Continental Tire Series with a pair of BMW 328is (F30) where the Virginia-based outfit has become a routine winner and Championship contender.
Tags