BimmerWorld Ready To Kick Off Strong GRAND-AM Championship Run At Daytona
January 22nd, 2013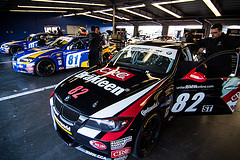 Virginia-based BMW experts head into their fourth season of Continental Tire Series competition with proven cars, a dynamic driver lineup and a thirst to claim the Street Tuner title
With three years of remarkable wins and a steady presence at the front of the championship standings, BimmerWorld Racing is pushing harder than ever to make 2013 the year it claims the driver and team Championships in GRAND-AM's Continental Tire Series.
Known for its unrelenting approach to the sport, the James Clay-owned team spent the off-season in familiar fashion as each of its three BMW 328is were stripped bare, analyzed, optimized and reassembled. Tweaks were also made to a number of procedures, practices, and BimmerWorld's 3-car driver lineup also underwent a few changes that should benefit the program as a whole.
Now, with the big "Roar Before The 24" test behind them and the season-opening round set to take place this Friday at the famed 3.56-mile Daytona International Speedway, the veteran Continental Tire Series team is ready to fight the other cars in the packed Street Tuner (ST) class as the 11-race championship kicks off in Florida.
"This will be BimmerWorld's fourth year in the ST class and with these cars, and the transition into 2013 at the Roar Before The 24 was as smooth as ever," said Clay. "We have done a lot of work over the offseason on the cars and equipment and have a few additions to the driving roster, and our winter development program showed well and everyone dug in to get to work quickly.  Even though I felt we were very prepared, the guys in the shop have been working tirelessly up until we left for the event, but that is the level of preparedness that we feel will bring us the result we want this year – a Championship."
Clay, who's been a staple in professional touring car racing for the past decade, won't be donning his suit and helmet to drive at Daytona, nor will his rapid teammate John Capestro-Dubets. After making the decision to develop BMW's brand-new 3-series platform at select ST races this year to prepare for an all-out assault in 2014, Clay and "JCD" will switch gears and add their experience to BimmerWorld's effort behind the scenes at Round 1.
"The new BMW F30 328i I am sharing with JCD isn't yet ready and fully tested, and that is the only way we are willing to run it," Clay confirmed.  "So instead of racing this weekend, JCD and I will be assisting the rest of the team to bring success.  Both of us work with clients for driver coaching on non-pro weekends, so a couple of pairs of experienced eyes on data, video, and during sessions should help the effort.  At BimmerWorld we operate as a team and if we can't be driving, we will be contributing to the team where we are best suited."
Clay's trio of race-winning BMWs won't have it easy this weekend—or at any ST event in 2013—but there's every reason to feel optimistic about what the close-knit team can achieve, starting with the new driver combo in the No. 80 BMW 328i.
"I learned a lot in the 'Roar' and was unfortunately too ill to drive in the last day of the test because I had the flu, but I did learn that the balance, braking and wet weather ability of the car was excellent," said Greg Strelzoff, who will partner with Connor Bloum this season.
"I'm eager to continue to make forward steps as we get closer to my first race with the team, and I am very excited to race with BimmerWorld and my teammate Connor, and hope we exceed the goals we have set for ourselves."
Tyler Cooke, the BimmerWorld newcomer who will share the No. 81 BMW 328i with team veteran and tin-top ace Gregory Liefooghe, heads into the season with high expectations as an ST sophomore.
"I'm very confident that we can start up front," he said. "I started a couple races last year and stayed in the top 10 in my stint. Greg is definitely a pro, and he can get the job done to finish the race on top."
The No. 82 BimmerWorld BMW entry of Dan Rogers and Seth Thomas remains unchanged for 2013, and coming off a season where they achieved the highest of highs by winning the ST race at Indianapolis Motor Speedway, Rogers says he and Thomas will be aiming for more wins while seeking more consistent finishes throughout the year.
"Seth and I have been talking all winter and working on plans for the upcoming season," Rogers explained.  "The plan is largely the same as last year: Qualify well, stay out of trouble, and shoot for a top 5 finish.  Consistency and staying out of other people's problems is the key to a successful season in ST.
"We have also been working on some improvements in execution.  For me personally, that means improving my qualifying position.  We're hoping this translates into spraying some more champagne at the end of January, and throughout the season!"
Follow BimmerWorld's progress this week at Daytona atwww.BimmerWorldRacing.com, and tune in to watch the race when it airs on SPEED in February.
Tags