BimmerWorld Racing Was In Line for Two Great Finishes Until the Tide Turned at Road Atlanta
October 10th, 2017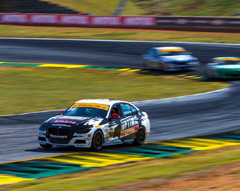 If Friday's two-hour season finale of the IMSA Continental Tire Sportscar Challenge series had been just 12 minutes shorter, BimmerWorld Racing would have finished the season with a podium and a top-five finish in the Street Tuner (ST) class with its pair of turbocharged BMW 328is (F30 chassis). Unfortunately, the tide changed drastically for the Dublin, Va.-based team in the late stages of the race, with one car in a gravel trap and another hard into a concrete wall rimming the 2.54-mile, 12-turn road course near Atlanta.
The No. 84 OPTIMA Batteries BMW of team owner James Clay of Blacksburg, Va. and his co-driver Tyler Cooke of Matthews, N.C. was in third when it ended up in the wall on what should have been a final restart. Luckily, Cooke escaped injury in a crash that he said was "probably one of the bigger hits I've ever been involved in."
The team's other ST car, the Powerflex No. 81 driven by Ari Balogh of Menlo Park, Calif. and Greg Liefooghe of San Francisco, was fifth with 12 minutes to go when it pitted due to a leaking oil line. Liefooghe returned to the fray, but when the ABS system failed with 8 minutes remaining, he ended up in a gravel trap adjacent to Turn 6 that brought out the caution that set up the disastrous restart with two minutes to go. That restart resulted in the concertina accident that sent Cooke's BMW hard into the wall off Turn 10, and the race finished under that yellow.
The finish was a stark contrast to how well things started. Clay qualified second and ran in that spot until he was pushed back to third right before the first yellow. He regained second on lap 23 and the race strategy seemed to be going in the team's favor when Clay pitted for the driver change with 65 minutes remaining. Cooke was in third for the restart on lap 41 with 45 minutes remaining, and he led laps 42 and 43 after passing Tom Long. The Nissan that eventually won passed him at that point, but Cooke stayed in second until he and Long had a little contact that pushed Cooke back to third, where he remained until the violent finish.
The No. 81 contingent had a lot to cheer about for most of the race. Balogh qualified seventh and ran in the top-10 throughout his stint, doing his best to save the car for Liefooghe's ending push. Balogh was as high as fourth at one point. Liefooghe was in sixth for the restart with 45 minutes remaining and up to fourth with 19 minutes remaining before slipping back to fifth right before pitting due to the leaking oil line.
Clay and Cooke ended up 12th in the race and sixth in the final ST driver point standings. Balogh and Liefooghe were credited with a 14th-place finish in the race and in the championship. The No. 84 ended the season in sixth in the ST team standings and the 81 was 13th. The No. 84 also won the VP Fuels Front Runner Award, while the No. 81 tied for third in those standings.
The race will air on FOX Sports 1 on Sunday, Oct. 15 from 7 a.m. to 9 a.m. Eastern.
James Clay, team owner and driver, No. 84 OPTIMA Batteries BMW 328i (F30 chassis): "During the restart, we just reached the acceleration point, and I guess we accelerated when the leader did. It's a little tough when you've got guys behind you that accelerated 100 feet earlier. Two teammates got together, and that's silliness that didn't need to happen. It's unfortunate for them, and it's certainly unfortunate for us because we were running a great race. We're not happy with the result, and this is especially tough at the end of the year. There's going to be somebody who wins, and we're not those guys."
Tyler Cooke, driver, No. 84 OPTIMA Batteries BMW 328i (F30 chassis): "I had a pretty good stint, but the car started to fall away really bad towards the end of the race. I was actually just happy to get this restart because I saw Owen [Trinkler] slowly coming back to us, and I knew the Audi was going to battle with him. If we could've got in front of Owen, we could've possibly got second in the championship.
"It's such a bummer because the guys worked so hard. We had a really rough week and they'd been working on that car nonstop. They finally got it good, and we had a car that could've possibly won. We could've walked out of here with a good result, and if we had beat the [No.] 73 Mini, James would've gotten a trophy for the most poles, so it was definitely a heartbreaker. And it was definitely a big hit. Probably one of the bigger hits I've ever been involved in."
What happened there at the end?
"It looked like the Nissan accelerated and then slammed on the brakes, and we're all coming up behind while accelerating. I just talked to Tom Long who was in the [No.] 27, and he said he was in fourth gear. I mean, he was committed there. We were going green and he slammed on the brakes, so we had a traffic jam. Andrew in the 26 got hit really hard and got slammed into me. I guess he drove over the side of my car, and that's what ended the race. It would've been one lap to the checkered flag, so it's just a bummer. That's not how we wanted to retire the car, but we get to focus on the M4 now. It's just a bummer for the team. But you know what, hats off to the team; they busted their butts."
Greg Liefooghe, driver, No. 81 Powerflex BMW 328i (F30 chassis, which he shares with Ari Balogh of Menlo Park, Calif.): "The day was really good; it was definitely our best race of the season by far. Ari had a breakthrough in qualifying and raced really well, so we're super happy about the progress we've made this season with him. The car was actually the best it's ever felt, so it's almost like we need to have a few more races on it. But the guys did a great job; the car was just awesome. We didn't have the pace of the Nissan, but I think we had the fastest cars after that, so it was just a great effort from the whole team."
What happened at the end?
"We had an oil leak and fixed it, and then my ABS failed. That's how I ended up in the gravel trap."
FOLLOW BIMMERWORLD AT: https://www.facebook.com/bimmerworld
STAY UP TO DATE WITH BIMMERWORLD NEWS AT: http://www.bimmerworldracing.com
ABOUT: BimmerWorld is renowned as a leader in BMW aftermarket and tuning expertise and competes in the IMSA Continental Tire Sportscar Challenge series with a pair of BMW 328is (F30), where the Virginia-based outfit has become a routine winner and championship contender.
Tags