BimmerWorld Racing Looks to End the Season on a High Note at Road Atlanta
October 3rd, 2017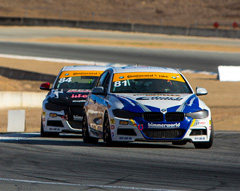 BimmerWorld Racing and the other IMSA Continental Tire Sportscar Challenge teams are looking forward to a great finish to the 2017 season during their last race of the year on Friday afternoon, Oct. 6 at Road Atlanta in Braselton, Ga.
The race supports the Motul Petit Le Mans IMSA WeatherTech Sportscar Championship race the following day.
The Dublin, Va.-based team will field two turbocharged BMW 328is (F30 chassis) in the 18-car Street Tuner (ST) class for the two-hour Fox Factory 120. The ST cars will be joined by 13 Grand Sport (GS) cars on the 2.54-mile, 12-turn road course.
Team owner James Clay of Blacksburg, Va. and his co-driver, Tyler Cooke of Matthews, N.C., are in a three-way tie for third in the team point standings with their OPTIMA Batteries No. 84. Ari Balogh of Menlo Park, Calif. and Greg Liefooghe of San Francisco will share the team's Powerflex BMW No. 81.
Two practice sessions will be held on Thursday, Oct. 5 at 9:50 a.m. and 2:10 p.m. A third practice session will be held at 8 a.m. on race day prior to ST qualifying at 8:30 a.m. and GS qualifying at 8:45 a.m. An open-grid fan walk is slated for 12:55 p.m. to 1:40 p.m. before the 1:50 p.m. green flag.
Live video streaming and live timing and scoring will be offered on imsa.com and imsa.tv. from 1:40 p.m. to 3:50 p.m. The race will also air on FOX Sports 1 on Sunday, Oct. 15 from 7 a.m. to 9 a.m. All times are Eastern.
Since this is the last race of the year, do you think drivers take more chances than usual? The mindset of some seems to be to throw caution to the wind in the hopes for a great finish, knowing that there is time to repair the car over the winter. Do you feel this way?
James Clay, Blacksburg, Va., team owner and driver, No. 84 OPTIMA Batteries BMW 328i (F30 chassis): "I'm sure some will take more chances for that win or good finish, and some will take fewer to retain a championship position. We're currently tied for third and not able to hit the top spot, so for me, the focus is closing out this season and our ST program as we move to GT4 next year with a win — which may mean we take a few chances to get there."
Tyler Cooke, Matthews, N.C., driver, No. 84 OPTIMA Batteries BMW 328i (F30 chassis): "Yes, this race usually has more contact. The drivers who aren't in the championship want to finish the year with a good finish. The drivers who are in the championship, like us, have to take the chances but also drive smart at the same time."
Greg Liefooghe, San Francisco, driver, No. 81 Powerflex BMW 328i (F30 chassis), which he shares with Ari Balogh of Menlo Park, Calif.: "I don't know that any drivers would take more or less risk than usual unless there is something valuable at stake like a championship for some, a win for others, or the last chance to prove what you have before the end of the season. The last half of the season has been very enjoyable. It's no secret that IMSA is moving on and ST is not going to live long past 2018. It's been very cool to see everybody running their cars full tilt, not worrying about BOP."
Why is Road Atlanta a good track to host the season finale?
Tyler Cooke: "Because it has the long history of the Petit Le Mans and brings out fans from all over. It's a track the separates the boys from the men and allows for a good show."
Greg Liefooghe: "Road Atlanta is fun and rewarding to drive. The races end up always being super tight because of the long back straight that allows for drafting."
Fuel mileage and tire wear seem to always be key factors to success in this series. What can you do as a driver to save fuel and tires at Road Atlanta?
James Clay: "The first half of Road Atlanta has a lot of part throttle, so managing that in traffic can help fuel consumption. Tires are almost always an issue here because of the heat, and this year seems to be more of the same."
Tyler Cooke: "Rolling speed through the corner will allow us to save fuel and not spinning the tires off the corner will allow us to keep the tires under us."
Greg Liefooghe: "It will be interesting to see what kind of tire wear the new pavement at Road Atlanta will produce. We know there will be some tough contenders there with the Audi and Nissan being so quick on the straights, so I'm not sure we'll have the luxury of saving fuel."
What will you do in the couple of months that there are no races? Do you have anything special planned?
James Clay: "Of course — more racing! I'll be with friends at the 25 Hours of Thunderhill in December again, and our GT4 M4s will come in this fall, which will require testing."
Tyler Cooke: "Remodeling the kitchen at my place, doing some work around the country, and practicing on my simulator. Spending time with family is a big priority."
Greg Liefooghe: "The two-month off-season tends to be really busy. We have some endurance races here and there and testing to prep for the next year. Daytona is right around the corner for everybody."
No matter where you end up in the point standings, what were some of the big takeaways you had from the 2017 season?
James Clay: "The biggest accomplishment we've had this year, no matter how the season ends, is finally reaching the point in these F30 328i BMWs that we have reliable and strong race cars. Developing these technically advanced cars has been a monumental effort, both in money and effort expended, and it's been brutal at times for everyone involved. As I look back on our record with not a single DNF to date and some pretty solid finishes, I'm really proud of our team and partners that got us here and the fact that we've been back to running a proper race team instead of constant development and money hemorrhage."
Tyler Cooke: "How far we came from last year. Last year we were really far down in the points and had many failures. This year we've been right there for most of the year and now have a chance to finish on the championship podium."
Greg Liefooghe: "Although we've lacked a bit of success, we've had a car that was capable to run up front at most of the races. Ari has been making great strides throughout the year, and he's had some really good races, including the last one at Laguna where he was super quick for his whole stint. So the big takeaway from this year would be our progress."
Is there anyone in particular that you'd like to thank for their efforts this season?
James Clay: "Everyone involved with our team this season has been a tremendous help, especially the BimmerWorld staff that has worked both at the shop and at events tirelessly to get our cars to this point, and it would be almost unfair to single out people from a group that has all put forth so much effort."
Tyler Cooke: "The whole BimmerWorld team. I can't single out anyone because if it wasn't for everyone working as one we wouldn't be in the position we're now. They deserve most of the credit."
Greg Liefooghe: "It's hard to point out a particular person, as the whole team is working together for a common goal. James Clay did an unbelievable job leading the team and making the fastest 328i in the world. If only people knew how much work was involved in this project, I think they would be amazed at the technical knowledge that BimmerWorld applied to making these cars just run reliably, let alone run at the front."
This is the last race of the year, which means that it's also the race before the series' most important race of the year, the 2018 season opener at Daytona. Do you have any plans for 2018 that you can divulge?
James Clay: "We have already indicated previously, but we are full speed ahead on a GT4 program with the BMW M4. We should have the first of our cars soon, and we're eager to get testing!"
FOLLOW BIMMERWORLD AT: https://www.facebook.com/bimmerworld
STAY UP TO DATE WITH BIMMERWORLD NEWS AT: http://www.bimmerworldracing.com
ABOUT: BimmerWorld is renowned as a leader in BMW aftermarket and tuning expertise and competes in the IMSA Continental Tire Sportscar Challenge series with a pair of BMW 328is (F30), where the Virginia-based outfit has become a routine winner and championship contender.
Tags