BimmerWorld Racing Charges to Mosport in GS Points Lead for MICHELIN Pilot Challenge
July 3rd, 2019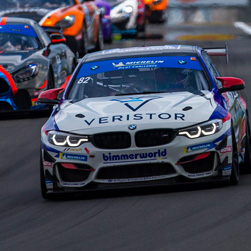 The BimmerWorld Racing team from Dublin, Va. charges into the next round of the 10-race IMSA MICHELIN Pilot Challenge series in the Grand Sports (GS) points lead.
Round five of the 10-race series will be the Canadian Tire Motorsports Park 120 for the IMSA MICHELIN Pilot Challenge two-hour race on Saturday, July 6 at the 2.459-mile, 10-turn Bowmanville, Ontario, Canada road course.
Team owner James Clay of Blacksburg, Va. and teammate Devin Jones of Mooresville, N.C. drive the No. 82 OPTIMA Batteries/Veristor BMW M4 GT4 for BimmerWorld Racing. The duo is tied for the lead in driver's points and leading in points for the GS class after finishing second at Watkins Glen International in an exciting fight to the finish last weekend. Clay departed from the track immediately after his stint to compete in the annual Pikes Peak International Hill Climb, where he finished an impressive sixth in the Time Attack 1 class in the No. 36 BimmerWorld Racing 2018 BMW M4 GT4.
In previous IMSA races this season, Clay and Jones finished ninth at Mid-Ohio, second at Sebring International Raceway, and fourth at Daytona International Raceway in January. Holding onto the points lead is their goal this weekend and for the remaining six races.
Last year, Jones took the pole with a new track record in the former Street Touring (ST) class in the No. 81 BimmerWorld Racing 328i and followed up with a class victory with former BimmerWorld teammate Nick Galante. Along with the team's second-place finish last weekend, Jones also set a new track record for fastest lap at Watkins Glen International during that thrilling four-hour race.
Practice for the CTMP 120 on Friday, July 5, at 10:00 a.m. for a one-hour session and from 3:05-3:50 p.m. Saturday has a practice session at 9:15 a.m. for 15 minutes then leads immediately into qualifying with the GS class following TCR at 10:00 a.m. for 15 minutes. The open-grid fan walk begins at 1:00 p.m. The field will warm up its Michelin tires at 1:45 p.m. and the race is scheduled to start at 1:55 p.m.
The event will be streamed live on imsa.tv, and there will be live timing and scoring on imsa.com. The race will be broadcast on NBCSN from 3:00-5:00 p.m. on Tuesday, July 16. All times are Eastern.
Pre-race quotes follow
James Clay, Blacksburg, Va., team owner and driver, No. 82 OPTIMA Batteries/Veristor BMW M4 GT4:
You just came out of a whirlwind week of going back and forth between Pikes Peak and Watkins Glen. Now you are jumping right into another IMSA race in Canada. Have you caught your breath yet, or are you running on pure adrenaline?

"The pace has actually been quite fun. I touched down at home for about 20 hours, and if anything, it's a little tough for me to dial it back right now—which seems like the right mindset to be in."

You and Devin had a strong drive at The Glen and catapulted yourself back into the GS championship lead with your second-place finish. This class is very competitive, so how do you plan to stay on top for the remaining six races?


"I don't think anyone could plan for that, and while I know we're happy to be in the position we're in, there's a lot of racing ahead. As always, we'll do our best and the team is super on it. No secrets—just hard work and focus."
Mosport is a very fast flowing circuit. Do you think your BMW M4 will have the speed, coupled with the Performance Friction Brakes package to master the circuit this year?

"Fingers crossed, but this is one of my absolute favorite tracks in the world, and I think we punch a little above our weight class here typically. With where the car sits currently, I think we should be in a decent spot. We may lose some power due to BoP after our recent performances, but we have the handling dialed in, and the PFC brakes at this track play a critical role."
Devin Jones, Mooresville, N.C., driver, No. 82 OPTIMA Batteries/Veristor BMW M4 GT4:
You captured the pole at Mosport last year in the ST class. What will it take to repeat that in the GS class this year?


"Mosport is probably my favorite track. It seems to really suit my driving style, and I just enjoy racing there. We had a great run last year in the ST car, but the GS class is always super competitive. However, I think we can carry our momentum from Watkins and hopefully put together another strong performance this weekend."
How do you like the fast flowing Mosport circuit? What's your favorite part?

"I love the fast, old-school nature of the track. Every corner flows right into the next, and the elevation change makes this track truly amazing. I can't pick a certain corner—I just love the whole place."
You and James are now back on top in the GS championship points battle after a strong run at The Glen. With six more races to go, how do you plan to stay on top?

"There's still a long way to go this season, and the next batch of races are going to be really important to set the tone for the finishing stretch. We'll just have to stay focused on agenda and taking the schedule race by race."
FOLLOW BIMMERWORLD AT: https://www.facebook.com/bimmerworld
STAY UP TO DATE WITH BIMMERWORLD NEWS AT: http://www.bimmerworldracing.com
ABOUT: BimmerWorld is renowned as a leader in BMW aftermarket and tuning expertise. It competes in the IMSA MICHELIN Pilot Challenge series in the Grand Sport (GS) class with a BMW Motorsport M4 GT4, where the Virginia-based outfit has become a winner and championship contender. It was also the Street Tuner champion of that series in 2018. 2019 also marks BimmerWorld Racing's return to the SRO TC America Championship in the Touring Car (TC) class with two BMW Motorsport M240i Racing cars.
Tags