BimmerWorld Racing Captures Podium Finish at VIR in Unpredictable Race
August 26th, 2019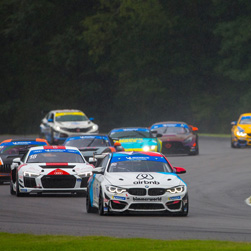 The Virginia is for Racing Lovers Grand Prix for the IMSA MICHELIN Pilot Challenge two-hour race at VIRginia International Raceway was filled with mayhem. Four full-course cautions brought about unpredictable lead changes due to numerous accidents between leading cars, and the on-and-off rain around the 3.27-mile circuit only intensified the bedlam.
With solid driving and a bit of luck on their side, the No. 80 BimmerWorld Racing/Airbnb BMW M4 GT4 of Ari Balogh and Mike Sheen was able to take advantage of the dynamic situations. Their third-place result in the Grand Sports (GS) class gave them their first podium finish of the season in their first co-driving effort.
Unfortunately for BimmerWorld's team owner/driver James Clay and co-driver Devin Jones, the No. 82 BMW M4 GT4 was caught up in the madness. Just three laps before the race finish, a Mercedes-AMG driver hit the BimmerWorld car, causing them to spin and resulting in a broken rear suspension which ended their race and greatly reduced the team's overall points standing.
Again this season, rain conditions were a major factor in the outcome of today's race as many drivers befell to the changing conditions.
Qualifying was canceled due to weather, so the starting grid was set based on points. That resulted with Clay starting on the front row, second in class, and Balogh starting in 24th.
The first caution came out on Lap 4 when rain caused the first off-track excursions as a McLaren and Mercedes-AMG collided hard. By that point, Balogh had already charged his way up 10 spots into 14th overall while Clay maintained his runner-up spot.
IMSA officials were able to open Pit Lane while the safety car stayed out, allowing teams to change to rain tires if they so desired. The green flag was displayed nearly 40 minutes in with the No. 82 BMW M4 GT4 in fourth place and the No. 80 in eighth after both entries had taken advantage of tire-change pit stops.
With just 45 minutes remaining, both BimmerWorld cars pitted for driver changes and new tires. Jones replaced Clay in the cockpit, while Skeen replaced Balogh. Skeen soon found himself wedged between the TCR class leaders as he fought for position before a second full-course caution came out. The top 16 GS cars were all on the same lap with just 10 laps remaining, and approximately 20 minutes left in the race.
On the restart, the two leaders collided and went off track, causing the third full-course caution which lasted only two laps. On the restart from that caution, Jones, running sixth in the scrum, was jostling for position when a Mercedes hit him at Turn 5 and spun the No. 82 BMW M4 off-track, breaking the rear suspension and bringing out the fourth and final caution of the race with just three minutes to go.
The final restart was run in tandem with the white flag, setting up a one-lap shootout. The leading Porsche went a bit too deep into Turn 1 and made contact with the second-place McLaren, causing him to spin. This brought Skeen up into fourth for the checkered flag.
Although the Porsche crossed the finish line in first, a post-race penalty was assessed for the last-lap incident, and the win was awarded to the second-place Ford. This elevated the Skeen/Balogh BMW M4 GT4 entry to third place, giving Skeen his best MICHELIN Pilot Challenge finish while Balogh matched his previous best finish. The 19th-place finish for Clay and Jones moved them down to third in the GS points championship, 29 points out of first with two races remaining.
The VIR MICHELIN Pilot race, the Virginia is for Racing Lovers Grand Prix, will be televised tape-delayed on the NBC Sports Network on Sunday, Aug. 25 at 1:30 p.m. Eastern time.
The next and penultimate round of the MICHELIN Pilot Challenge series will be the WeatherTech Raceway Laguna Seca 120 at WeatherTech Raceway Laguna Seca in Laguna Seca, Calif. on September 13-14.
Post-race quotes follow
Mike Skeen, Charlotte, N.C., driver, No. 80 BimmerWorld/Airbnb BMW M4 GT4:
"The whole weekend has been awesome, but surely the last few minutes of the race were hectic. I didn't know if we were going to be able to finish under green with the conditions and the timing, but I'm really happy we could move up a few more positions and put the car on the podium. Ari did a killer job to drive it from the back and get the BMW up into the hunt. Then I just tried to finish it off from there."
James Clay, Blacksburg, Va., team owner and driver, No. 82 OPTIMA Batteries/Veristor BMW M4GT4:
"We knew it was going to be a crazy day. It seems weather has affected every race this year. We weren't as good as I'd hoped in the wet. Unfortunately, that shuffled us down a little bit. Devin was making up a couple of spots before he got drilled early on, and then we had a little bit of a handling problem after that. Then it started raining again, and everyone wanted to be on the top step with the final lap restart. Ultimately, we got taken out by one of our competitors.
"Certainly, I'm not thrilled with the results of our race, but as a team owner, I'm thrilled for our No. 80 car. They drove a great race, ended up on the good side of the luck out there today, and capitalized to bring home a very solid result for the team!"
Devin Jones, Mooresville, N.C., driver, No. 82 OPTIMA Batteries/Veristor BMW M4 GT4:
"Starting from the beginning of the weekend, it was great to be here at VIR, a home race for us. We have a lot of friends and family that come out for this one, so we always want to try to do well. We didn't have quite the pace we wanted in practice, but we were pretty optimistic about it going into the race. The first part of the race, our pace seemed pretty good; we were on par with everybody. James did a great job at the beginning in another race with mixed conditions of dry, rain, then dry again.
"I got in the car and it seemed like we were in a pretty good spot, able to work our way up to sixth. I knew those last restarts were going to start to get crazy. A lot of guys started driving a little bit over their head, trying to make something happen. I probably got hit four times in this race, which I think is more than I've gotten hit all year, so that was frustrating. Then the No. 35 car finally finished us off and really drilled us pretty hard, which was unfortunate to have happened. Overall, a big bummer because it set us back in the points, but we have to keep marching forward and try to make the best of the next two races for everybody who supports us. We'll try to finish the year out strong."
FOLLOW BIMMERWORLD AT: https://www.facebook.com/bimmerworld
STAY UP TO DATE WITH BIMMERWORLD NEWS AT: http://www.bimmerworldracing.com
ABOUT: BimmerWorld is renowned as a leader in BMW aftermarket and tuning expertise. It competes in the IMSA MICHELIN Pilot Challenge series in the Grand Sport (GS) class with a BMW Motorsport M4 GT4, where the Virginia-based outfit has become a winner and championship contender. It was also the Street Tuner champion of that series in 2018. 2019 also marks BimmerWorld Racing's return to the SRO TC America Championship in the Touring Car (TC) class with two BMW Motorsport M240i Racing cars.
Tags