BimmerWorld Makes an Amazing March to Take 2nd and 6th at VIR
April 26th, 2010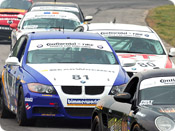 Overcoming a massive practice crash, quickly preparing a new car, and a daring race strategy call were just a few of the highlights on the way to an amazing finish at the team's home track.
Dublin, VA
The two BimmerWorld/Gearwrench cars started back in the field but strategy, consistency and some luck led to a strong finish.
Due to contact on Thursday's test day, the #80 BimmerWorld/GearWrench car was out of commission. Luckily, RRT Racing came through with a backup car for the weekend.
If BimmerWorld's maiden season in the GRAND-AM Continental Tire Sports Car Challenge was the subject of a reality show, viewers of the series would agree that each episode keeps getting better and better.
For starters, the opening episode at Round 1, held at Daytona International Speedway, produced an amazing finish of second-place for the #81 BimmerWorld/GearWrench BMW E90 driven by Seth Thomas and Bill Heumann.
Episode Two, at the Miami-Homestead circuit, brought the BimmerWorld/GearWrench team slightly down to Earth, as the #81 took fourth and the #80 BMW E90 of James Clay and David White finished in seventh-place.
Episode Three at Barber Motorsports Park held early promise when David White earned his first career series pole position, but with the track configuration playing right into the hands of their rivals, the team was forced to settle with a fifth and sixth-place finish with their two-car assault.
Episode Four, held last weekend at Virginia International Raceway — the home track for Dublin, Va.-based BimmerWorld — had a season's worth of drama and excitement packed into a single event.
Records will show that the #81 of Thomas and Heumann earned another podium with a second-place finish, and that Clay and White's #80 landed in sixth-place, but how the two cars arrived at their respective finishing positions hardly went according to the script.
We'll begin with the #80, which started out on Thursday as BimmerWorld's usual #80 BMW E90, but come Saturday, Clay and White were still racing the #80, but not the #80 owned by BimmerWorld. Huh? What?
"We nearly destroyed the #80 car on the Thursday test day when an inexperienced driver took me out, and I ended up backing our car into the wall at over 100mph," said Clay. "It was extremely disappointing to me to come into the race I was most looking forward to this season and have something this silly and pointless happen, and as much as I hate to make a mistake, I think it is even worse to know I was a passenger with no control or fault for the whole chain of events."
A deal was quickly made with the RRT Racing team to rent their BMW E90. With the usual camaraderie and spirit within the GRAND-AM paddock, RRT aided BimmerWorld's immediate needs and with the 'surrogate' E90 in hand, BimmerWorld's peerless team of technicians began the foreboding task of 'BimmerWorld-izing' the RRT E90 to their specification.
"We got the RRT car at 4 AM Friday morning, went over it and then teched it as the #80," Clay continued. "RRT handed us a solid car, but every team has their own way of doing things, so Jason Marks and the rest of our crew went to work on it making it like the BimmerWorld car we are more familiar with. It's hard to start a race weekend off with an all-nighter, but that's what was required and everybody dug in."
With the replacement #80 ready to go, David White says getting used to a 'new' car took some time prior to the race, but with the team's guidance, it was business as usual when it came time to buckle in and start the race.
"Adapting to any new car can be challenging, but the Continental Tire Sports Car Challenge cars are relatively simple race cars which makes the process easier. Beyond the basic controls that every car has, there are only a handful of important switches, like the radio push-to-talk button and pit speed limiter for example, that you need to be very familiar with. Before the race, James, myself, and our crew practiced several driver changes to ensure that we wouldn't miss a beat during the pit stop in the race. We started the race as prepared as usual and it showed in our sixth-place finish."
Achieving a sixth-place finish isn't normally something Clay's team would be satisfied with, but after the harrowing events leading up to the race, they'll make an exception.
"With so much work before we took the Green Flag, our result was a testament to everyone involved in getting us back on track. During the race, our crew pulled off some amazing pit stops, our strategist made a brave call on fuel strategy that paid off for both cars, and we even had some help from CMA Racing that allowed us to pit both of our cars at the same time. We earned this one the hard way and while I drove a hard race that I am proud of, my work and the result was only possible with the work of all the others involved with us this weekend. The beginning was rough, but the ending was fantastic and showcases the teamwork needed to be successful in endurance racing."
As if the #80's storyline wasn't exciting enough, the #81 came home in second-place gasping for fuel and sputtering across the finish line, thanks to a masterful plan hatched by BimmerWorld's race engineer and strategist, Wayne Yawn. Not to mention the masterful and fuel-miserly drives by Seth Thomas and Bill Heumann.
"Wow that one was close!" said Thomas. "James Clay put the plan together with the CMA Racing team in the short time between Barber and VIR so both teams could pit 2 cars at the same time if needed. This plan worked out flawlessly. Bill passed a ton of guys during his opening stint, brought the car in the pits in the top-10, and I left the pits in the top-10 to continue the job he'd started. Wayne told me leaving the pits that we should have enough fuel for the rest of the race as long as we really conserved fuel during the caution period. I did my best to do that and luckily I conserved just enough."
Thomas says he drove with faith that they had enough fuel to make it to the finish line…but he still couldn't believe he had to stretch a tank of fuel as far as he was being asked to.
"The last lap was the only lap I doubted Wayne! I was starving for fuel coming out of Turn 1 so I knew we were going to be cutting it close. I knew if I made it to the turn called 'Rollercoaster' I could coast to the finish. The car made it there and then some…I ran out of fuel just past the checkered flag. If Wayne says we could make it then I know we can. I definitely know he had it worked out down to the last lap, if not the last few inches on the track!"
With two podium finishes from four races, Thomas and Heumann continue to forge an amazingly strong and productive partnership behind the wheel of their BimmerWorld/GearWrench BMW. Heumann says that with similar goals and personalities, their partnership is equally as strong on and off the track.
"You never know how these things will play out when you embark on a new adventure, but as we learned right off the bat, Seth and I make a great team. First, it is important to mention that Seth is a true professional and is very easy to get along with. We are great friends away from the track but at the track we work incredibly hard. I think one of the main reasons our personalities mesh well is because we have quite a few similar life experiences. We both need to balance the demands of our families and business obligations with those of professional racing, which is no easy task. We both understand the importance of good communication and I think that's a big part of why Seth and I have been so fortunate this season."
With the 2010 season almost at the halfway point, Thomas and Heumann sit second in the drivers' standings, the BimmerWorld/GearWrench team holds second in the teams' championship, just six points behind the 2009 ST-class winners, and Clay and White have also marched up the driver's points after being taken out at Round 1, and are now tied for 11th, all in the team's first year in the series.
Who knows what Episode Five will have in store for the team in five week's time at Lime Rock Park, but after the dramas this past weekend, James Clay says he wouldn't mind it if the plot was a tad bit boring going forward.
"It will take a while for things to slow down, that's for sure. We have a lot of work to do to repair our own #80 now. The car is headed to Steve Bassen at Bassen Autobody right away. He spent the VIR race weekend looking over the crashed car and has everything in place to make it perfect again. After last weekend, we don't need any more cliffhangers or suspense. As for the next race at Lime Rock, I think a normal, boring event where everything goes according to plan would be nice!"
Tune into SPEED on May 1st at 1 pm E.T. to watch BimmerWorld's amazing performance at the Bosch Engineering 200 from Virginia International Raceway, and follow the team's progress at www.BimmerWorldRacing.com.
###
Courtesy: BimmerWorld Media Services
[email protected]
More information about the team, cars, and drivers can be found at www.bimmerworldracing.com
Information on BimmerWorld's Customer Car Services can be found at www.bimmerworld.com
Details on PowerFlex Suspension Bushings can be found at www.powerflexusa.com
Tags
Tags not found
RELATED ARTICLES
Related article(s) not found