BimmerWorld Homeward Bound for Round Four
April 21st, 2010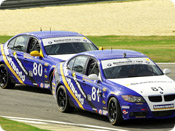 After three rounds of impressive results for the rookie Continental Tire Sports Car Challenge team, BimmerWorld looks forward to racing at home at Virginia International Raceway.
Just as stick-and-ball sports teams look to their own stadiums and arenas for home field advantages, racing teams are no different. As Dublin, Va.-based BimmerWorld visits their home track at Virginia International Raceway this weekend for Round 4 of the GRAND-AM Continental Tire Sports Car Challenge, the team hopes to enjoy a similar advantage.
With too many laps to count around the picturesque track, the team would like nothing more than to visit Victory Circle during Saturday's race. Based just three hours away, the BMW specialists at BimmerWorld have used the challenging VIR circuit as a regular proving ground to develop and improve their range of BMW street and racing cars.
But this weekend will have little to do with R&D
Tags
Tags not found
RELATED ARTICLES
Related article(s) not found