BimmerWorld Improves Championship Positions In Monterey
September 11th, 2013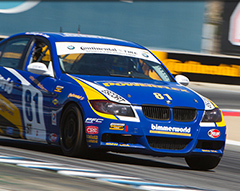 The No. 81 BimmerWorld BMW of Gregory Liefooghe and Tyler Cooke take fourth at Monterey, moving them to third in the Drivers' Championship
With one round to go before the season finale, BimmerWorld Racing needed to maximize its results last weekend in Monterey, and with a pair of top-10s for its Grand-Am Continental Tire Series Street Tuner Championship contenders, the Virginia-based BMW experts scored more valuable points in their quest for the 2013 Drivers', Teams' and Manufacturers' titles.
The No. 81 duo of Gregory Liefooghe and Tyler Cooke improved their position to third in the standings after claiming fourth at Monterey, and Dan Rogers and Seth Thomas moved into a tie for fourth in points after securing a seventh-place result, giving BimmerWorld team owner/driver James Clay a cause for optimism as the team prepares for the Championship decider at Lime Rock.
"As always seems to be the case, our team's focus and strategy is about the endurance side of our sport and making our cars competitive over long runs," he said. "Once again, we had more yellows than we would have liked; a little bit more green racing would have suited our cars, but given the way the race played out, we're moving on with some sense of satisfaction that we captured a lot of important points in the Championships and know we can do the same at the end of the month for the finale."
With two cars in contention for the Drivers' and Teams' Championships, Clay knows that despite the solid results for the No. 81 and 82, anything other than a win by one car and a second-place by the other at Monterey would leave BimmerWorld with a significant points gap to overcome at the title-deciding round.
"We're at crunch time in the Championship and we're not in the lead, so other than continuing to give our best effort, we'd have to benefit from some of our rivals having bad days at Lime Rock to feel more confident about coming out on top, and that's not what any team wants to wish for," he continued.
"You want to earn a Championship based on your results, and we've had a solid season, but if we look back at the races where things didn't go our way, you could point to any one of them and say that's why we're in a position where a little bit of luck would go a long way. We'll keep doing what we do, keep going about our game plan, and see if one last push can make it happen."
For Liefooghe, who has become one of the breakout starts of the Continental Tire Series, taking a fighting fourth around the 2.2-mile California road course was a bittersweet finish after coming close to cracking the top-3.
"We had really hoped to earn a podium, although we didn't expect to beat the smaller cars," he said. "But we raced them very strong the entire time, and found a very good balance with our car to use all day. Our engineers did a fantastic job on getting the setup right, and we were able to go very hard, but the Monterey track is a more natural fit for some cars more than others, so we did very well to get fourth."
The sister No. 82 CRC BRAKLEEN® BMW of Dan Rogers and Seth Thomas, as Thomas describes, struggled to find the same balance as the No. 81, yet nearly finished in Liefooghe's wheel tracks before settling for seventh.
"Overall, we were pretty good at Monterey," he said. "We struggled with front-end grip, and the balance of the car being rear wheel-drive helped us to rotate the car and stay ahead of all but the front wheel-drive cars most of the time. I got pushed off track by a car on the final restart, which would have left us fifth, but that's just how racing in this series goes sometimes. It leaves us with a slim chance of earning the Championship, but we won't stop trying until the last lap is complete at Lime Rock."
The third BMW E90 entry from BimmerWorld, the No. 80 piloted by Connor Bloum and James Colborn, finished an unrepresentative 18th at Monterey, while the promising new No. 84 F30 chassis driven by Clay and John Capestro-Dubets logged more data as the team tests the car during the final races in 2013 for its full-fledged debut in 2014.
"In our second event with running a brand-new car, we learned a lot and the car was competitive in the field," said Clay, whose BimmerWorld aftermarket performance business caters to new and old BMWs alike. "We passed cars, got passed and did all of the things you do in racing. That's a good step for the car at this early stage because we have very few miles on the car in competition, and being able to mix it up with established cars and teams is a valuable benchmark. We're confident Grand-Am will establish an equal footing for the new 3-Series in ST, and look forward to developing the car for next season."
Catch the Monterey Continental Tire Series broadcast on Saturday, September 15, at 4 p.m. ET, and be sure to follow the BimmerWorld team as they prepare for Lime Rock at www.BimmerWorldRacing.com.
Tags