BimmerWorld Headed Back To Site of 1-2-3 Finish At Road Atlanta
April 16th, 2013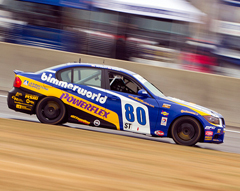 "We have tested the CTSCC BMWs there several times because it is a convenient track for us, so we aren't unfamiliar with the track in our current trim either. We feel confident that we are dialed in for the coming weekend," James Clay.
The legendary Road Atlanta circuit in Braselton, Ga., holds a special place in BimmerWorld's history. Prior to its rise as one of the leading teams in the GRAND-AM Continental Tire Sports Car Challenge series, the BMW experts closed out its tenure in another professional touring car series by dominating the top 3 with its BMW 328is.
Now in its fourth season in GRAND-AM using the same base 328i platform in the Street Tuner class, BimmerWorld returns to race at Road Atlanta for the first time since finishing 1-2-3 in 2009. The Virginia-based aftermarket BMW sales and tuning pros have undergone a number of changes since 2009, but the core ownership, management, engineering and mechanical talent is still in place.
Continuity can also be found within some of its driving talent, but possibly the greatest change from 2009 to 2013 can be found with the 328i chassis. That BMW E90 shell looks familiar, but beneath the skin, the more restrictive Street Tuner rules call for cars that are much closer to the vehicles that rolled off the production line.
Compared to the relative technical freedom with the E90 in the other series, team owner/driver James Clay says BimmerWorld can't rely on its previous setup information at Road Atlanta and has worked hard to tune the ST version of the E90 to the 2.5-mile, 12-turn course.
"BimmerWorld hasn't raced the E90 ST cars at Road Atlanta, but the last pro race visit we had to the track in 2009 was a podium sweep," he said. "We have tested the CTSCC BMWs there several times because it is a convenient track for us, so we aren't unfamiliar with the track in our current trim either.  We feel confident that we are dialed in for the coming weekend."
The team is coming off a pair of solid top 10 finishes at Barber Motorsports Park, a facility with many similarities to Road Atlanta. Both share major elevation changes and plenty of twists and turns, but unlike Barber's narrow, compact nature, Road Atlanta is a bit more flowing and open. The tight confines of Barber suited the smaller cars in the ST class, but Clay is hoping the differences at Road Atlanta will balance the competition.
"We know we have consistent, durable cars that are good in sweepers and on flowing tracks, and Road Atlanta has some of that," continued Clay.  "We also know the MX-5 and lighter 1 Series BMW will be helped by the elevation, and the Speed3 and Nissan will light the long back straight on fire.  This will be the first track that blends these elements fairly evenly for existing performance balance in the field.  Hopefully, good solid teamwork and cars will be the factor that pays off for us."
Georgia native Seth Thomas, who shares the No. 82 CRC BRAKLEEN® BMW 328i with Dan Rogers, led the BimmerWorld team home in 2009, and hopes to repeat the feat at his home track this weekend.
"The last time I raced in a pro event at Road Atlanta I came away with the win having a couple of teammates protecting me as we crossed the line," he said.  "That race was a fast paced 50-minute sprint from start to finish.  This weekend I feel will be a little bit different since we will be racing for 2.5 hours but I don't think I am going to have to change much of how I drive going from a sprint race back then to GRAND-AM's endurance races.
"The BimmerWorld E90 is a great car from start to finish especially at a smooth fast track like Road Atlanta.  So I feel like we can drive this car like we did in 2009 and come away with similar results as both drivers and a team!"
Tyler Cooke and Gregory Liefooghe partner in the No. 81 BimmerWorld BMW, and for Cooke, a second-year driver in the Street Tuner class, preparing to race at a new track on the CTSCC schedule has involved a fair amount of homework prior to the race.
"You watch as much in-car video as you can and my teammates have also given me a lot of feedback on what to expect," he said. "You want to show up and feel like you've done all you can to prepare mentally before practice starts so once you're on the racetrack, it feels like you're just continuing from what you prepared for."
Greg Strelzoff and Connor Bloum are new to the BimmerWorld team and the CTSCC series this year, and according to Strelzoff, the education he's gained through the first few rounds in the No. 80 BimmerWorld BMW should pay off at Road Atlanta.
"I learned a lot at Barber, especially in the wet sessions and definitely feel that I am picking up momentum as I continue to learn the car," he said. "As for Road Atlanta, I have raced there many times in other cars and series and it is one of my favorite tracks. The turn 1 to 6 series is a great sequence of corners and I think Connor and I will be ready to go after a top finish along with our teammates."
Follow the team's progress throughout the weekend atwww.BimmerworldRacing.com.
Tags