BimmerWorld Racing Ready to End Season on High Note at Road Atlanta Finale
October 8th, 2019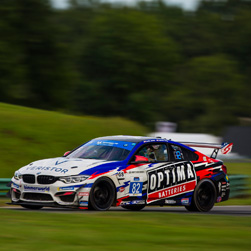 As the IMSA MICHELIN Pilot Challenge Series finale comes to Road Atlanta this weekend, the BimmerWorld Racing Team is ready to end the season on a high note.
Drivers of the No. 82 OPTIMA Batteries/Veristor BMW M4 GT4, James Clay of Blacksburg, Va. and Devin Jones of Mooresville, N.C., seek to battle to a victory and finish the season strong. Although they enter the final round of the 10-race series tied in third place in the GS points championship, they are still in contention for the runner-up spot as they look to add an additional triumph to their history at Road Atlanta.
The Dublin, Va.-based team, has had much success at the 2.54-mile, 12-turn Road Atlanta road course. One of their most sensational finishes took place ten years ago when BimmerWorld came to Road Atlanta with three entries and took an entire sweep of the podium, plus the pole position. Last year, they bookended that masterful success by capturing the Sport Touring (ST) championship at the season finale in the final year of the class, while the sister GS-class car won the race. With numerous successes throughout the years, BimmerWorld Racing considers Road Atlanta one of their favorites.
The FOX Factory 120 MICHELIN Pilot Challenge race is a two-day event with three practice sessions on Thursday, at 8:45 a.m. for one hour, from 12:35-1:20 p.m. and 4:10-4:25 p.m. GS qualifying follows TCR at 4:55 p.m. for 15 minutes. On Friday the Open Grid/Fan Walk commences at 12:30 p.m. and the field will warm up its Michelin tires at 1:15 p.m. The two-hour race is scheduled to start at 1:25 p.m.
The event will be streamed live on imsa.tv, and there will be live timing and scoring on imsa.com. The race will be broadcast on NBCSN from 7 p.m. to 9 p.m. on Friday, October 18. All times are Eastern.
Pre-race quotes follow
James Clay, Blacksburg, Va., team owner and driver, No. 82 OPTIMA Batteries/Veristor BMW M4 GT4:
As you end the second season with the BMW M4 GT4, what would you say are the biggest accomplishments or advances you've made?
"In our sophomore year of the effort, I feel like we've had some solid competition from the field and the other BMW teams as well, and it's satisfying to have come out at or near the top again. We continue to develop this GT4 platform and even with a less favorable BoP (Balance of Performance), we're still collecting podium finishes. That has been a real challenge and a meaningful reward."
You and Devin had some good races and some tough ones this year. Please give us an overview or assessment of the season up to this point.
"Devin has been awesome to drive with and we absolutely killed it this year together. We were consistently on the podium in the first half of the year with a good BoP, and even when that changed, we've had good strategy and teamwork and still kept putting solid points on the board. This season seems to have been a lot about the weather with some consistent rain disruption, and I feel good about how we've dealt with that and the results."
Where does Road Atlanta stand on your favorite track list and why?
"I like Road Atlanta a lot—I've been going there since the early days of my racing. The blind Turn 12 is a ton of fun, and there are multiple larger sections of curb to skip over, which provides some amazing images from the racing."
Road Atlanta is a fast track with a variety of corners of different types and keeps the driver busy in order to lay down a fast lap. How do you master a good lap here?
"It helps to have a car that's good on the very long back straight, but downforce matters a lot, all the way from the entry of Turn 1 through 5, or really onto the back straight. If we can get the car hooked up in the turns and spend more time on throttle, we'll be fast."
You've raced at Road Atlanta many, many times. Do you have any favorite or special memories that stand out?
"My favorite memory at Road Atlanta is easy to recall. In 2009, we ran a team of three touring cars and qualified on the pole, swept the podium, and won every award for speed and performance given. That was a dominant weekend, and in pro racing at this level, one that is hard to replicate. It felt like a 300 score bowling game or a round of hole-in-one golf."
Devin Jones, Mooresville, N.C., driver, No. 82 OPTIMA Batteries/Veristor BMW M4 GT4:
Road Atlanta must have a special memory for you from last year when you and BimmerWorld teammate Nick Galante won the ST class championship following your third-place finish at Atlanta. Share your memories.
"Last year was a special one. Knowing that we only had to start the race to win the championship was a nice way to spend the week. We started from the pole and finished third and were really able to enjoy our time with the team and have fun after the great year we had."
You and James had some good races and some tough ones this year. Please give us an overview or assessment of the season up to this point from your point of view.
"The team has been spot on all year, even during the races where we have struggled and not finished where we deserved. The balance of performance has hurt us during the second half of the season, but we want to end this year on a high note."
How have you found the switch from the BMW 328i you raced last year to the BMW M4 GT4 this year?
"The switch has been seamless. The GT4 is a great platform to race with and a lot of fun."
How important is using the curbing when racing at Road Atlanta and where can you go all wrong?
"You use a lot of curbing at Road Atlanta. Turns 3, 5, and 10 all require a decent amount of curb use to be fast. You do have to be mindful of this, though, and not overuse the curbing because it can affect the alignment of the car."
In the past, you've said that Road Atlanta has one of the most fun sections of any race track in North America going from Turn 1 to Turn 7. How important is racing at Road Atlanta to you each year?
"Road Atlanta is really like another home track to me. I've spent a lot of time here over the years and enjoy the chance to race here. We have a lot of friends and sponsor partners that come and join in on a great race weekend. I'm really looking forward to it."
FOLLOW BIMMERWORLD AT: https://www.facebook.com/bimmerworld
STAY UP TO DATE WITH BIMMERWORLD NEWS AT: http://www.bimmerworldracing.com
ABOUT: BimmerWorld is renowned as a leader in BMW aftermarket and tuning expertise. It competes in the IMSA MICHELIN Pilot Challenge series in the Grand Sport (GS) class with a BMW Motorsport M4 GT4, where the Virginia-based outfit has become a winner and championship contender. It was also the Street Tuner champion of that series in 2018. 2019 also marks BimmerWorld Racing's return to the SRO TC America Championship in the Touring Car (TC) class with two BMW Motorsport M240i Racing cars.
Tags