BimmerWorld Earns the ST Pole at Canadian Tire Motorsport Park But Searches for Better Pace During Saturday's Race
July 10th, 2016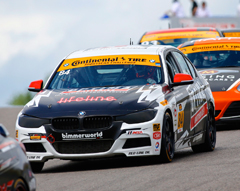 The No. 84 OPTIMA Batteries BMW 328i of qualifying driver James Clay and co-driver Tyler Cooke started from the pole position in Saturday's IMSA Continental Tire SportsCar Challenge race at Canadian Tire Motorsport Park, but handling issues during the race resulted in an 11th-place finish in the Street Tuner (ST) class after 2 hours and 30 minutes of competition.
The challenge was evident from the start, as two cars got around Clay on the first lap and he was put on the defensive immediately. He was sixth at the 30-minute mark, but he put his head down and advanced to fourth by lap 43 when the race's only full-course caution waved with 65 minutes gone. He pitted under that yellow for the driver change. Cooke ran most of his stint in seventh place despite a healing broken wrist, but the car faded to 11th at the end.
Jerry Kaufman started ninth in class in the team's sister car, the No. 81 BimmerWorld BMW 328i. His co-driver, Kyle Tilley, took the checkered flag in 15th position. There wasn't much practice time due to rain and incidents, but they were both fairly pleased with the setup they chose. Both drivers think the team will do even better at the next race, which should favor their BMWs more than this particular track did.
James Clay, Team owner and driver, No. 84 OPTIMA Batteries BMW 328i (F30 chassis):

"We had a great place to start the race, but looking at the performance of the cars yesterday and looking at the data, we knew we didn't have the car to win the race. We've done well with poles this season, and we have solid drivers in the cars. We have good cars, but we don't have that punch at the end when you need it. It's tough, and we try to hang on to it to put ourselves in the best position possible so we can have the best finish possible, but we're not driving up to the finish we want, so it's a little bit challenging right now."
Tyler Cooke, driver, No. 84 OPTIMA Batteries BMW 328i (F30 chassis):
"It was just a pretty tough race. We didn't have the car handling the way we wanted. We had most of the fuel covered until I got a little starvation in the last corner and that sent me backward. We didn't have the car to keep progressing forward, so all I could really do was try to keep the cars behind me the best I could. We came out in 11th place, and now we'll move on to Lime Rock."
Kyle Tilley, driver, No. 81 BimmerWorld BMW 328i (F30 chassis):
"I'm actually pretty happy with the race. It's the best the car has felt in race trim this year. It's not perfect, but it's been a big step forward from what we've had previously. We struggled in two places today. The first was on the back straightaway and the second was onto the front straight, which are obviously two important areas. Just getting the car turned was difficult because it wasn't having any of it. But, on the plus side, Lime Rock doesn't have any corners exactly like that, so I'm pretty confident that if we roll off with the same setup at Lime Rock, it will be good. So, it was the happiest I've been all year, plus I had a good battle with my fellow countryman, Robin Liddell, and that's always fun."
Jerry Kaufman, driver, No. 81 BimmerWorld BMW 328i (F30 chassis):
"The race went pretty well. The pace was a little slower than yesterday after a huge rainstorm, but the BMW carried speed really well throughout the race. I didn't feel like we used up the tires. It was pretty consistent, similar to Watkins Glen, where we started reeling in cars at the end of the stint. I'm really happy with where we pulled into the pits, and Kyle's performance made it. We didn't have much practice, and I know that really hurt him and his confidence going into it, but he did really well. I'm happy and looking forward to Lime Rock Park."
The Continental Tire SportsCar Challenge race will be broadcast on a tape-delayed basis on FOX Sports 1 starting at noon EDT on Sunday, July 17.
The next event, Round 6, will take place at Lime Rock Park in Lakeville, Conn. on Saturday, July 23.
FOLLOW BIMMERWORLD AT: https://www.facebook.com/bimmerworld
STAY UP TO DATE WITH BIMMERWORLD NEWS AT: http://www.bimmerworldracing.com
ABOUT: BimmerWorld is renowned as a leader in BMW aftermarket and tuning expertise, and competes in the Continental Tire Series with a pair of BMW 328is (F30) where the Virginia-based outfit has become a routine winner and Championship contender.
Tags