BimmerWorld Closes 3-Race Run With Another Podium, Pair Of Top 10s At Watkins Glen
July 4th, 2012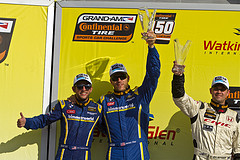 James Clay and John Capestro-Dubets score their second GRAND-AM podium in the span of a week with the No. 80 BimmerWorld BMW 328i
Coming off its third GRAND-AM Continental Tire Series race in a span of four weeks, the BMW experts at BimmerWorld closed the arduous string of events in impressive fashion at New York's storied Watkins Glen circuit.
On the face of it, the numbers look good: another podium for team owner/driver James Clay and co-driver John Capestro-Dubets in the No. 80, an eighth-place finish for Gregory Liefooghe and David Levine in the No. 81 and a 15th-place result for Seth Thomas and Dan Rogers in the No. 82, but it doesn't tell the full story of BimmerWorld's achievement.
Utilizing the renowned BMW E90 platform, BimmerWorld's trio of 328is rank among the most heavily restricted cars in GRAND-AM's Street Tuner class, yet despite the massive amount of weight the cars carry, and the air restrictors that limit the power from the BMW's six-cylinder engines, Clay's team has continued to deliver performances that should be unattainable.
With their BMWs sanctioned to rather extreme levels, BimmerWorld's focus for 2012 has been to perfect every other area within the program in an effort to compensate for the performance the rules have taken away. Drawing from an exceptional amount of talent from its crew and drivers, the Watkins Glen race showcased BimmerWorld's formula of using speed, consistency and flawless execution to overcome most of the advantages held by the competition.
"The BimmerWorld guys are rock-solid, and even if we aren't as gifted as other models in the regulations currently, our whole team has managed to make a lot happen with willpower alone," said Clay. "The majority of our crew is full-time in the shop which I think is a big plus for our team when we have the crazy workload of a three-race stretch like the one we just completed. But beyond the standard prep work, these guys have been putting in long days at the track also to make sure everything is as perfect as it can be when we hit the track. Combine that with a driving staff that has put their heads down to make results happen, and with each car visiting the podium this year, I feel like we are maximizing what we have been given."
After a humbling start to the season, Clay and Capestro-Dubets turned their fortunes around during June's three-race run, taking a fifth at Mid-Ohio, a third at Elkhart Lake and another third last weekend.
"John and I are really starting to click as teammates," Clay continued. "We had our car dialed in and ready to race very early in the weekend, leaving us time to test some other setups and practice the elements that are critical in the race. I am very happy with the progress we have made during the year as a team, and John is driving like a superstar which is helping the results."
With BimmerWorld's total team coaching process at his disposal, Capestro-Dubets has made great strides during his sophomore season in ST, and credits the support he's received for his continual development as a pro driver.
"So much has changed since 2011 for me," he said. "Greg and I watch last year's in-car footage before each race, and the difference is shocking to me. James has really taken his time with me to settle me down and then build my confidence by giving me tools to refine myself. In 2011, I was still trying to find my place and make somewhat of a name for myself. This year, I have the confidence and the guidance, and I think some good results are now showing all the hard work that goes into making it in this sport. I really have to thank everyone involved with this race program for taking their time with me and developing me into the driver I am so far."
As the leader of the No. 81 BimmerWorld BMW, Liefooghe receives plenty of accolades for his driving and coaching talents, and paired with ST rookie Levine, the two have formed one of the most effective driving combos in the series. In addition to their win at Round 2 this year, the intra-team highlights continue to grow and shift towards Levine as he makes the transition from being the new kid on the block to a seriously talented competitor alongside Liefooghe.
Plenty can be said about Levine's drive at Watkins Glen, but the most impressive stat centers on the 27 positions he and Liefooghe managed to earn on their way to an eighth-place finish.
"I feel that I have progressed a lot since the pre-season test at Daytona," said Levine. "I've really learned a lot from working with Greg in a short amount of time. Now that I have been in the car for several races, I feel that I am comfortable in the car which allows me to push myself and the car to the limit. My progression owes many thanks to Greg for his coaching this season. I'm looking forward to closing out the season in a strong way."
If the No. 80 was the lightning rod for bad luck early in the year, the No. 82 CRC BRAKLEEN® BMW 328i took its place recently. After dealing with mechanical gremlins and a rough-and-tumble race, Thomas and Rogers fought back to recover 14 spots to claim 15th in ST.
"Our weekend at WGI didn't start out great—we had some issues that left us off track during the test day," said Thomas. "But our crew kept fighting. Dan did an amazing job during the day to improve his lap times by five seconds between his first session at Watkins Glen in a BMW to when he qualified the car. During the race he continued to move forward and handed the car over to me after the BimmerWorld boys executed a perfect pit stop. Overall it was a great team effort from everyone involved. It's how you recover from adversity that matters, and everyone should be proud of themselves after last weekend."
In a sea of other manufacturers in the Street Tuner class, there's one metric that stands out quite heavily this year—the Manufacturers' Championship. As a privateer program, and despite heavy factory involvement in the class, BimmerWorld's tenacity and consistency has BMW sitting atop the championship after seven rounds, which serves as a point of pride for Clay and his team.
"The Manufacturers' Championship is the place we can hang our hat this year," he said. "In six of the seven races this season, BimmerWorld has put the points on the board to move BMW to the front of this race. In a year where we have to leverage our luck significantly to provide race finishes, BimmerWorld's approach of running three equal cars pays off and gives us a better chance of putting a BMW at the top on any given race weekend."
Now that the team has a little bit of time to breathe before the series makes its debut at the legendary Indianapolis Motor Speedway later in the month, Clay is also starting to plan ahead for next season.
"This is the time of year where we start to look at team developments and driver lineups for the upcoming season, and our goal is to finish as the top BMW program in ST and to take the next step with our cars in the off season. The rules tend to be cyclical, and we'd expect the 328is to have things evened out a bit for 2013, which should make our quest for a championship even stronger. But for now, we are focused on wrapping up a strong 2012 showing."
Follow the BimmerWorld team atwww.BimmerWorldRacing.com, and watch the Watkins Glen race when it airs July 14th at 1 p.m. ET on SPEED
Tags