BimmerWorld Begins 2013 Championship Campaign With Strong Run To 2nd, 4th At Daytona
February 1st, 2013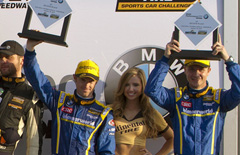 Virginia-based BMW experts open the 2013 GRAND-AM Continental Tire Series championship with stirring drives that net second and fourth in the Street Tuner class
Entering its fourth season as one of the elite teams in the GRAND-AM Continental Tire Series, Dublin, Virginia-based BimmerWorld Racing went into last weekend's season opener at Daytona International Speedway with one goal: To leave with a bounty of points.
With numerous pole positions, class wins and a runner-up finish in the championship to its credit, the BMW aftermarket and tuning specialists are locked into acquiring the coveted Drivers' and Teams' titles this season, and Round 1 certainly kicked off that initiative in style.
BimmerWorld left the 3.56-mile road course with two of its three entries in prime positions—a podium for the No. 81 BimmerWorld BMW 328i driven by Gregory Liefooghe Tyler Cooke, and a close-fought fourth for Seth Thomas and Dan Rogers in the No. 82 328i, which was just what the veteran team needs, according to team owner James Clay.
"I was very happy with BimmerWorld's start to the season–our best to date at Daytona," he said. "My new drivers are all capable and rapidly getting up to speed and our veterans are right where they left off. The work behind the scenes over the winter has been tireless to improve an already solid and established car, but we made clear strides forward which were absolutely necessary to be able to fight for the front in this stacked Continental field."
The team's thirst for wins will never be quenched, which makes yet another visit to the Daytona podium—albeit one step down from the top—slightly frustrating, but in the big, season-long picture, Clay knows that BimmerWorld's strong opening at Daytona will pay dividends through the year.
"In 2013, BimmerWorld is all about the Championship," he said. "It is always nice to win, but Daytona takes power and we clearly weren't on par with the (race-winning) Nissan on that front. We got a little lucky with some issues that struck our rivals, and the No. 81 playing leapfrog in the draft in the closing laps with the Honda was a nail-biter. But I feel very good that we maximized the opportunity this race and wins will come to us during the season at the right time. For now, we had a solid Championship-level start and I think everyone feels great about that."
Placing two cars inside the top-4 in the Street Tuner class didn't happen without a bit of adversity to overcome. A freak failure with the team's refueling equipment sent BimmerWorld's peerless pit crew into problem-solving mode, and also tasked the team's respected engineering group to make some daring race strategy calls to get back in contention.
"BimmerWorld puts a lot of effort into consistent pit stops and our crew practices often at the shop and track to stay sharp," said team engineer David Wagener. "The issue for the No. 81 on the first pitstop was due to a fuel rig problem which resulted in the car not getting filled. We decided it was an acceptable risk to pit early under green to make up track position at a later time. Then, the No. 82 pitted under green as planned during the pre-race meetings when the fuel window opened. You don't do this unless you have full confidence in your crew and drivers not to make a mistake since the penalty would be losing a lap. Everyone executed flawlessly and we expect that from ourselves every time."
For Liefooghe, who has been one of BimmerWorld's biggest weapons since joining the team in 2011, partnering with second-year Continental driver Tyler Cooke in the No. 81 was a major success.
"I think we had a strong showing in Daytona, and that we put the No. 81 on the map for another strong championship run," he said. "Tyler drove a great stint, and came in with the lead. Even though we had some fueling issues, we were able to fight back to the front of the pack in a very hectic race. Tyler and I clicked right away and it feels like we have been teammates for much longer than just one race. We will keep working on the small the details that make all the difference and focus on racking up points one race at a time to get to our end goal: the championship."
Cooke also had high praise for his teammate.
"Greg went to the back of the pack three times and each time he got right back to the top-3, and I expect our performance in Daytona will carry on to each race," he said.
The 2012 Daytona race wasn't kind to Thomas and Rogers in the No. 82CRC BRAKLEEN® entry, but the duo made up for it with a solid fourth in 2013.
"Our finish in the No. 82CRC BRAKLEEN® BMW definitely gives us a great foundation for fighting for the championship all season long," said Thomas. "We know BimmerWorld gives us a strong car that is capable of top-5 finishes every weekend. Our job as drivers is to keep our car in contention by limiting our mistakes. Dan and I both did that at Daytona, and now we have to drive like this at 10 other tracks to make it happen!"
Rogers added: "The championship run starts with the first step, and this was a good first step."
The only sour note to the event for BimmerWorld came with an oil pressure issue that forced the No. 80 328i out of the race prematurely. For Greg Strelzoff and Connor Bloum, the team's newest driver combo, it wasn't the result they envisioned, but they anticipate picking up right where they left off when Round 2 arrives in one month.
"It was a very unfortunate end to our BimmerWorld debut, but both Connor and I had both worked really hard and with our pace we had already picked up a number of positions," said Strelzoff. "I'd like to congratulate Greg, Tyler, Seth and Dan on their opening weekend success, and we plan on sharing in it the next time out!"
Bloum, showing maturity far beyond his age, echoed his teammate's optimistic outlook on the No. 80's potential.
"Many things were learned throughout the weekend and I am really enjoying working with the team," he said. "My teammates and engineers were key in my rapid progress and I want to thank them all for their help over the weekend. I am determined to continue to push and work on coming back even stronger."
Follow BimmerWorld's progress as it prepares for Round 2 at Circuit of The Americas by visiting www.BimmerWorldRacing.com, and tune into the Daytona race broadcast on February 2nd at 4 p.m. ET on SPEED.
Tags