Wet and Wild Weekend for BimmerWorld Racing at VIR Home Track
August 28th, 2016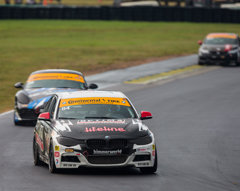 Round 8 of the IMSA Continental Tire SportsCar Challenge (ICTSC) was the Oak Tree Grand Prix at Virginia International Raceway (VIR) on Saturday. The two-and-a-half-hour event turned out to be a wet and wild race that started in dry weather before a major thunderstorm blew in and brought out a caution after 31 minutes.
That was followed by a 52-minute red-flag delay to wait out the buckets of rain and lightning that moved through the track that borders the Virginia/North Carolina state line. When the race restarted under caution, the 36-car field had shifted plenty when many cars experienced off-course excursions through hydroplaning. The final 23 laps were run under green and provided abundant action on the 3.27-mile, 17-turn scenic road course.
Both the No. 84 OPTIMA Batteries BMW 328i team of James Clay and Tyler Cooke and the No. 81 BimmerWorld BMW 328i of Jerry Kaufman and Kyle Tilley were excited to be competing on the BimmerWorld home circuit, as their race shop is only about 100 miles away in Dublin, Va.
James Clay qualified the No. 84 BMW on the front row in the second position on the grid in the Sports Touring (ST) class for the two-hour-and-thirty-minute race. A small post-qualifying inspection infraction sent the team to the rear for the race start. Clay drove smart through the rainy conditions and made quick work of pacing through the field up to seventh place on his favorite home track. However, a fuel hose left out on pit lane got in the path of Cooke during his driving stint and dropped them back, but he managed to bring the F30 home in P13.
The No. 81 BMW of Kaufman, who qualified and started 19th, took advantage of missing the initial fray by the leaders when the weather rolled in and kept the BMW on track. His teammate, Tilley, who enjoys wet weather racing, also drove smart and took the F30 to the checkered flag in the 21st class position.
Because of the unexpected and intense weather, regular pit stop strategy was thrown out the window and it was a matter of keeping the BMWs on track and bringing the cars across the finish line. To add to the race drama, the official IMSA timing and scoring failed in the extreme weather conditions and final scoring had to be completed manually and audited post-race before results became official.
James Clay, Team owner and driver, No. 84 OPTIMA Batteries BMW 328i (F30 chassis):
"We had a great car this race, and we had a great car for qualifying. We were over a bit of maximum on camber, so we got bumped to the back, but we knew we had a good car for the race. It was a fun race from the back, and it was obviously pretty wild – not only to race from the back but with the weather getting absolutely crazy. We worked our way up to seventh then had a little bit of bad luck there with nipping a competitor's hose that found itself in our path on the way out, so we got knocked down a couple of spots, but it is what it is. Great weekend, but unfortunately the results don't show it."
Tyler Cooke, driver, No. 84 OPTIMA Batteries BMW 328i (F30 chassis):
"It was a pretty rough race. The track had no grip. We were up front when we left the pits, but we ran over someone's pit equipment, so they [IMSA] made us do a drive-through [penalty], and it made us lose a lot of positions. The car did not like super wet conditions. It liked it as it dried out more, allowing us to run on pace with leaders, but once the second drivers start to break away, it's hard to catch them. But I was running on pace with them. Thanks to the crew, and we'll get 'em at COTA."
Jerry Kaufman, driver, No. 81 BimmerWorld BMW 328i (F30 chassis):
"Well, James started from the back and I started near the back, but that all proved to be not as bad as we thought, because when the rain came in, it just seemed like everybody started flying off, and we were able to hang in there, pull up pretty far, and get around a lot of cars, but it got so bad to where you just couldn't even see through the windshield. I'm just happy that we finished. I think this could have been a really bad race for us. I went off in turn one and started braking at the start/finish. It was like a hockey rink out there."
Kyle Tilley, driver, No. 81 BimmerWorld BMW 328i (F30 chassis):
"It wasn't a bad race. I was looking forward to it because the wet weather is usually my preferred conditions. At the restart, we were in P12, but we had a pretty good chance to move up from there. Unfortunately, we ended up with a misfire, so we were just a sitting duck. Every time it came to a straight, we slowly went backward, and that was that, really. So, that's a shame, but we'll reevaluate and move on to Circuit of The Americas."
The television broadcast will be aired on FOX Sports 1 on a tape-delayed basis on Sunday, September 4 from 10:00 AM-12:00 PM EDT.
The next race, Round 9 of the Continental Tire Challenge, will be held at Circuit of The Americas (COTA) on Friday, September 16.
FOLLOW BIMMERWORLD AT: https://www.facebook.com/bimmerworld
STAY UP TO DATE WITH BIMMERWORLD NEWS AT: http://www.bimmerworldracing.com
ABOUT: BimmerWorld is renowned as a leader in BMW aftermarket and tuning expertise, and competes in the Continental Tire Series with a pair of BMW 328is (F30) where the Virginia-based outfit has become a routine winner and Championship contender.
Tags