Two Top-10s for BimmerWorld at Lime Rock; Road America Race Up Next
July 29th, 2015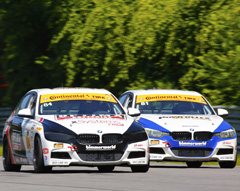 BimmerWorld's season of rapid development with BMW's new turbocharged 328i platform continued last weekend at Lime Rock Park where both entries in IMSA's Continental Tire Series scored top-10 finishes.
The No. 84 OPTIMA Batteries BimmerWorld BMW 328i piloted by team owner James Clay and co-driver Jason Briedis raced to sixth-place at the tiny 1.7-mile road course, and came close to matching their season-best run to fifth at Daytona. The sister No. 81 BimmerWorld BMW 328i shared by Andrie Hartanto and Tyler Cooke followed the No. 84 home in ninth, which marked their third top-10 finish in the last four races.
"I'm happy any time both cars finish in the top-10, and I think we got what we could this weekend from the track, even if it wasn't a win," Clay said, before noting the continued domination by diminutive cars in the Street Tuner class. "When one of the small cars clears the field by over a half second yet again, we know we won't be at the top, but our BMW F30s ran strong, and I am looking for big things over the next couple of rounds at longer, flowing tracks."
The Virginia-based BMW aftermarket and tuning experts have led the charge with the brand's F30 chassis in competition, and as with everything BimmerWorld races, the knowledge gained will benefit their customers in the form of race-proven components. A recent heat wave in Canada and Lime Rock has helped BimmerWorld to make advancements in heat rejection under the hood, and as Clay explains, the process will continue through the remaining rounds.
"Heat is our enemy in this little turbocharged engine with smaller turbos that really heat things up when running full speed for hours straight, but I think as development continues, the situation is improving," he said. "We haven't fully got the package we want yet, but we are making strides in that direction and luckily the Red Line Oil fluids we use are keeping things living well in what I would consider extreme heat. The Lime Rock race finished with higher ambient and track temps, and the engine package stayed with us."
BimmerWorld transitions from Lime Rock to its next race at Road America in Wisconsin on the weekend of August 8-9. The sprawling road course is a favorite for most drivers, and holds special meaning for Clay, who won his first professional race at the circuit. The track is also near the corporate headquarters of OPTIMA Batteries, and with its high demands on handling, power, and braking, BimmerWorld's BMW F30s are primed for a competitive run.
"Big tracks have always suited the BMW platform well, and Road America specifically where I won my first pro race back in 2008 in our then-new E90 platform," he said. "It would really be fitting to have a repeat this year in our new F30 platform, and in OPTIMA Batteries' back yard. OPTIMA has believed in us in a big way, and been a fantastic supporter of BMW racing as we have moved this new F30 platform to the front of the field, and I would love to see the first win on their home turf."
After racing at Road America in BimmerWorld's E90s, Cooke can't wait to lap the 4.0-mile track with Hartanto in the No. 81 BMW F30.
"My favorite corner there is Canada corner; my dad always told me stories about hearing the race cars scream down the straight after the kink into Canada corner and I finally got to experience it myself and it was truly amazing," he noted.
"The F30 will be strong through the fast corners and the E90 always had really good pace through there, and this year I feel the F30 is better balanced and can carry better speed then the E90. It will be strong everywhere, but it will really show in the fast turns."
QUOTEBOARD: LIME ROCK
Andrie Hartanto, No. 81 BimmerWorld BMW 328i: "I didn't qualify as well as I wanted. We had the speed, just couldn't put it all together. We knew track position was important as this is one of the most difficult tracks to make passes, so I'm a bit disappointed we didn't qualify better. However, a top-10 finish is an achievement. Next for us is a track that should suit our car well, so I'm looking forward to it."
Tyler Cooke, No. 81 BimmerWorld BMW 328i: "The BimmerWorld boys gave Andrie and me a great car that had great potential. Putting both F30s in the top-10 shows how hard the team's been working and it's a great finish for us."
Jason Briedis, No. 84 OPTIMA Batteries BimmerWorld BMW 328i: "The race went well for us to bring it home sixth overall. We are making progress with heat management, and hope to keep getting stronger. The team is looking forward to Road America and hope to improve on our finishing position."
FOLLOW BIMMERWORLD AT: https://www.facebook.com/bimmerworld
STAY UP TO DATE WITH BIMMERWORLD NEWS AT: http://www.bimmerworldracing.com
ABOUT: BimmerWorld is renowned as a leader in BMW aftermarket and tuning expertise, and competes in the Continental Tire Series with a pair of BMW 328is (F30) where the Virginia-based outfit has become a routine winner and Championship contender.
Tags