Top-5 for BimmerWorld's BMW Turbo at Road America
August 13th, 2015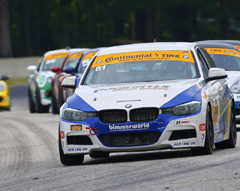 With a chance to show the full measure of BimmerWorld's in-house-developed turbocharged BMW 328i platform on the renowned Road America circuit, the Virginia-based aftermarket and tuning specialists captured a compelling fourth-place finish with the No. 81 entry driven by Andrie Hartanto and Tyler Cooke.
Cooke, a young veteran, and Hartanto, a rookie in IMSA's Continental Tire Series, have formed one of the most competitive duos in the Street Tuner class, and with their near-podium at Road America, they captured their best result of 2015.
By finishing fourth on the 4.0-mile Wisconsin road course, Cooke and Hartanto also earned their fourth top-10 result in the last five races. With Hartanto qualifying and driving the opening stint and Cooke taking the closing stint, team owner/driver James Clay says he's genuinely impressed by the performances coming from the pair in the No. 81 BimmerWorld BMW.
"Tyler is finishing the 81 car stronger every race, and it is awesome to see Andrie qualifying and running at the front of the field," Clay noted. "This is their first year together as teammates and in our new F30 BMW platform, but Tyler is on his third year with the team and I have known Andrie in the paddock for years, so their success is not a surprise to me. This is a solid season for them and I am proud to see it coming together."
Despite his relative lack of age, Cooke has become a fast and reliable team leader with the No. 81 program, and with his promotion to the role of closing driver this year, he says the responsibility of pushing the turbo BMW to the finish line has become a pleasure.
"My comfort level is great; it was nice being able to battle it out with the front guys and really have to fight every lap," he said. "The team gave us a great car for the race and it showed with Andrie and I both climbing through the field. Andrie had a great stint bringing the car in the pits in the top-5."
Hartanto's spirited drive to start the race had a minor complication, but as he recounts, it just meant he got to pass more cars.
"After moving from 14th to sixth in less than three laps, I spun and we lost all the positions we gained and then some," he said. "Finding myself in last place forced me to dig deep and put in one my best drives to fight back to fourth. That said, I'm my own biggest critic, so the spin was a disappointment. If it weren't for the ambitious move, I truly believe Tyler would have been fighting for the win and for that, I apologize. I am getting much more comfortable with the team, the car and the field of competitors and I expect our performance to reflect that."
Clay and teammate Jason Briedis weren't as fortunate as Cooke and Hartanto last weekend, but in typical BimmerWorld fashion, their No. 84 OPTIMA Batteries BMW 328i contributed to the ongoing growth of the company's knowledge base and product offerings for the F30 platform.
"We are still learning without question and we are still making strides forward, but I also know we will continue to do so for the rest of the season, and the car is in a very strong spot as we move into 2016 as well," Clay explained. "We are now fighting at the front, topping session charts, and pulling down good finishes. I am looking for a win this year, which I know is a tall order in the coming three races with such tight competition, but it is also satisfying to realize that winning is now a realistic expectation for the new turbocharged BMW."
FOLLOW BIMMERWORLD AT: https://www.facebook.com/bimmerworld
STAY UP TO DATE WITH BIMMERWORLD NEWS AT: http://www.bimmerworldracing.com
ABOUT: BimmerWorld is renowned as a leader in BMW aftermarket and tuning expertise, and competes in the Continental Tire Series with a pair of BMW 328is (F30) where the Virginia-based outfit has become a routine winner and Championship contender.
Tags