Heads Down for BimmerWorld with New Jersey on the Horizon
July 13th, 2010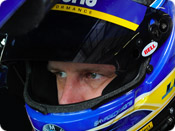 Two wins from the last three races and a slight championship lead hasn't changed BimmerWorld Racing's outlook on the remaining races
When BimmerWorld Racing team owner/driver James Clay chose to move his winning BMW touring car team from a professional sprint racing series to the fiercely competitive world of endurance racing, GRAND-AM's Continental Tire Sports Car Challenge series was the only option to consider.
With the 2010 championship winding down, and with almost seven months of competition behind the team, what they've achieved during their rookie campaign in the Street Tuner class has been nothing short of amazing.
Two wins from seven races, the lead in the teams' and drivers' championship, and the lead in the ST Rookie of the Year standings might be cause for celebration with just three races remaining, but for a focused team like Clay's, facts, figures and championship standings aren't a part of normal conversations. As the team heads to New Jersey Motorsports Park for Round 8 this weekend, it's business as usual.
"We may be one point ahead in the championship race at this point but I definitely wouldn't say we are sitting on top of it at this point – not by a long shot," said Clay. "We aren't talking about it or making a big deal because until the checkered flag flies at the final race at Utah in September; it simply isn't a big deal. That being said, we are certainly happy to be in this position challenging for the championship and we will continue to develop and prepare our cars and team as we have all year to be our best and hope at the end of the season, we turn that into some fancy hardware. Until then, we'll keep our heads down and focus on each race, starting with New Jersey."
BimmerWorld's impressive season-to-date has reaffirms one major point, and it centers on how critical it is to have the right technical partners involved with both sides of Clay's business. With a success BMW aftermarket, tuning, parts and service business, and also the successful GRAND-AM racing team working from the same facility in Dublin, Virginia, the tech transfer from the track to the street is being generated at every race.
As Clay shares, competing in the Street Tuner class with production-based BMW E90s only helps to solidify BimmerWorld's stance as the leader in providing 'Race Proven Performance' solutions for the German marque.
"We built our BimmerWorld business on solid, race proven, developed parts and knowledge. For us, the transfer of this knowledge between all facets of our business is critical and certainly, it extends to all of our racing partners as well. The guys on the team and in the shop constantly discuss tools and new applications with GearWrench, for example. We are their testing ground and our work is evident in their products. On the other side of the spectrum, there are a lot of customers we work with on their own BMW race programs and we put the same knowledge and effort in and our help is obvious in their results. We do everything here at 100% and from a major tool company to our own customers, it is rewarding to see the impact that racing has on our business as a whole. The parts we develop and sell, the work we do on customer cars, and the racing we do in GRAND-AM is all intertwined."
While it is impossible to start every race weekend by having their cars handle perfectly from the very first lap of practice, that goal is always present for BimmerWorld's crew and their drivers. Bill Heumann, MESCO Rookie of the Year leader for the ST class, says that even if his BimmerWorld/GearWrench E90 needs some tweaking once the action gets under way in New Jersey, he expects the team to deliver the same high quality cars for qualifying and the race.
"I am ready and looking forward to getting on track. I like the circuit and I am looking forward to incorporating what I learned at Mid-Ohio into my driving at New Jersey Motorsports Park. The most important thing for me is to be on pace and solid when qualifying rolls around, and more importantly, at race time. Having said that, getting up to speed quickly helps the team and drivers focus on car set up and getting the cars dialed in. BimmerWorld's expertise is invaluable and I have all the faith in them during the last three races."
The BimmerWorld/GearWrench team has enjoyed success in their maiden GRAND-AM season due to consistent performances at each circuit they've visited. Some tracks suit the BMW's natural handling and braking traits, while others play to the raw horsepower of a few rival marques. Now headed for New Jersey, BimmerWorld's Seth Thomas likes what the track might have in store for their E90s.
"Coming off a great race at Mid-Ohio I think we have a huge momentum swing in our favor. New Jersey has been good to our cars for speed in the past where we qualified 2nd in a different series last year. Also, the track is very similar to Mid-Ohio with a fast long straight and a very tight technical section. The downside to New Jersey is there isn't a big hard brake zone like at Mid Ohio, so we won't get to fully exploit our PFC brakes. Instead we will have to rely more on the suspension tuning and pit strategy that has helped us run up at the front all year. There are a lot of BMW fans on the east coast, and I hope they come to watch us put on a display this weekend. It should be an amazing race."
Saturday's 2.5-hour race starts at 2:45 p.m. ET, and be sure to follow the progress of the BimmerWorld/GearWrench team this weekend at BimmerWorldRacing.com.
###
Courtesy: BimmerWorld Media Services
[email protected]
More information about the team, cars, and drivers can be found at www.bimmerworldracing.com
Information on BimmerWorld's Customer Car Services can be found at www.bimmerworld.com
Details on PowerFlex Suspension Bushings can be found at www.powerflexusa.com
Tags
Tags not found
RELATED ARTICLES
Related article(s) not found