Both BimmerWorld Racing BMWs Finish in the Top 10 at Watkins Glen
July 3rd, 2017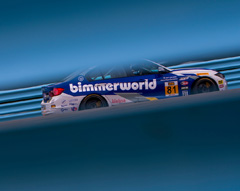 Both BimmerWorld Racing turbocharged BMW 328i (F30 chassis) race cars finished in the top 10 in the Street Tuner class Saturday at Watkins Glen International in the IMSA Continental Tire Sportscar Challenge race.
Californians Ari Balogh of Menlo Park and Greg Liefooghe of San Francisco came from a 17th-place starting position with their Powerflex-sponsored No. 81 to finish seventh in class in the two-hour race for the Dublin, Va.-based team.
Tyler Cooke of Matthews, N.C. qualified third in the No. 84 OPTIMA Batteries car that he shares with team owner James Clay of Blacksburg, Va. Things started off well for Cooke when he charged into second place on the opening lap, but seconds later the car's right-front wheel fell off. Cooke slowed in Turn 6 and made it back to the pits, but the entry lost a lap before repairs were made and he could return to the fray. The duo played catch-up the rest of the way, made up the lap, and made it back up to ninth before time ran out.
Balogh got a good start, rising to 13th initially. He had advanced to ninth when the event was red-flagged around the halfway point due to lightning in the area. The team's pit stop and driver change went well, and Liefooghe started his stint in tenth place. He moved into eighth with four minutes remaining when Spencer Pumpelly lost power in Turn 9 on lap 38. Liefooghe advanced to seventh on the following lap when he passed Connor Bloum. Both drivers managed their Continental tires well and Liefooghe's fastest lap came late, on lap 37.
Once he had four wheels again, Cooke set his car's fastest lap of the race on lap nine while he was 21st and last in class. He was 18th during the red-flag period and was 16th with 46:22 remaining. Clay then started his stint and got the lap back around lap 30 while in 13th. He was 11th by lap 32, and with 9:15 to go, he climbed to tenth, right behind Liefooghe. Pumpelly's misfortune gave them both another spot, and Clay took the checkered flag in ninth place.
The race will be shown on FOX Sports 1 on Sunday, July 9 from 10 a.m. to noon Eastern.
The action moves to Canadian Tire Motorsport Park in Bowmanville, Ontario next weekend. More information can be found on IMSA.com and BimmerWorldRacing.com.
James Clay, team owner and driver, No. 84 OPTIMA Batteries BMW 328i (F30 chassis):
"It was a solid day but certainly a trying day. The whole weekend leading up to this has been a little bit variable. We've had some red flags, weather, and we came here without a promoter test day. We also arrived with a new setup. We needed to perfect it, and we didn't necessarily get the time, but it turned out better than I would have thought. We had good, capable cars to race with. We had a wheel fall off, and Tyler did a heck of a job recovering, keeping his head straight while driving.
"The guys diagnosed the problem, got it resolved, and got the car back on track. We had great pit strategy and got a lap back, and at the end, we had something left to race through the field. Given what we were dealing with this weekend, I couldn't be happier, but overall we didn't get exactly what we wanted."
Tyler Cooke, Matthews, N.C., driver, No. 84 OPTIMA Batteries BMW 328i (F30 chassis):
"We went from third to second at the start, which was great. The team has worked really hard this weekend, and it was a little boost to be running second.
"I had a huge vibration on the front end. The typical vibration we've been having all weekend was due to the brakes, so we kind of chocked it up to the brakes. Turning into the corner, the only thing that was weird to me was that going up to the esses it felt like the front end was floating, I wasn't getting any grip, and I was starting to really save the car through there. I thought, 'This is weird.'
"I came off the gas in the 'Carousel,' and the front end did a big wobble, and going into the Laces the front wheel passed me. First off, kudos to the front wheel — it just beat me. But second, it was a real bummer!
"I got the car back to the pits, and the team worked really hard, got a new wheel on, and we went back out and got our lap back. James got up to ninth. So to come away with a ninth after all that wasn't bad. I mean, what a rainstorm… everything that could have happened in that race happened.
"Thanks to all the fans who stuck it out there through the rain. That's what you call dedication. We can't be here without them. Thanks also to our sponsors; without them, we wouldn't be here either. Thanks to the team. Mosport is in a week; I'm looking forward to it."
Greg Liefooghe, San Francisco, driver, No. 81 Powerflex BMW 328i (F30 chassis), which he shares with Ari Balogh of Menlo Park, Calif.:
"We were fighting a little bit of a turbo issue the whole weekend. The car was fast but it was very specific to drive so it took me a few laps to get used to it. In this series, if you breathe through a couple laps, you're going backward. So I went backward, settled, and after that, the car was really, really good. Hats off to the guys. I think we could have done better if I wouldn't have lost so much right at the start.
"It's hard to race like this, but the car was clearly fast. I wish it could have been a little better, but I think it's good for going into Mosport; the car is in one piece, and I think we made some progress on the chassis."
FOLLOW BIMMERWORLD AT: https://www.facebook.com/bimmerworld
STAY UP TO DATE WITH BIMMERWORLD NEWS AT: http://www.bimmerworldracing.com
ABOUT: BimmerWorld is renowned as a leader in BMW aftermarket and tuning expertise and competes in the IMSA Continental Tire Sportscar Challenge series with a pair of BMW 328is (F30), where the Virginia-based outfit has become a routine winner and championship contender.
Tags