BimmerWorld's Turbocharged BMWs Are Ready for California
April 29th, 2015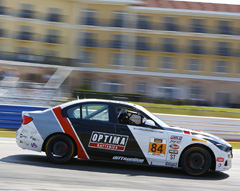 BimmerWorld's visit to the famed Laguna Seca road course in 2014 revealed the potential of its newest challenger, the turbocharged BMW 328i chassis built on the German brand's F30 platform. Team owner/driver James Clay and co-driver Jason Briedis were incredibly fast in their brand-new F30, and despite competing while still in the early stages of its development process, the BimmerWorld team left the Californian circuit with a clear picture of what the F30 had to offer.
One year later, and with the luxury of a six-week pause since the last race held in Sebring, Florida, BimmerWorld is headed back to the picturesque track located in Monterey with two F30s and a goal of capturing their first victory with the chassis in IMSA's Continental Tire Series. Among the major improvements made since Sebring by the BMW tuning and aftermarket experts, additional cooling gains have been incorporated into both cars.
"We have put a lot of work and development into the F30 platform in the schedule gap we enjoyed after Sebring to battle the heat that diminished our results at that race, and has previously been a major factor in our engine life," said Clay, who will race the OPTIMA Batteries-sponsored No. 84 with Briedis. "C&R Racing put together a new charge air cooler package, we have added more extensive underhood heat shielding, and we have done additional work on our ECU package and calibration to manage boost and temperatures. With a hot week forecasted, this preparation will be critical in achieving a result in California."
BimmerWorld's F30s are one of the heavier cars in the field, which is far from optimal at a rolling circuit like Laguna Seca. Despite the rules-mandated heft, Clay is confident his BMWs will have something to show against the other entries in the Street Tuner class.
"I am very happy with the BMW F30 chassis package we put on track in Laguna – last year we were the fastest car, but as always, the weight wears the tires and may not make us the strongest at the end," he said. "Nevertheless, I like our chances at this track."
The trip to Monterey is particularly special for BimmerWorld driver Andrie Hartanto, who lives in the San Francisco Bay Area and shares the No. 81 F30 with Tyler Cooke.
"I'm eager to race at Laguna Seca–this will be my home race and I have fond memories having just won the SCCA Runoffs there last October," he noted. "I'm confident that this will be one of my stronger tracks as I have plenty of laps here. If the amount of friends and supporters attending is any gauge on how well we perform, I'm pretty optimistic we're in for a good weekend."
FOLLOW BIMMERWORLD AT: https://www.facebook.com/bimmerworld
STAY UP TO DATE WITH BIMMERWORLD NEWS AT: http://www.bimmerworldracing.com
ABOUT: BimmerWorld is renowned as a leader in BMW aftermarket and tuning expertise, and competes in the Continental Tire Series with a pair of BMW 328is (F30) where the Virginia-based outfit has become a routine winner and Championship contender.
Tags