BimmerWorld's Frustrations Continue To Mount After Race In Kansas
June 10th, 2014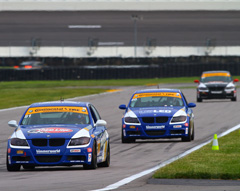 BMW experts endure yet another event to celebrate a mid-pack finish among the rest of the Roundels
Tensions are mounting at BimmerWorld, the veteran Continental Tire Series team, after contesting its fourth consecutive event where the rules make reaching the podium with one of its four BMW 328is little more than a fantasy.
Known for its fast and highly developed BMW sedans in IMSA's Street Tuner class, BimmerWorld, along with the other BMW teams in the series, finds itself unable to break the stranglehold of the current rules, much less win a race, due to the current Balance of Performance inequities.
Left once again to fight for a best finish of fifth—behind the other marques, BimmerWorld's drivers watched as Honda Civics and Porsche Caymans ruled the Kansas "roval," a slight change from the three previous rounds where the Mazda MX-5s dominated each race.
BimmerWorld ended the 2hr30min race with two cars inside the top-10, but team owner/driver James Clay was in no mood to celebrate eighth- and ninth-place finishes by the Nos. 81 and 82 328is.
"I'm livid right now," he said. "We haven't gotten less smart; we haven't forgotten how to win; we haven't forgotten how to be a championship caliber team. The other cars have been getting breaks and gifts for years and we're basically stuck in 2010. We're on the same restrictor as 2010, we're had more weight added since then, and keep getting slowed down to the point of being uncompetitive."
BimmerWorld's other two cars, the No. 80 and the No. 84, finished 15th and 22nd in ST.
Through the inconsistencies of the four most recent winners, BimmerWorld's No. 80, with drivers Greg Liefooghe and Tyler Cooke, find themselves leading the ST points standings after Kansas, but as Clay explains, it won't last if the rules for the BMW 328i remain the same.
"Oddly enough, we're barely able to get inside the top-10, but we're leading the points because we're more consistent than the cars that take turns winning," he added. "Our cars are almost a full second off of the pace in this race, and we're having to do some pretty wild things with race strategy and take a lot of gambles to get to where we end up, while the other cars just go about their races with no concerns. We're almost at the halfway point of the season, enough is enough, and we'd like the same opportunity."
Liefooghe, who turned in another flawless performance to earn eighth with Cooke, echoed Clay's sentiments. "One of the only positives is we're now leading the points, but that's out of consistency more than anything," he said. "We've just been consistent because that's all we can be right now. It has been frustrating because we're not gaining speed like the other cars. We're just fighting to get a top-10."
Kansas saw the debut of Eric Zimmermann in the No. 80 BimmerWorld BMW with teammate and rising star Corey Fergus mentoring the BimmerWorld Driver Development program graduate during the event.
"I'm still standing and that was the primary goal for the weekend," Zimmermann said with a laugh. "I ended up in the car for most of the race because of how the yellows fell. Our pro Corey only got 40 minutes or so which was unexpected. It wasn't quite as overwhelming as I expected. The quality of drivers is higher than what I've faced and it was a great learning experience. It was great to meet Corey, who is a consummate pro and great teacher."
UP NEXT FOR BIMMERWORLD: Watkins Glen, June 26-28
FOLLOW: BimmerWorld at www.BimmerWorldRacing.com
KANSAS QUOTEBOARD:
No. 80 BimmerWorld BMW 328i (E90), Corey Fergus & Eric Zimmermann: Qualified P28, Finished P15
No. 81 BimmerWorld BMW 328i (E90), Greg Liefooghe & Tyler Cooke: Qualified P17, finished P8
Tyler Cooke: I was just using my head. A lot of cars out-braked themselves into Turn 1 and I just stayed out and made the most of the situation before handing over to Greg.
No. 82 BimmerWorld BMW 328i (E90), Seth Thomas & Dan Rogers: Qualified P26, Finished P9
Dan Rogers: This track, because it's so simple and so long, is like a dyno. It shows you who has the power and the answer is the other cars, unfortunately. It was really a strategy thing that saw us running Seth in the car so much because I'm out of the points because I missed the Lime Rock race. We ripped them up on strategy, but we had nothing for them on speed–the Porsche Cayman was 1.2 seconds faster than our fastest lap with a pro's pro like Seth driving. It's a pretty hard act to follow. Given the way things were stacked against us, we have to be satisfied.
Seth Thomas: The strategy and the crew put us in the right spot. The big thing is, that it's the only way you can get a BMW in the top 5. The best shot we have now, no matter how hard you drive or work the strategy, is a top 5. It's frustrating. We're going as fast as we can.
No. 84 BimmerWorld BMW 328i (F30), James Clay & Jason Briedis: Qualified P18, Finished P22
James Clay: It was another learning opportunity for our new turbocharged F30 chassis and we'll see how things go at Watkins Glen.
Tags