BimmerWorld's BMWs Score Three Top-10 Finishes at Road America
August 13th, 2014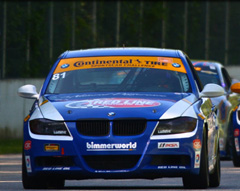 Virginia-based BMW experts secure another competitive outing at the famed 4.0-mile road course
All totaled, BimmerWorld's four-car fleet improved 34 positions last weekend during the 2.5-hour race Continental Tire Series race at Wisconsin's Road America circuit. The 4.0-mile track rewarded the years of handling and braking optimization BimmerWorld has brought to its E90-based BMW 328is, and F30-based 328i, the brand-new turbocharged BMW BimmerWorld is developing this season, delivered once again in the Street Tuner class.
Placing three of its cars inside the top-7 demonstrated BimmerWorld's expertise while competing against smaller cars in the ST category that used their modest stature to carve through the air on Road America's long straights. Finishes of fourth, sixth and seventh also represented stellar execution by the team's drivers, pit crew, and race strategists, and left team owner/driver James Clay mostly satisfied with the outcome.
"Road America is historically a good track for our BMW cars, and I think we had solid team results this weekend," he said. "Three cars in the top-7 is an accomplishment – almost as much so as avoiding the big Lap 1 incident with all team cars. After some tough races with our E90 platform this year, it was nice to achieve some more positive results this weekend."
BimmerWorld's top performance went to the fourth-place No. 81 BMW 328i driven by Greg Liefooghe and Tyler Cooke. The duo is locked in a close battle for the 2014 Street Tuner Championship, and currently holds third in the standings. With three races left to run, Clay says the team will continue to push the No. 81 as far as it can go as the season draws to a close.
"Road America was a good points race for the No. 81 which is focusing purely on the Championship at this point," he added. "As we wind the season down, we lost the points lead so we have to be a little more aggressive to gain it back in the time left. We are lucky to have three other team cars committed to this result and it proved helpful for the No. 81 to have all three of those cars supporting at Road America. We will continue to provide the best car we can and hopefully we can get the consistency, speed, and luck to win this thing three races from now."
For Liefooghe, the final races pose an interesting challenge as all three circuits favor the BimmerWorld BMW in some areas, but could provide an even greater advantage for the competition in other sections. Beyond circuit-based considerations, Liefooghe sees completing three clean races as another element that will influence the Championship outcome.
"As we saw in Road America, a lot can happen in three races," he said. "A lot of podium contenders for that race got tangled up in the first lap, and that opened up an opportunity for us. If we consider that the tracks for the rest of the season will have the same flavor as Road America and base the results on pure speed, the outlook could be a little grim. Last year, we won at that track with a good strategy and competitive lap times, yet this year, we did not have the speed that other cars had. It is hard to argue against cars with an extra 3mph or more on the straights, especially when they have the same weight and bigger tires. Fortunately, BimmerWorld will keep engineering our E90s and try to get even more out of the chassis. We are still on track to win the Championship."
Road America featured the latest top-10 for BimmerWorld's in-house developed F30 chassis, and at its current rate of progress, running towards the front of the ST class is becoming an expectation during a year of discovery with the car.
"The F30 has been a solid car all season, and we are finding fewer surprises, which is allowing us to focus forward," Clay explained. "We want our first win in the new chassis this year, and I think we have it in the car. We have had a few solid finishes in a row now, and I feel like that is our current expectation for the new chassis. The F30 is our team's future and at this point it looks very bright."
UP NEXT FOR BIMMERWORLD: VIR, August 23
FOLLOW: BimmerWorld at www.BimmerWorldRacing.com
ROAD AMERICA RESULTS & QUOTEBOARD:
No. 80 BimmerWorld BMW 328i (E90), Qualified P24, Finished P17
Eric Zimmermann: The No. 80 drove great at Road America. It was my first time there, but was able to bring the car from 24th to 15th during my extended stint. Unfortunately, we had to make our driver change under green and fell a lap down.
Tyler Cooke: My closing stint in the No. 80 unfortunately didn't go as we hoped. I left the pits a lap down due to some issues. The team did a great job and the car had great pace. I was able to run with all the cars in the top five and ten. I'm looking forward to VIR with the momentum from both cars.
No. 81 BimmerWorld BMW 328i (E90), Qualified P14, finished P4
Tyler Cooke: My opening stint in the No. 81 went very well. I was able to drive the car from 14 to 5th which was great and gave the car to Greg in a strong position. Greg drove the car to 4th which was a great job!
Greg Liefooghe: I was lucky enough to have the No. 84 behind me throughout the stint to help me. Teamwork paid off.
No. 82 BimmerWorld BMW 328i (E90), Qualified P20, Finished P7
Dan Rogers: Overall, we were pleased with the results of the race for the No. 82. We saw improvement in qualifying from our earlier practice times, avoided the mess in Turn 5 of the first lap, and turned a good car over to Seth for the finish.
Seth Thomas: Great race and result for Dan and I. The action throughout the race was intense. Every time I would get around one car I had to work hard to get another position. Overall the competition in the ST Class is some of the best sports car racing you can find.
No. 84 BimmerWorld BMW 328i (F30), Qualified P11, Finished P6
Jason Briedis: We were lucky to avoid the first lap accident as cars were wrecking in front and behind. After that I was just concentrating on maintaining track position and preserving the car so James would have something for the second half of the race.
James Clay: Jason did a fantastic job of both qualifying the car and moving it forward during his stint. The green flag stop was well executed, and we got a little help with a yellow to bunch the field. I was more committed to helping the No. 81 this race, but we didn't have the car to win it anyway. Another solid one in the books for us though, and I am excited to get to VIR for our next round to spray some champagne!
Tags