BimmerWorld's 4-Car BMW Program Ready For New Season At Daytona
January 22nd, 2014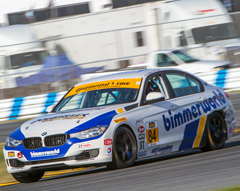 Leading Continental Tire Series team BimmerWorld Ready To Begin Championship Hunt
A long off-season is ready to come to an end this Friday as the IMSA-sanctioned Continental Tire Series opens its championship at Daytona International Speedway, and Virginia's BimmerWorld Racing is ready to resume its pursuit of a title in the Street Tuner class.
The BMW aftermarket and tuning experts have re-tooled their program to expand from three cars to four, added new drivers and have continued their uncompromising development of BMW's latest 3-Series chassis platform, the F30. All of that work, according to BimmerWorld team owner/driver James Clay, has been done with one goal in mind: winning.
"It has been a busy six months at BimmerWorld as we have been planning our 2014 season – our most aggressive to date," he said. "We had strong runs last year, but we have been working hard over the winter and with a change in regulations we have been able to bring long-time damper technical partners MCS onboard, which I believe is a major advantage. Our driver lineup is across the board, without exception the strongest we have had – I expect big things from everyone this year."
Making bold predictions about the season ahead isn't BimmerWorld's style, but Clay did share his thoughts on how the combined BMW E90-based 328is and their F30 counterparts might fare in the hands of his drivers and peerless technicians.
"Almost every team in the field comes into the first race of the season predicting podiums, wins, and Championships, and certainly I am as proud of our 2014 team as anyone," he explained. "But I think it will be the dog days of mid-season this year that will tell the tale, and I think we have the most depth in the field. With a pinch of luck tossed in, we will endure the full season with a stack of hardware waiting at the end."
The team has a knack for finding the podium at Daytona, and as much as Clay would like to see his BimmerWorld team fill the top three spots and earn the win, taking a season-long approach to the first race of the year could be the smartest approach of all.
"Daytona sets the tone for the season, but it is such a different track from most we race on," added Clay. "Our goal this weekend is, as always, banking solid points as we start the year. Starting with a win is always nice, but our BMWs are a fantastic mix of solid performance across the board – power, handling, and braking. We may not have the most powerful car in the field to go into this one expecting the win, but our team will produce the opportunities for our cars to be right there, and if a win falls in our direction I won't be surprised."
DAYTONA PRE-EVENT DRIVER QUOTEBOARD
No. 80 BimmerWorld BMW 328i (E90)
Corey Fergus: "Daytona is a patience track because of all of the straightaways. Sometimes you have to be smart and not pass someone on a straight knowing that they'll just pass you back on the next one. The draft is key here as well, but at the same time you have to stay away from the madness of having 70 cars on the same track. To secure a good result, our goal is to push hard enough to get to the front but to be conservative enough to stay out of trouble."
Kevin Gleason: "My goals for Daytona are pretty straight forward. We want to run at the sharp end of the field and leave with a clean car and solid points. Starting the season off on the right foot is important and will allow us to build momentum throughout the long and grueling season."
No. 81 BimmerWorld BMW 328i (E90)
Tyler Cooke: "My confidence level is very high entering the new season. Greg and I had a great season in 2013 making the No. 81 car a threat every race. Doing as well as we did in the pre-season test a couple weeks ago boosts my confidence even more. Daytona will definitely bring a fight like it does every year."
Greg Liefooghe: "In Daytona, we want to set the tone for the rest of the season. Although the competition will be tougher than ever, our cars are the best they have been yet. We finished on the podium here three years in a row, and we will try to get one step higher this year. Of course we will take only reasonable risks to get that results, as scoring points for the Championship is still the number one goal."
No. 82 BimmerWorld BMW 328i (E90)
Dan Rogers: "As we enter our third year of driving together, Seth and I are poised to improve on our last two seasons. We work together and strategize during the off season, with the goal of improving our approach to racing. While the goal is a championship at the conclusion of the season, our approach is to produce solid results, every race. That will start in Daytona."
Seth Thomas: "Daytona is the one track where I want to get a win in the No. 82 CRC BRAKLEEN® BMW. It has eluded me the last few years but we have always run in the top-5 during the races. The last few years the competition has been getting stiffer and stiffer making a win even at Daytona very hard to get. BimmerWorld has always given us a fast car, fast pit stops and great strategy to put us in the right spot. I don't see this year being any different. We will be there fighting until the end."
No. 84 BimmerWorld BMW 328i (F30)
Jason Briedis: "Physically, as I've been getting ready for the new season, I have been karting and staying active with sports. As for the mental aspect, watching video and analyzing data always help me prepare for a race. I'm definitely excited to get the season started!"
James Clay: "The BimmerWorld team has put a lot into this new F30 over the winter and I think we have a solid BMW racecar under us this year, which to me means excellent handling, superior braking, and enough power to be in the hunt. I am looking forward to rejoining the Championship hunt behind the wheel of the new car, and I am looking forward to a solid result with my new co-driver!"
Follow the team as it competes at Daytona for the first round of the Continental Tire Series held on January 24 by visiting www.BimmerWorldRacing.com
Tags