BimmerWorld Team Ready for Multi-Class Attack at Daytona
January 22nd, 2018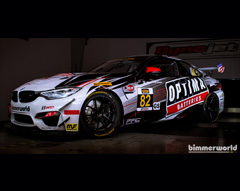 BimmerWorld Racing is acclaimed for the development work it has done with its BMWs in the IMSA Continental Tire SportsCar Challenge (ICTSC) series. The Dublin, Va.-based team will continue that work in two classes of the series this year beginning with the season opener, a 4-hour race on Friday, Jan. 26 at Daytona International Speedway called the BMW Endurance Challenge, which supports that weekend's Rolex 24.
Team owner James Clay of Blacksburg, Va. and Tyler Cooke of Ft. Lauderdale, Fla. will move up to the Grand Sport (GS) class this year and develop their brand-new, factory-supported No. 82 OPTIMA Batteries BMW M4 GT4.
Meanwhile, two drivers new to the team but not the series — former Street Tuner (ST) champion Nick Galante of Greenfield, Mass. and Devin Jones of Mooresville, N.C. — will switch from Porsche Caymans to the BMW BimmerWorld has developed into a championship contender in the ST class — the turbocharged 328i (F30 chassis). The new co-drivers' car, No. 81, will showcase season sponsors Veristor and Legistics on its new livery to be unveiled at the Round-2 race taking place at Sebring in March.
The flavor of the series has changed for 2018. In the recent past, there were two classes, GS and ST, with the ST cars outnumbering the GS entries. This season, TCR will be introduced as a third class in the series, and the GS class has grown overnight to become by far the largest. The pre-entry list shows 31 GS entries, five ST cars, and seven TCR cars.
BimmerWorld Racing is especially enthusiastic after a successful pre-season test Jan. 5-7 at Daytona called the Roar Before the 24, where the development work continued in earnest on the No. 82 while the drivers of the No. 81 got acclimated to the intricacies of their BMW 328i and its turbocharged engine.
That work will continue during three practice sessions leading up to the season opener on Daytona's 3.45-mile road course. Practice 1 is from 1:30 p.m. to 2:30 p.m. EST on Wednesday, Jan. 24. Practice 2 is from 3:45 p.m. to 4:30 p.m. EST later that afternoon. Practice 3 is from 11:40 a.m. to 11:55 a.m. EST on Thursday, Jan. 25. A combined ST and TCR qualifying session follows 10 minutes later, while the GS class qualifies from 12:25 p.m. to 12:40 p.m. EST that day. There will be a 45-minute open grid fan walk on pit late at noon on Friday, Jan. 26 before the BMW Endurance Challenge gets the green flag at 1 p.m. and the checkered at 5 p.m. EST.
The race will air live on IMSA.TV from 12:50 p.m. to 5 p.m. EST on Friday, Jan. 26 prior to the start of the Rolex 24 the following day. Live timing and scoring will be displayed at IMSA.com. Highlights of the 4-hour race will be shown on FOX Sports 1 from 8 a.m. to 10:30 a.m. EST on Saturday, Feb. 10.
James Clay, Blacksburg, Va., team owner and driver, No. 82 BimmerWorld Racing OPTIMA Batteries BMW M4 GT4:
Please tell us a little about your new GS program.
"This is an exciting program for us. We're working directly with BMW Motorsport to tailor the GT4 car to the Continental Tire Challenge series specifications. As both a competing driver and as a business owner specializing in BMW aftermarket products, this is an important direction. The factory car is a new program for us. So far, we're happy with the testing we've done, and it shows great promise for a competitive season ahead."
How did things go at the Roar?
"We had a test plan for the BMW GT4 that we worked through during the Roar test weekend. We were very strict in our designated strategy and what we saw through the weekend was progression during every session, which was exactly what we wanted as we continue to learn this new car. We made very solid progress during the test, and the last session was our best.
"I think we're still a little bit challenged on top speed on the banking at Daytona, which we can't do much about as a team with this type of platform. But I think we have a solid race car that did everything we asked of it. If we can get the BoP [Balance of Performance] where it needs to be, then I think we're going to be in the fight all year. We have a fantastic tool for the job. Our team has embraced the car and is working well with it. Tyler and I are both dialed in with the car and picked up right where we left off in the ST car. We're really looking forward to the season in the new car.
"As far as the ST program goes, we ended 2017 with a really strong BMW for the ST class, and that 328i has been a long-term development project that finally came into its own last year. We finished the season strong, and it looks like we're going to start the season strong this year. Nick and Devin are fantastic additions to the team. We've enjoyed being around them, and both got in the car and were immediately quick during the test. They acclimated to both the car and the team quickly, and we're looking forward to a fantastic year with those two."
Tyler Cooke, Fort Lauderdale, Fla., driver, No. 82 BimmerWorld Racing OPTIMA Batteries BMW M4 GT4:
What are your expectations for 2018?
"My expectation is very high for this year after the outings we've had in this new GT4 car — the test in November, the BOP [Balance of Performance] test for BMW in December, and the Roar test earlier in January.
"We believe this car shows a lot of potential. I'm glad to be back paired with James and working together again. The M4 is going to be a great fit for us, and we're especially excited because the BimmerWorld crew will be working in conjunction with BMW Motorsport to develop the GT4 car during the season.
"Our goal is to win the championship, and after being so close and finishing second in the championship last year, we're even more hungry for it. We're go-getters and have the capability to run at the front of the pack consistently. With our determination and the strength of the BimmerWorld crew to consistently prepare and campaign a great car, I have no doubts about this being achievable."
How did things go at the Roar?
"The weekend started out good and ended great! We started out running a 2-minute lap time to a 1:59, and we ended the test by running a 1:57, so now we're with the field. We enjoyed the help of BMW, and the BimmerWorld guys worked hard during the Roar test weekend and since to implement what we learned. We left the Roar test knowing we have a pretty fast car even when we were on old tires, so we're hopeful for the race.
"I'm really looking forward to being back at Daytona for the race, and it's really cool seeing what this GS field is like now. It's a big field that's grown a lot. A few years ago there were six cars in the field, and now there are over 30. It's great to see how IMSA is making the series better and welcoming manufacturers like BMW with this car. It's awesome for a fan to drive their M4 to the track and see the outside of our M4 race car, and then look at the inside and it looks like a GT3 car. I'm looking forward to the race and to the whole season."
Nick Galante, Greenfield, Mass., driver, No. 81 BimmerWorld Racing Veristor/Legistics BMW 328i (F30 chassis):
You've had great success in this series with Porsches. What will it be like to drive a BMW in the series this year?
"Joining BimmerWorld has been something I've dreamed about since I first got my foot in the small door of racing. To be on this team is really sweet, and it should be a pretty good fit.
"Back in 2006, my first taste of motorsport competition was when I started autocrossing my E36 M3 with the Golden Gate chapter of the BMW Car Club of America. I knew of the great products that BimmerWorld provided and even had some on my car that helped me win my first championship. I later moved into road course racing and learned of the BimmerWorld Racing team. I'm very much looking forward to fighting for a championship with such a long-standing and prestigious team, and I feel it's a good fit that has been in the works now for over 11 years, from my standpoint. I'm excited to finally be back in a BMW with arguably one of the best teams and crews in the world, thanks to the professional leadership of James Clay.
"Co-driving with Devin Jones just adds to the great fit of the team. I raced against Devin for the past two years, and I know that he'll be bringing a fast, smart asset to the team and the championship hunt. I believe our driving styles are sure to be a good fit to help us forge a path to the front."
What did you accomplish at the Roar?
"What a great weekend! We had a good program set in place. We started off just getting to know the car and making the changes we had to make from the cars that Devin and I were driving last year. The BMW 328i is way different than the Porsche Cayman, but it was easier to adapt to than I expected. I was worried about the turbo and how differently I was going to have to drive it, but it felt good. Both Devin and I picked it up quickly.
"Switching over from the normally-aspirated car that I've been in for the past two years to the F30 328i turbocharged in-line four has been a big change. So far, it's been fun trying to figure out the characteristics of the car, how the turbo delivers the power, and how we can get the car to move quickly. It's been a great education and I'm looking forward to learning more.
"I think we've got a good season ahead of us. We're already off to a better start than I expected."
What are your expectations for the season?
"A lot of great drivers from past series, and maybe some new drivers looking to get their start, will make for a competitive field. I'm looking forward to trying to get into a closing role and to fight for the championship. I'm also looking forward to getting as many pole positions and victories as we can get and contending for the championship."
Devin Jones, Mooresville, N.C., driver, No. 81 BimmerWorld Racing Veristor/Legistics BMW 328i (F30 chassis):
You're also transitioning from a Porsche to a BMW this year. What do you think of your chances?
"Joining BimmerWorld for the 2018 season is an absolute honor. They are a top-notch race team and organization. And with Nick as a co-driver, our chances are excellent. Nick's and my goals for the season are simple — we want to compete for wins and go after the championship in the final year of the ST class. I believe we have every tool to do so, and I can't wait to get started at Daytona."
How did things go at the Roar?
"It was a really good weekend. Nick and I learned a lot about the car, and we were able to do some setup adjustments and experiment a little. The weather changed during the course of the test and got a little warmer, which was good because it will probably be a little bit warmer for the race. All the BimmerWorld guys really set up a great car, and I'm really looking forward to the race."
What are your expectations for the season opener?
"It will be great to be back racing at Daytona. This will be my fourth time coming here for the Continental Tire season opener before the Rolex 24 at Daytona. There's a lot of excitement around the new classes. It's my first time here with the BimmerWorld guys, and the guys have been really helpful and are really up to speed with the car, so the development of it is spot-on. It was fast off the trailer at the Roar. Nick and I had to get adjusted to it, but we didn't have to make too many changes. We had to get used to that turbocharged engine; there's a little bit of a learning curve with that, like when to get on the throttle and different positions. It's a little bit different than the Cayman I'm used to driving, but so far, so good!"
FOLLOW BIMMERWORLD AT: https://www.facebook.com/bimmerworld
STAY UP TO DATE WITH BIMMERWORLD NEWS AT: http://www.bimmerworldracing.com
ABOUT: BimmerWorld is renowned as a leader in BMW aftermarket and tuning expertise. It competes in the IMSA Continental Tire SportsCar Challenge series in both the Grand Sport (GS) class with a brand-new BMW Motorsport M4 GT4 and in the Street Tuner (ST) class with a turbocharged BMW 328i (F30 chassis), where the Virginia-based outfit has become a routine winner and championship contender.
Tags