BimmerWorld Takes Two Top-6s In Monterey, Solidifies Its Championship Effort
May 7th, 2014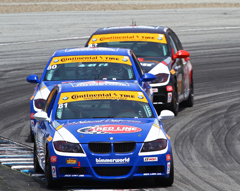 Strong driving, strategy plays a big part in continuing the team's impressive open to the 2014 season
With the comically small cars in the Continental Tire Series running away from the field once again in the Street Tuner class at Mazda Raceway Laguna Seca, the BMW specialists at BimmerWorld turned to exceptionally smart strategy calls and supreme driving performances to secure impressive finishes last weekend in California.
As routine winners in the series, BimmerWorld was prepared for the "race within a race" among normal-sized Street Tuner entries in Monterey, and turned to class-leading pit stops and tactics to propel the Nos. 81 and 82 entries to fifth- and sixth-place finishes.
"We knew going into this weekend that we were again racing to fill the spots behind the light MX-5 cars who have won the last four of five races, but our team again prepared top cars, made a very aggressive pit strategy call, and we finished well due to an excellent performance all around," said team owner/driver James Clay. "We don't seem to have the performance balance in our favor this year, and we would like to win races instead of just collecting points, but I am proud to see that we can still gain solid finishes through hard work and preparation."
BimmerWorld's Greg Liefooghe and Tyler Cooke battled for the top spot behind the trio of MX-5s that ran away in a 1-2-3 finish, settling for fifth in the No. 81 BimmerWorld BMW 328i after two hours and thirty minutes of frenetic competition. The finish also added to their points tally after three rounds, with the two sitting second in the Championship standings.
"When we looked at the calendar at the start of the year, we knew that, with the number of MX5s in the field, there were some tracks where we'd have no chance at a win," said Liefooghe. "We focused on scoring as many points as possible for the championship and I think we achieved that goal.
"Our engineer ran a very aggressive strategy, pitting us right at the time limit which gave us the track position when the pits cycled through. With the race seeing that many full course yellows, the emphasis at the end of the race was not on pace anymore but more on conserving our track position. We're in a good position to fight for the Championship and now want to add some wins."
The Monterey race marked the latest outing for BimmerWorld's brand-new turbocharged BMW F30 chassis, which is being developed in competition this year by Clay and teammate Jason Briedis. Based on its pace in California, Clay sees better finishes on the immediate horizon.
"The F30 is finally right with our E90 cars in performance ability, and the little oddities are showing up less often," he explained. "This weekend should have been a solid top-10 finish for us, but some issues in the pits and an over-eager GS car bumped us out. The big finish will come at any round now – we are in the hunt."
MONTEREY QUOTE BOARD:
No. 80 BimmerWorld BMW 328i (E90), Qualified P11, Finished P12
Corey Fergus: "Overall, it was a solid weekend for BimmerWorld with three top 15's. The crew did a fantastic job during our pit stops. We just missed the setup a bit and struggled with the handling of the car. As a result, we were constantly on defense which made it hard to hold position. It's a little frustrating when you can't be aggressive and fight for a good position, but a 12th is decent points for us in the Championship. I'm looking forward to the next race in Lime Rock."
Kevin Gleason: "To be honest, my stint was not very much fun. We had caution after caution and were not able to get into a rhythm. Under the final caution of my stint we made the call to hit pit lane a lap before anyone else in the field. The decision was made last-second at pit entrance and we entered legally by just 9/10ths! The BimmerWorld guys had a perfect pit stop waiting for us as usual and our strategy was executed flawlessly by our engineer Dave Wagener."
No. 81 BimmerWorld BMW 328i (E90), Qualified P10, finished P5
Tyler Cooke: "Laguna Seca is one of my favorite tracks to race on, but unfortunately I didn't have any eventful laps during my stint due to the numerous cautions. Throughout the green flag portions of my stint, the car was consistent and quick which proved to be true when Greg took over from me. Overall it was a great race finishing 5th and good to walk away with points leading into Lime Rock."
No. 82 BimmerWorld BMW 328i (E90), Qualified P20, Finished P6
Dan Rogers: "The race went well for the 82 car. During the first stint, we moved up in the pack, and kept the "non-MX5 leaders" in sight. We battled during the restarts to maintain position, against the more powerful ST cars, but the BMW's handling and braking never let us down. Engineer Wayne Yawn called the 82 in for a driver change at the perfect time, giving us a full load of fuel, new tires, and Seth in the driver's seat. It was a gutsy call, but worked out, to put us ahead of the pack, the majority of which pitted later. Fans always think of the driver performance determining the finishing position in the race, but we owe our finishing position to daring pit strategy and great pit work by the guys at BimmerWorld."
Seth Thomas: "Races are won and lost in the pits. This race for us was won in the pits. Our engineer made a daring call pitting the 82 mere seconds after the 45 minute mark of the race had passed. The majority of the ST field didn't take the gamble giving us the track position to help guarantee a top-10 result. The rest of my race stint was about putting down solid laps to stay within striking distance of the MX-5s."
No. 84 BimmerWorld BMW 328i (F30), Qualified P27, Finished P25
James Clay: "Laguna was a solid race for Jason and I, but short of the result we wanted. The crew did a lot of work through the week to give us the solid racecar we had, and we just had some bad luck."
Tags