BimmerWorld Takes Two Top-10s at Lime Rock; Strong Race For New BMW F30-Based 328i Chassis
May 29th, 2014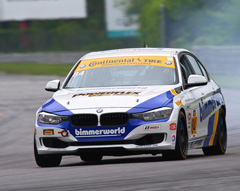 BMW experts continue to maximize Championship points while developing turbocharged F30 racecar
The Continental Tire Series built its reputation as a series where a variety of manufacturers and models can race with a realistic shot at winning. After three consecutive rounds where the smallest, lightest car in the Street Tuner class has dominated the proceedings, scoring three straight 1-2-3 finishes, the rest of the teams participating in the ST, including BimmerWorld, find themselves waiting for the scales of opportunity to be balanced in a more inclusionary manner.
The most recent event, held over a wet and dry Memorial Day Weekend at Lime Rock Park in Connecticut, saw BimmerWorld dueling once again for "Best in Class" among the normal-sized ST cars as the tiny MX-5s used their lack of weight to fill the podium. Left to fight over fourth place and lower, the Virginia-based BMW aftermarket and tuning experts secured a fine fifth, ninth and 12th in ST, while its fourth entry finished down the running order after being struck and damaged by two cars on the opening lap.
"It is a fairly frustrating period for us all," said BimmerWorld owner/driver James Clay. "We have the best driver lineup we have ever had on the team, across all four cars. We have a well-seasoned team, solid proven equipment, and new partners that help us continue to advance the cars we put on track. And while we execute very well on all fronts and can pull decent finishes by the skin of our teeth, we just can't touch the cars that are 500 pounds lighter.
"It's really getting quite maddening, but again, we will take solid points and continue to have faith in the IMSA officials that control the balance of performance, which has to be as clearly out of whack to them as it is to most in the paddock and watching the races unfold to our third MX-5 podium sweep in a row."
Top finisher for BimmerWorld went to team veteran Seth Thomas and ST newcomer James Colborn in the No. 82 CRC BRAKLEEN® BMW, and Thomas credited his pit crew and engineer for flawless execution to get the E90-based 328i into the tick of the fight.
"The BimmerWorld crew and engineers have been knocking it out of the park lately," he said. "For the second race in a row, right off the trailer the car was setup for laying down fast laps. James did the same by coming up to speed very quickly at the tricky track. I wish we could have qualified in the wet because he would have put us in a higher starting position. During my stint it was typical Lime Rock, lots of on track battles and always busy in the car. Our strategy put us a little short on fuel so we had to stop an extra time. With the crews fast work again we didn't lose any spots. Overall I think we did our part to bring points to the No. 82. We didn't have the pace for the top-3 but we did have the pace to finish in the top-5."
Clay and co-driver Jason Briedis recorded the most competitive outing for the team's new turbocharged F30-based BMW 328i, placing 12th at the finish. With the entire project being developed in-house by BimmerWorld, the team continues to make great strides with the first-of-its-kind F30 race car in North America.
"It was good to finally get a really good race under our belts in the new F30 without issues," he added. "It was a short weekend and we had rain to deal with, and we had a handling issue we didn't get to address perfectly, and it was the minor kink in our performance. But everything else about the platform, the team, and the driving was rock solid. I am happy with the result and look for more and better as we go."
UP NEXT FOR BIMMERWORLD: The Continental Tire Series event at Kansas Speedway on June 6-7. Dan Rogers, who missed Lime Rock due to family commitments, will be back in the No. 82, and Corey Fergus will have a new teammate to share the No. 80 in the run to the season finale at Road Atlanta in October.
FOLLOW: Keep up with the team as they prepare for Kansas by visiting www.BimmerWorldRacing.com
LIME ROCK QUOTE BOARD:
No. 80 BimmerWorld BMW 328i (E90), Qualified P15, Finished P24
Corey Fergus: I wish IMSA would let us qualify in the rain. Starting based on championship points puts a lot of drivers around each other with varying talent. The end result is what happened to us on the first lap. I got drilled from behind which caused me to hit a couple cars. This damage probably resulted in a loss of power steering and broken sway bar and a 24th place finish. It's especially disappointing because we had such a fast pit stop and a strong car. I know my teammate Kevin Gleason would have done a great job. We work well together and I'll miss him as a co-driver.
No. 81 BimmerWorld BMW 328i (E90), Qualified P2, Finished P9
Greg Liefooghe: Our car ran into some issues affecting the handling, and around this track it takes a toll on you. It felt like I drove the 24 Hours of Lime Rock! Dave, our engineer, guided me through how much fuel I needed to save at the end of the race, and he was the reason why we managed to finish without refueling and were able to hold on to a top 10-finish, allowing us to keep second place in the championship.
No. 82 BimmerWorld BMW 328i (E90), Qualified P20, Finished P5
James Colborn: Racing with Seth and the entire BimmerWorld team was a great experience and I can't wait to get another chance to do it again.
No. 84 BimmerWorld BMW 328i (F30), Qualified P30, Finished P12
Jason Briedis: Like James mentioned, it was nice to get a decent finish after a few tough weekends. I am starting to get more comfortable with the F30 and hopefully can continue to improve. With the limited practice and rain we didn't quite get the car where we would have liked for the race, but all in all our pace was good.
Tags