BimmerWorld Shows Its Muscle at Road Atlanta
October 1st, 2016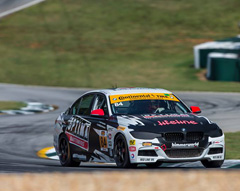 BimmerWorld Racing's No. 84 OPTIMA Batteries BMW 328i led more laps than any other Street Tuner (ST) car in Friday's season finale for the IMSA Continental Tire SportsCar Challenge (ICTSC) series at Road Atlanta, and it set the second-fastest lap of the 2.5-hour race for that class. Unfortunately, it lost oil pressure just 20 minutes from the checkered flag and didn't finish, leaving team owner James Clay and co-driver Tyler Cooke in 20th position but bolstered with the knowledge that they were definitely contenders.
Jerry Kaufman of Mooresville, N.C. and Kyle Tilley of Bath, England finished 12th in the Dublin, Va.-based team's second BMW 328i, the No. 81. Kaufman focused on keeping the car out of trouble and stayed around 15th place during his stint. Tilley did the same during his time behind the wheel, and it paid off when their car was able to rise to 12th at the end.
Cooke, of Matthews, N.C., set the No. 84's fastest lap of the race on lap two with a time of 1:37.110 for the 2.5-mile, 12-turn road course near Atlanta. That was almost a second faster than the time the car turned in earning the sixth qualifying spot (1:38.025) on Thursday, and it was just 0.060 off the fastest lap of the race turned by any ST car.
Although the team's two BMWs (F30 chassis) are among the heaviest cars in the class, their turbocharged engines loved the crisp autumn air that greeted Road Atlanta fans this year, and Cooke was able to vault from sixth to third before the end of the first lap. He was also able to take the lead on lap six when both he and the second-place driver passed the pole-sitter.
Cooke enjoyed a 1.247-second advantage almost immediately. He was able to stretch that margin to 6.484 seconds until a full-course yellow flew on lap 35 for a Honda Civic that was dragging a bumper. Cooke led through lap 38 until he pitted for Clay to take over near the halfway point under that yellow flag.
Clay ran in the top five for most of his stint, trying to conserve both fuel and his Continental tires, but the Blacksburg, Va.-based driver was unable to see it pay off when the mechanical difficulties forced him into the pits just shy of the finish.
The team is already working towards the 2017 season opener and will test at Daytona Saturday.
Friday's race will be shown on FOX Sports 1 on Sunday, Oct. 9 from 11 AM until 1 PM Eastern time.
James Clay, team owner and driver, No. 84 OPTIMA Batteries BMW 328i (F30 chassis):
"It was a nice cool day. When things are cool, it's good for the turbos. We're generally pretty happy. I wish it was like this all the time. I wish every day was 70 degrees and gorgeous like it was today.
We had a great race. Tyler did an incredible job. Unfortunately, we got that yellow. We were hoping to have a bit of a lead; a little bit of an advantage. It always takes us a little while to put the amount of fuel we need in this car so we lost a couple spots there, but we had a fantastic car. We just nailed the setup. The way the track changed with the weather, we just fell into the right thing. It was good over the duration [of the race], or the car came to us. I'm not sure which, but late in the race, we had a car to run to the front. I don't know that we could have won it, but I feel pretty sure we could have been standing on the podium.
Unfortunately, it got slippery and I thought 'Man, somebody is dropping oil,' and then I realized that it was me. I was the one oiling the track, so we came in and just parked it.
But we were certainly a contender. I don't mind finishing the season and putting it on the trailer in winning shape."
Tyler Cooke, driver, No. 84 OPTIMA Batteries BMW 328i (F30 chassis):
"It was actually a really great day. It's usually raining at the Petit Le Mans, so it was actually nice to have a nice cool, dry day. I came down with a cold yesterday, and I've been dealing with a sore throat and a fever while I was in the car.
I was happy to pull out a lead like I did. I was hoping to have it stay green because we were looking great if it had stayed green. The yellow set us back to third when we took the green. James drove a great stint, but, unfortunately, it just ended in smoke. I have no idea what happened to the car yet. Unfortunately, our day ended with 25 minutes left. It was a really strong run at the end of the year, so it's kind of heartbreaking, but we'll get them at Daytona."
Jerry Kaufman, driver, No. 81 BimmerWorld BMW 328i (F30 chassis):
"I couldn't have asked for any better weather for the season finale. Literally, it was a perfect day here at Road Atlanta, and the car just loved it.
We started off in the middle of a lot of mayhem. We kept our nose clean and we had better pace than everybody else around us. One by one we picked them off. I had a couple of interesting on-track incidents around me and lost a couple places, but we had the pace, so we got everything back and moved up quite a lot.
I wish that yellow hadn't come out because we were getting ready to pass some more cars. The turbo just loves this cool weather, and we haven't had it in the last four races. It was great to have that in our bag.
We had a little bit of a mess up in the pits, and it cost us quite a lot of places. Kyle drove well. I guess he had some issues, but the car was great for me. I had a great time out there. I couldn't ask for a better way to finish the season."
Kyle Tilley, driver, No. 81 BimmerWorld BMW 328i (F30 chassis):
"The race was relatively uneventful, actually. We had a great car at the start of my stint, but it gradually went away from us. I think it probably was the same for everybody out there, but we seemed to struggle especially.
We knew we were tight on fuel, so we really had to concentrate on saving fuel. I think a P12 result was about all the car had today. It's not a bad result, but a top five would have been nice to finish the year. But it is what it is, and I'm not unhappy at all.
Jerry did a fantastic job with his stint. We were looking pretty good. It wasn't a bad race, but it wasn't a fantastic race. I had some really good battles with some of my friends out there; no quarter given at times. It was a lot of fun. I really enjoy this track, and I look forward to coming back next year if that's the way things work out."
FOLLOW BIMMERWORLD AT: https://www.facebook.com/bimmerworld
STAY UP TO DATE WITH BIMMERWORLD NEWS AT: http://www.bimmerworldracing.com
ABOUT: BimmerWorld is renowned as a leader in BMW aftermarket and tuning expertise, and competes in the Continental Tire Series with a pair of BMW 328is (F30) where the Virginia-based outfit has become a routine winner and Championship contender.
Tags