BimmerWorld Scores Pair Of Top 10s At Mid-Ohio GRAND-AM Continental Tire Series Event
June 12th, 2012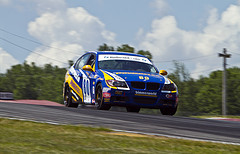 Team owner/driver James Clay and co-driver John Capestro-Dubets finish a fighting fifth in the No. 80 BimmerWorld BMW 328i. 2012 race winners Gregory Liefooghe and David Levine persevere to take eighth in the No. 81 328i.
Despite earning a win at Round 2 of the 2012 GRAND-AM Continental Tire Series championship through a perfectly-timed piece of race strategy, the BMW experts at BimmerWorld have gone into every race this year with an understanding they'd face an uphill battle, and last weekend's race at Mid-Ohio was no different.
With the Street Turner rules currently balanced in favor of smaller economy cars and their turbocharged cousins, teams like BimmerWorld have been left to fight for "best in class" honors with normal-sized sedans like the BMW 328i, making the team's pair of top 10 finishes at Mid-Ohio even more remarkable.
Leading BimmerWorld at the checkered flag was the No. 80 BMW 328i of team owner/driver James Clay and co-driver John Capestro-Dubets, who scored an impressive fifth-place result on the twisting 2.2-mile road course.
"I think it was clear this weekend that we didn't have the power that we needed to really challenge for a win, but the BimmerWorld team always puts together a solid car and a lot of the time, that will get us farther than we expect," said Clay. "The No. 80 had a solid race and we were never able to challenge for a position and take it, but we were able to be there when opportunity gave us a spot, and that was the key to moving to the front for us. Not the most exciting way to make it happen, but I am happy and content that we maximized the result."
With a string of bad luck limiting the No. 80's results this year, earning fifth at Mid-Ohio was a great momentum boost for the team and, in particular, second-year GRAND-AM driver Capestro-Dubets, who fought hard to the finish as the closer in the blue and yellow BMW.
"The opportunity to work with the experienced drivers and engineers on the team has helped me to mature," said 'JCD,' as he's known by the team. "I have no words for the emotion I had after this race. To cross the finish line, pull into the pits and see the looks and the other competitor's faces, then walk up to see James and feel the relief of success for the No. 80 after a rough start to the season was just incredible. I'm very grateful for this experience and beyond fueled for the next round."
Round 2 winners Gregory Liefooghe and teammate David Levine steered the No. 81 BimmerWorld BMW home in eighth, their third top 10 of the season. Liefooghe was quick to hail the performance and progression of his teammate so far in 2012.
"For David and me, it has just been a matter of learning how to communicate with each other," said the respected racer and driver coach. "My job is to make sure he gets what he needs to find those last few tenths on the track. We have jelled very well and now we only work on small details. One of the big changes from last season for David was that he now has a team and a teammate behind him, and we are all here to make him faster and he adapted quickly to that environment. He manages to bring the car back in good shape and in a good position after his stint and it allows me to go for a good finish."
BimmerWorld would have preferred to have all three of its cars in the top 10, but circumstances intervened throughout the weekend for the No. 82 CRC BRAKLEEN® BMW 328i piloted by Seth Thomas and Dan Rogers. For reasons that defy explanation, a year's worth of bad luck struck the No. 82 at Mid-Ohio, forcing the car's resilient technicians to perform miracle after miracle to overcome a variety of unexpected mechanical woes.
Coming off a second-place finish at the previous round, soldiering home to take 26th at Mid-Ohio might not seem like something to celebrate, but Thomas gave full credit to everyone who took part in getting the No. 82 to the finish line.
"The BimmerWorld Crew fought all weekend to get the No. 82 CRC BRAKLEEN® BMW on track," he said. "It seems every time one problem was solved, another reared its head, including during the race. Most teams would have packed up and gone home during practice, but not our guys. I am proud of every crew member as they fought harder than Dan or I did on the racetrack.
"They stayed up late and worked right up until the last minute to give us a race car we felt would lead us to the front of the field. Unfortunately some race contact from another car prevented them from seeing success in the No. 82 BMW. Regardless, this race was only possible because of them."
Follow BimmerWorld's progress atwww.BimmerWorldRacing.com, and watch the Mid-Ohio race when it's airs June 17th at 12 p.m. ET on SPEED.
Tags