BimmerWorld Reveals Four-Car Continental Tire Series Street Tuner Program
November 14th, 2013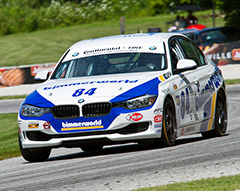 Leading BMW aftermarket and tuning specialists unveil their most ambitious and competitive ST team to date; adds next-generation BMW F30 platform to compete full-time alongside proven E90s.
Coming off a season where its drivers landed in Victory Lane and took both third and fifth in the Driver's Championship, the BMW experts at BimmerWorld Racing have set the bar even higher for 2014.
The Virginia-based outfit has its program for the Continental Tire Series completed earlier than at any other time since joining the championship in 2010, all while expanding its roster by adding a fourth car to its Street Tuner stable.
With a runner-up finish in the Championship on their series debut and a third-place now in the record books, BimmerWorld has one spot on the season-long podium left to claim and to help with that endeavor, team owner/driver James Clay has been developing a new chassis that could be the difference maker.
"Pioneering the development on the new BMW F30 chassis is the next logical step for BimmerWorld," he said. "Adopting new technology isn't always the easiest endeavor, but the hard work pays off by staying ahead of both the competition on the track, as well as in the BimmerWorld sales office. We came a long way in three races at the end of the 2013 season with this new 328i car, and a winter of work will put us in a good spot when 2014 kicks off at Daytona."
But BimmerWorld's winter work isn't confined to next-generation 328i F30s, as Clay explains.
"We have rock solid 328i E90s that have produced all of our wins and Championship top-3s, and we are always working hard and learning how to make them even better," he continued. "And this is especially true this winter with the new damper rule allowing us to once again work with our team's core technical partners for suspension."
Consistency and stability have been hallmarks of BimmerWorld's professional racing efforts for more than a decade, and the trend continues in 2014 as many familiar faces will return while a few new names have come onboard to form one of the strongest units in the paddock.
No. 80 BimmerWorld BMW 328i (E90), with drivers Corey Fergus and Kevin Gleason:"I have been looking at Corey Fergus as a driver since his impressive qualifying efforts in his initial run in the 2012 season," said Clay. "We had the opportunity to work with Kevin Gleason at Indy this year and he is a hard worker and very technically capable. This pair of drivers is the perfect fit for our results-focused team."
No. 81 BimmerWorld BMW 328i (E90), with drivers Tyler Cooke and Greg Liefooghe:"Greg and Tyler were our highest finishers in the 2013 Championship, and this car will launch into their second year right where they left off," Clay noted. "Greg is a strong help in car setup for our team, and Tyler is developing into an outstanding professional driver."
No. 82 BimmerWorld BMW 328i (E90)/ BMW 328i (F30), with drivers Dan Rogers and Seth Thomas:"Seth Thomas is returning to his BimmerWorld home for his eleventh year," Clay remarked. "Once again partnered with Dan Rogers who returns for his third season, this duo has had tremendous results to date. We have a new BimmerWorld F30 chassis in the shop ready for their transition into the new equipment, where they will further help with the development effort."
No. 84 BimmerWorld BMW 328i (F30), with drivers Jason Briedis and James Clay:"I am thrilled to be back in a new F30 full-season after spending some time to develop the car last year," said Clay of his upcoming driving duties. "Jason Briedis, a long-time friend and customer, will be sharing the driving and development duties with me. Jason is a GRAND-AM racer from several years ago and will be an excellent fit in our program in terms of both talent and personality."
Follow BimmerWorld's progress as they prepare for the upcoming season by visiting www.BimmerWorldRacing.com.
Tags