BimmerWorld Ready To Carry Winning Momentum Into Round 3 At Homestead
April 24th, 2012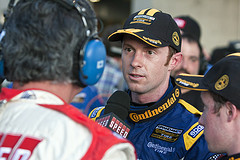 The three-car BimmerWorld BMW team, winners of the most recent GRAND-AM Continental Tire Series race, will look to repeat its success this weekend in Florida at the Homestead-Miami circuit
Finding success in any sport involves plenty of talent, planning and preparation, but having the help of something a bit more intangible also helps.
Riding the wave of momentum from its recent GRAND-AM Street Tuner-class win at the rolling Barber Motorsports Park facility, the Dublin, Va.-based BMW experts at BimmerWorld will look to carry that positive motion through this weekend's race on the Homestead-Miami "roval."
Using portions of the 1.5-mile oval track and its infield road course to comprise the 2.3-mile, 11-turn circuit, BimmerWorld owner/driver James Clay says he and the team will stick to its proven game plan to maintain its current position atop the ST drivers, teams and manufacturers championships.
"Everyone did a solid job at Barber and certainly we had a little luck that fell our way to help us out, but hard work put us in a position to be able to turn good luck into an even better result," he remarked. "We will keep doing our thing, but it is good this early on in the season to have confirmation for all the effort everyone is putting in. Based on how some cars are performing based on the rules, I don't think the BMW is the most gifted car in the field right now, but it's up to us to come up with a response and overcome those disadvantages as much as possible."
Clay and co-driver John Capestro-Dubets will look to bounce back in the No. 80 BimmerWorld BMW 328i after a tough race at Barber, but its first-time winners, Gregory Liefooghe and David Levine, have stayed focused after their breakthrough victory in the No. 81 BimmerWorld entry.
"The last few weeks have been very busy with all the different clubs and race series starting their seasons," said Liefooghe, who serves as a driving instructor during the week. "I have had about two days off total since last race and have been at different race tracks the rest of the time. It's been quite awesome to see how many people are exposed to the Continental Tire Series, and I have had a ton of positive feedback on our last result at Barber. Although it was nice to take it all in, now is not the time for David and I to keep pushing as the season is really just starting to pick up its pace."
Going for a second-straight win, as Liefooghe shares, will involve equal parts aggression and restraint on a track that's known to wear down tires at an accelerated rate.
"The key to going fast and keeping the tires under you has a lot to do with smoothness and self-discipline," he continued. "You can't push too hard, overdrive the entry of the corner, or slide coming out. And you have to stay out of the ABS to keep the tire from overheating. Although it looks quite easy on paper, Homestead makes it a real challenge, as it is mostly slow hairpins which tend to make you push harder than you should. The other main challenge is to balance the moments when you have to be aggressive and make up positions, and the moments when you have to save your tires for those last few laps. It's a track that rewards being smart on every lap."
BimmerWorld's Seth Thomas, who shares the No. 82 CRC BRAKLEEN® BMW 328i with Dan Rogers, has a simple message about Homestead.
"Staying out of trouble is going be tough especially at a track like Homestead with 39 cars entered in ST. It has low grip and lots of slow turns that tend to favor the smaller cars in the class, so charging into every corner isn't the right frame of mind to be in. Everyone did a great job keeping the cars clean at Barber, yielding our best results of the season so far. Patience will pay off for us this weekend."
Follow BimmerWorld's progress at Homestead this weekend by visiting www.BimmerWorldRacing.com, and be sure to watch the race when it's airs on May 12th at 12 p.m. ET on SPEED.
Tags
RELATED ARTICLES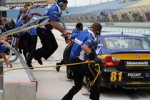 BimmerWorld Endures Up And Down Weekend At Homestead-Miami GRAND-AM Event
Leading into Saturday's race at the Homestead-Miami circuit in Florida, the three-car BimmerWorld BMW 328i GRAND-AM Continental Tire Series team had every reason to feel bullish about its chances to earn back-to-back victories. Coming off a savvy win at the …
Read More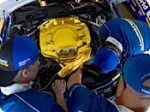 BimmerWorld Ready to Resume the Fight at Homestead-Miami Raceway
For a team that doubled in size, made its debut with a two-car effort in the Grand Sport (GS) category and fielded two new drivers in the Street tuner (ST) class at Daytona, the BMW experts at BimmerWorld Racing came away pleased from the first race of the 2011 championship. But they are also hungry for better results.
Read More