BimmerWorld Ready For Round Two
March 2nd, 2010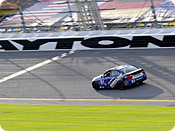 BMW road racing specialists BimmerWorld are prepared for their second GRAND-AM Continental Tire Sports Car Challenge race, held at Homestead-Miami
Veteran BMW racers take 2nd in Street Tuner class at the season opening Fresh From Florida 200 held at Daytona International Speedway and look to carry that momentum into Round Two
Despite limited experience at Homestead-Miami, BimmerWorld has logged a number of laps with Chin Motorsports and other events in preparation for the upcoming race
Coming off a near-dream debut at the opening round of the 2010 GRAND-AM Continental Tire Sports Car Challenge race at Daytona International Speedway, where the #81 BimmerWorld GearWrench BMW E90 of Seth Thomas and Bill Heumann took second in the Street Tuner class, team owner/driver James Clay came away from the event with a sense of pride and accomplishment, but took very little time to bask in the team's podium performance.
"I was very pleased with our performance at Daytona. We have shown good pace and more importantly our development and preparation efforts to make the cars consistently and reliable seems to have paid off. Our cars didn't fall off as much as some competitors allowing us to be strong late in the race, which proved to be more important than having the fastest car on every lap. However, I feel that in racing, if you spend time celebrating your achievements you quickly fall behind. A racecar is never lacking in things to improve and while they may be small items, we have been working hard to make our BMW E90s even better for Homestead-Miami."
BimmerWorld's crew chief, Jason Marks, and his talented staff of technicians have remained busy after Daytona, checking each and every component on the blue and yellow BMWs.
"Tearing the cars down after each race is our normal procedure, but even more important with the demands of endurance racing. We want to inspect every aspect of the car and to look for anything that might become problematic. We were a little concerned about an oil pressure drop due to the high G-loads at Daytona in Turn 1, but the Red Line fluids kept everything inside looking good through about 10 hours of Daytona track time. Even more impressive was our Performance Friction brake setup which showed minimal wear in the race. Those parts went right back on for Homestead-Miami, which is pretty unheard of."
The focal point for drivers of the BimmerWorld/GearWrench BMWs prior to Round Two has been about gaining circuit knowledge ahead of the race. The BimmerWorld pilots all have varying amounts of experience at Homestead-Miami, but gaining adding additional practice time was listed as a priority. While 2010 marks the team's first season of GRAND-AM competition, Clay says they will do everything possible to shorten their learning curve ahead of each round.
"We've been to most of the circuits on the Continental Tire Sports Car Challenge calendar, but there are some, like Homestead-Miami, where we knew our drivers would benefit from some additional track time before the race weekend. Our goal is to enter each race with our BimmerWorld/GearWrench BMWs as prepared as possible, and making sure Seth and Bill in the #81, and David White and I in the #80 are also tuned up and ready to go is just as important. We want to have no excuses when it comes time to go racing."
Coming off of two outstanding performances at Daytona during their first full-season Continental Tire Sports Car Challenge campaign, Heumann and White say they feel ready for what the Homestead-Miami 'Roval' has in store for them.
"Being able to learn the circuit with the help of James and Seth has been invaluable," said Heumann. "It's a lot shorter than Daytona, but it has similar characteristics. Getting the infield section right, and powering onto the oval is important for a fast lap. Doing that cleanly during my stint is my primary job. Handing the car over for Seth to drive the wheels off of worked like a charm last time!"
For White, the Homestead-Miami race presents an opportunity to gain more invaluable experience before the Continental Tire Sports Car Challenge season kicks into high gear.
"I learned a lot at Daytona with James, and that's a testament to the overall preparation of the cars, the coaching that BimmerWorld has to offer and the entire focus of the organization. Everything is designed to make us better as drivers, kind of like a college course that helps you to graduate from one level to the next. We just did our 'homework' in testing at Homestead-Miami, and now I'm ready to take the final exam during the race."
Follow the progress of the BimmerWorld/GearWrench team throughout the Homestead-Miami weekend at www.BimmerWorldRacing.com.
###
Courtesy: BimmerWorld Media Services
[email protected]
More information about the team, cars, and drivers can be found at www.bimmerworldracing.com
Information on BimmerWorld's Customer Car Services can be found at www.bimmerworld.com
Details on PowerFlex Suspension Bushings can be found at www.powerflexusa.com
Tags
Tags not found
RELATED ARTICLES
Related article(s) not found