BimmerWorld Ready for Championship Push at Home in VIR
August 20th, 2014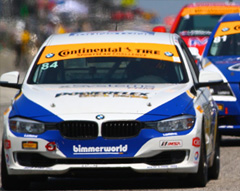 The clock is rapidly winding down on the 2014 Continental Tire Series Championship, and for the Virginia-based BMW aftermarket and tuning specialists at BimmerWorld, a chance to race at home in front of loyal fans, friends and customers at Virginia International Raceway comes at a perfect time in the season.
Locked in a heated battle for the Street Tuner Championship with BMWs built and developed at their nearby base in Dublin, VA, BimmerWorld owner/driver James Clay says racing with plenty of support on home soil can only help the team's Championship efforts.
"VIR is one of my favorite tracks, even if it wasn't in my backyard," he said. "I am glad the series is returning this year, and hopeful that our friends and family will be attending to watch our first 2014 win! We have tested at VIR earlier this year and a majority of our team has a huge amount of laps at the track, so I am looking for good things this weekend in front of the home crowd."
BimmerWorld's Greg Liefooghe and Tyler Cooke have led the ST Championship this season in the No. 81 BMW 328i, and sit within striking distance of recapturing the lead before the season finale in October. As evidenced by the strong team showing at the previous round at Road America, BimmerWorld's entire four-car program is focused on helping the No. 81 to take the ST crown.
The team will have one change to its lineup this weekend as BimmerWorld's race-winning driver Dan Rogers steps out of the No. 82 BMW 328i he shares with Seth Thomas to handle fatherly duties away from the track.
"I will miss Dan this weekend, but he is with his family helping his daughter move into college and has left his job in good hands with BimmerWorld regular James Colborn," Clay explained. "Our team goal for the rest of the season is a Championship for the No. 81, but each of our four cars is capable of and looking for a top step on the podium. I am sure Seth wants it as much as the rest of us, so we will see how the weekend plays out."
Despite losing his wingman for the event, Thomas is confident Colburn, who filled in for Rogers at a previous round, will help maintain the No. 82's momentum.
"Dan will be missed this weekend at VIR but he has put the right person in the seat for this weekend," said Thomas. "James and I have worked together in the past with a lot of success. He will have a learning curve on Thursday because he has never driven VIR but I expect with the help of the BimmerWorld team and me, he will be up to speed quickly. From there we hope to be fighting for a top-5 like we did at Lime Rock Park earlier this season."
Clay's rookie teammate Jason Briedis has also had a significant learning curve to deal with this year, yet has been driving with the pace and poise of a veteran at recent events. Making the transition to pro racing with BimmerWorld after earning his stripes with the team in amateur events has clearly paid off for Briedis, and with a chance to race at a familiar track, he expects to add more valuable experience in the turbocharged No. 84 BimmerWorld BMW 328i.
"I've definitely learned a lot this year," said Briedis. "Now every weekend I expect us to be challenging for a top-10 or top-5. VIR is a track I have driven at least a few times so we are hoping for great things this weekend."
UP NEXT FOR BIMMERWORLD: VIR, August 23
FOLLOW: BimmerWorld at www.BimmerWorldRacing.com
VIR TEAM:
No. 80 BimmerWorld BMW 328i (E90), Eric Zimmermann & Tyler Cooke
No. 81 BimmerWorld BMW 328i (E90), Tyler Cooke & Greg Liefooghe
No. 82 BimmerWorld BMW 328i (E90), Seth Thomas & James Colborn
No. 84 BimmerWorld BMW 328i (F30), James Clay & Jason Briedis
Tags
Tags not found
RELATED ARTICLES
Related article(s) not found