BimmerWorld Ready for Action at California's Legendary Laguna Seca Road Course
April 29th, 2014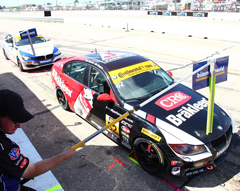 Coming off a tough Sebring race in March, BimmerWorld has been busy working on a west coast rebound
Faced with a mid-March race at Sebring International Raceway that didn't go according to plan, the BMW experts at BimmerWorld have taken the better part of six weeks to make sure this weekend's Continental Tire Series race in Northern California follows their desired script.
Sebring's bumpy, punishing circuit highlighted areas for the Dublin, Virginia-based team to improve with its damper package, among other items, which led to a thorough analysis of BimmerWorld's performance data and track testing leading up to Saturday's race at Laguna Seca.
"It has been a long time since we have run Sebring, and never in such production cars," said BimmerWorld team owner/driver James Clay. "That track is brutal on equipment and we were fighting some new and surprising issues all week. Our BMWs are robust and extremely reliable, and with this year's Sebring data we will be able to improve some weak areas to make the package even better."
The lighter, smaller 2-door cars within the Street Tuner class have recently dominated the Monterey event, which creates an issue for normal-sized 4-door sedans, but based on what he's seen from their gains, Clay expects to see a stronger challenge posed by BimmerWorld's four-car BMW effort.
"We took the opportunity given by some time off to continue developing our MCS-based suspension package, both in the shop and at the track," he added. "The new damper rules for 2014 give us the opportunity to excel due to our team's technical capability and a strong partnership with the damper industry leaders at Motion Control Suspension, and we keep making big strides forward in our cars' handling ability."
In addition to BimmerWorld's highly developed BMW E90 platform, the team has also undertaken the major task of turning BMW's turbocharged F30 chassis into a serious competitor in the Continental Tire Series' Street Tuner class.
With advances being made every day by BimmerWorld's team of engineers and technicians, Clay expects the F30 to unleash more of its potential this weekend.
"The BimmerWorld staff has worked hard to develop the 4-cylinder turbo driveline and we are now producing the needed power to be on par with the field, and we continue to learn some of the nuances of this new powerplant," he explained. "Our attention has been more focused on braking and suspension recently, which is very similar to the E90 cars, but also with some mild but important differences. The package continues to show gain and promise, and every race is an opportunity to take another step forward."
MONTEREY LINEUP
No. 80 BimmerWorld BMW 328i (E90): Corey Fergus, Kevin Gleason
No. 81 BimmerWorld BMW 328i (E90): Tyler Cooke, Greg Liefooghe
No. 82 BimmerWorld BMW 328i (E90): Dan Rogers, Seth Thomas
No. 84 BimmerWorld BMW 328i (F30): Jason Briedis, James Clay
Follow the team as it competes at the third round of the Continental Tire Series held in Monterey by visiting www.BimmerWorldRacing.com
Tags