BimmerWorld Racing Leads Most Laps And Finishes Fifth in ST at CTMP
July 10th, 2017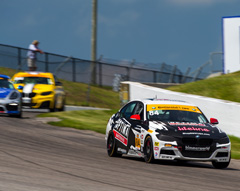 The BimmerWorld Racing OPTIMA Batteries BMW 328i (F30 chassis) No. 84 of Tyler Cooke and team owner James Clay led more laps than any other car in the Street Tuner (ST) class during Saturday's IMSA Continental Tire Sportscar Challenge race at Canadian Tire Motorsport Park (CTMP, aka Mosport), and finished fifth in class in the two-hour contest.
Cooke, of Matthews, N.C., qualified just 0.154 off the pole, took the lead going into Turn 1 on the first lap, and led the first 35 laps. At one point, his lead was over 8 seconds over his nearest rival before he pitted for fuel, fresh Continental tires, and for Clay to take over under the race's sole full-course caution. Clay, of Blacksburg, Va., started his stint in second place. He dropped to fourth during a fierce battle around lap 44, and still finished fifth despite getting hit at least twice in the very heated competition.
Despite a heroic effort by the BimmerWorld crew to make repairs, the No. 84's sister car, the Powerflex No. 81 driven by Californians Ari Balogh and Greg Liefooghe was withdrawn from the event after an accident Friday in the first practice session. Luckily, Balogh was not hurt.
Highlights of the race will be shown on Fox Sports 1 from 1 p.m. to 2 p.m. Eastern on Saturday, July 15.
The action moves to Lime Rock Park in Lakeville, Conn. July 21-22. More information can be found on IMSA.com and BimmerWorldRacing.com.
James Clay, team owner and driver, No. 84 OPTIMA Batteries BMW 328i (F30 chassis):
"It's frustrating. You can say we had more progress, yet it feels like we're slowly falling backward. If you look at the straight speeds, the Mazdas are clearly down, but they make it up in the turns. Our car is heavy, so we're not where we used to be in the speed charts, and by the end of the stint, you're just hanging onto the car.
"It was a good effort for what we had. Tyler did a heck of a job, but when things start to get hot and heavy in that second stint, we just don't have the same speed. Once the sun came out and temps went up, we knew it wasn't going to be good for us.
"I have a couple strengths on this track, and I exercised those strengths. It worked perfectly fine a lot of times, but a couple guys out there just didn't want to be side by side in the turns, which is really unfortunate. I had a fully clean car up until this race, and this is not really how I prefer to race. Nobody likes to play the game like this."
Tyler Cooke, Matthews, N.C., driver, No. 84 OPTIMA Batteries BMW 328i (F30 chassis):
"We worked hard on the setup to get ready for qualifying and lost the pole by a tenth, but the team worked really worked hard, and they gave us a great car for this race. Things just didn't play out to our favor. James had some contact, but it wasn't his fault. Hats off to the team. I can't thank them enough. They really buckled down and gave us a great car, and we ran in the top five.
"Hopefully, Lime Rock might be a little better, and we're off to a great start to the rest of the summer.
"COTA is always our bad track, but we were running up front there as well before the car just kind of went away from us. But in the period we had off from racing, the guys really busted their butts and made some big changes that have really improved the car. We're witnessing that now. So hats off to the team, our sponsors, and the fans."
FOLLOW BIMMERWORLD AT: https://www.facebook.com/bimmerworld
STAY UP TO DATE WITH BIMMERWORLD NEWS AT: http://www.bimmerworldracing.com
ABOUT: BimmerWorld is renowned as a leader in BMW aftermarket and tuning expertise and competes in the IMSA Continental Tire Sportscar Challenge series with a pair of BMW 328is (F30), where the Virginia-based outfit has become a routine winner and championship contender.
Tags