BimmerWorld Racing Dominates Road America's Rain-Shortened Race, Finishing Sixth
August 7th, 2017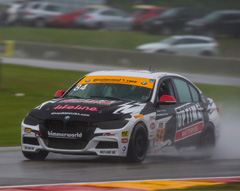 BimmerWorld Racing's James Clay won the pole and then dominated Saturday's IMSA Continental Tire Sportscar Challenge race at Road America in the Street Tuner (ST) class, but when the two-hour race was halted with 47:37 remaining due to lightning in the area, and never restarted, he and co-driver Tyler Cooke ended up finishing sixth. Clay, of Blacksburg, Va., led 23 of the race's 28 laps.
Clay turned his No. 84 OPTIMA Batteries BMW 328i (F30 chassis) over to Cooke, of Matthews, N.C., under a full-course caution flag for an accident with 56:16 to go, and the entry dropped to sixth due to the pit stop. Cooke was poised to continue at the front, but the race never restarted, and the pit cycle was never completed by a small portion of the field. The weather worsened and the red flag was displayed before the officials eventually called the race completion early.
Clay had started Saturday's events by capturing the pole with a time of 2:31.288. During the race, the 84 BMW and the 73 MINI of Derek Jones broke away from the field early, with Clay maintaining the lead for the duration of his stint. Unfortunately, in what seemed to be a dominant performance, several cars on track maintained track position having not completed their required pit stop and were declared winners of the shortened event.
BimmerWorld Racing's No. 81 Powerflex BMW finished right where it started, 11th in ST. Its starting driver, Ari Balogh of Menlo Park, Calif., ran in the top 10 throughout his stint, but he had to make an emergency pit stop for fuel on lap 24 when the pits were closed. The rules stipulate that he would have had to stop again to allow his co-driver, Greg Liefooghe of San Francisco, to get behind the wheel, but the red flag precluded Liefooghe from getting in the car.
The race can be seen on FOX Sports 1 on Sunday, Aug. 13 from 1:30 p.m. to 3:30 p.m. Eastern.
The next event will be held at BimmerWorld's home track, Virginia International Raceway in Alton, Va., Aug. 25-27.
James Clay, Blacksburg, Va., team owner and driver, No. 84 OPTIMA Batteries BMW 328i (F30 chassis):
"We had a fantastic car during a trying weekend, and we were able to put together a really solid car for the race. It obviously ran really well. We knew the weather was going to be variable, and I was fine with that. We ran well in the wet and ran well in the dry, and the variable weather put us in odd situations where we were clearly in a position to be on that podium, if not the top step. The weather put us in a situation where nobody knows who should be up there. It almost feels like they threw something on the wall to see what sticks, and that's what happens. I know it's a difficult situation all around, and I know nobody is probably really thrilled with how it shook out. It was a disappointment for us.
"The car was great in the dry and great in qualifying this morning. We clearly had the speed. I was a little cautious because of wanting to keep the car on track and not cause damage because that would have been the only thing to cause problems today. I lost that lead for a lap, but I regained it when the other car went a little wide. I hit marks all race long. We had a car to do that at speed. It would be great to have seen it execute all the way through the duration of the race with whatever the weather brought us and without a red flag and oddball stuff."
Tyler Cooke, Matthews, N.C., driver, No. 84 OPTIMA Batteries BMW 328i (F30 chassis):
"We got here on Thursday and practice got rained out because of lightning and all that, so we had no time on Thursday. On Friday morning it rained so much you could barely drive on the track on rain tires, so James did about a lap and I did an out and in lap and that's all we had. Friday afternoon James had two laps and I had two laps, and we got the car pretty dialed in for wet-turning-dry conditions.
"This morning it was a dry track for the 20-minute session. James got two laps and I got two laps and he qualified on the pole. I don't know what the official outcome of this race is going to be because all the cars that finished on the podium didn't have their second drivers in yet. I don't know what's going on. We're in the thick of the points hunt, so we really hope to see the results that jive with what we saw on track today.
"We were super confident going into the race. That's the frustrating part. We had a car that could win. It's a very confusing thing."
Greg Liefooghe, San Francisco, driver, No. 81 Powerflex BMW 328i (F30 chassis), which he shares with Ari Balogh of Menlo Park, Calif.:
"We didn't get to drive a whole lot this weekend. Weather was the real story this weekend. Thursday was pretty much canceled. Friday was more or less a shake down because we thought the race was going to be dry so we didn't focus too much on anything and just went out there to make sure everything worked well. Then this morning we had the chance to feel out the car in the dry.
"I think one of the positives of the weekend was Ari doing a good job in qualifying. He was really close to the top guys' lap times. Everybody was really stacked up within a half second of each other in a really competitive field. The car was really good, so it's too bad I didn't get to race.
"Regarding the rain, it was the same for everybody, so you just have to drive what you have. I'm not sure how the results will come out but probably how it ended. Even though some cars pitted for driver changes and some did not, nobody broke any rules, so it will likely just stick how it is and be a bit of luck of the draw of how cars pitted and when the race ended."
FOLLOW BIMMERWORLD AT: https://www.facebook.com/bimmerworld
STAY UP TO DATE WITH BIMMERWORLD NEWS AT: http://www.bimmerworldracing.com
ABOUT: BimmerWorld is renowned as a leader in BMW aftermarket and tuning expertise and competes in the IMSA Continental Tire Sportscar Challenge series with a pair of BMW 328is (F30), where the Virginia-based outfit has become a routine winner and championship contender.
Tags