BimmerWorld Primed for Barber Motorsports Park
April 6th, 2010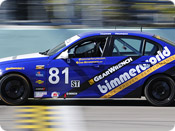 Set to race on the first natural road course of the 2010 season, BimmerWorld expects their BMW E90s' attributes to shine through on the 2.3-mile, 17-turn circuit
Dublin, VA
BimmerWorld ready for Barber Motorsports Park
Pleased with Daytona's podium finish, BimmerWorld is looking for even better results at Homestead.
What does the fastest-rising new GRAND-AM Continental Tire Sports Car Challenge team do with nearly a month between its last race at Homestead-Miami and this weekend's race at Barber Motorsports Park in Leeds, Alabama?
Work hard to improve their car and team, and then work some more.
Finding success in a top-tier series like the Continental Tire Sports Car Challenge requires an incredible amount of time and commitment, and when a team like BimmerWorld starts off the season strongly, it actually gets harder to move up the last few positions needed to win a race.
With the BimmerWorld/GearWrench team placed second in the teams' championship after two rounds, team owner/driver James Clay reaffirmed just what's required to win.
"It might seem like the closer you get to Victory Circle, the easier things get, but it's actually the opposite. You have to scratch and claw even harder now because we're looking for fractions of a second to catch our competitors. It's the 'needle in a haystack theory.' Finding those tiny bits of time in a well-proven car like the BMW E90 is hard enough, and when you add in that our rivals are also improving their cars between each round, it's a cycle that never ends. The only way to get there is through hard work."
After a month of tireless effort by the Jason Marks-led BimmerWorld crew, everyone on the team is looking forward to resuming the fight at the track located just outside Birmingham. Rounds one and two were held on 'Rovals', tracks that use portions of an oval and the oval's infield road course, but at Barber Motorsports Park the team expects their cars to excel on the first natural terrain road course on the 2010 GRAND-AM calendar.
Compared to the Rovals that favor brute horsepower, Barber should suit the BimmerWorld-built E90s as cornering and stopping have always been the car's strong suits. Power is also key, but with so many turns on a relatively short track, all three attributes are equally as important to produce fast and consistent lap times.
As team owner/driver James Clay shares, transitioning their cars from Roval to road course configuration and shifting his team's mindset over to tackle a track like Barber has been a welcome change.
"While I have been on Rovals since the beginning of my driving career, this was our first year on one in a professional series. Daytona and Homestead were definitely fun and challenging, but we are looking forward to getting back to our bread and butter
Tags
Tags not found
RELATED ARTICLES
Related article(s) not found