BimmerWorld Perseveres Through New Jersey
May 7th, 2009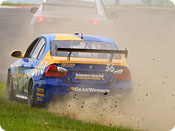 After the highs of a win at Sebring in March, the BimmerWorld/GearWrench team was forced to settle for less than they'd hoped for at Thunderbolt Raceway.
With the highs of winning the season opening race at Sebring still firmly in their minds, top SCCA SPEED World Challenge Touring Car entrant BimmerWorld Racing was reminded that a follow-up win is even harder to achieve, as seen last weekend at Thunderbolt Raceway in New Jersey.
Team owner/driver James Clay was the top BimmerWorld/GearWrench entry at the finish line in 7th, followed by Nick Esayian in 9th and Seth Thomas in 14th.
Seth Thomas, first-time winner for the team at Sebring, continued his promising form by qualifying the #38 BimmerWorld/GearWrench BMW in second place. An unforeseen driveline failure would end the Georgian's day a split-second after the starting lights turned green. "Unfortunately that is part of racing. As a driver we get to experience all the highs and lows of racing. I went from winning Sebring to qualifying 2nd at New Jersey. I was in a good position to repeat Sebring and was psyched up to do so; it was a big disappointment, but it's still early in the season."
Despite the letdown at New Jersey, Thomas is keeping a positive outlook. "The only thing I can do is put it in the past and look to the next race where I plan to get as many points as I can so we can stay in the fight for the championship!"
While he fell from 1st to 3rd in the driver's championship, Thomas doesn't expect the lack of results at Thunderbolt to have a lasting impact on his title aspirations. "We still managed to score some points, and with it being early in our championship bid, we still have a shot at it. I am looking at the big picture here and keeping my hopes alive. This was just one race and we still can win the championship."
The BimmerWorld team is working overtime to remedy the situation says team owner James Clay. "Certainly the forces we have in the driveline due to standing starts and rear wheel drive on this car are causing a mess
Tags
Tags not found
RELATED ARTICLES
Related article(s) not found