BimmerWorld on the Hunt for Victory at New York's Watkins Glen Circuit
June 24th, 2015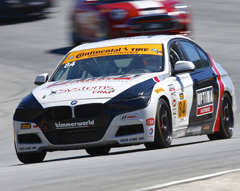 Keeping busy during the most recent hiatus between Continental Tire Series events hasn't been a problem for the BMW tuning and aftermarket specialists at BimmerWorld. With two months to fill between the race in Monterey, CA. and this weekend's contest at Watkins Glen in New York, team owner/driver James Clay says his veteran crew of technicians and engineers has focused on improved durability for the turbocharged engine found in their BMW F30 chassis.
"We are always testing and improving cars, and the F30 platform, being such a departure from the traditional BMW Inline-6 that we have raced for years, demands a lot of development," he noted. "We have taken the time to develop and implement some subtle changes that will increase the overall reliability of the package as we settle into the hot summer months. This is a fantastic engine, but heat is our enemy, and it certainly won't be as cool as the Monterey race this summer."
BimmerWorld newcomer Andrie Hartanto has impressed at every round he's contested in the No. 81 BMW he shared with Tyler Cooke, and like all of the earlier events on the calendar, he'll race at Watkins Glen in the F30 chassis for the first time.
"There have been a lot of firsts for me this season!" he said with his trademark smile. "Fortunately for me, the entire BimmerWorld team—and especially my co-driver Tyler—have been a tremendous help in getting me up to speed quickly, which I'm grateful for. That said, Watkins Glen happens to be a track that I've driven before, albeit 12 years ago. I recently attended a Chin Motorsports event at The Glen to get reacquainted and I'm anxious to drive the No. 81 there as it's a great track. We had a strong finish at Laguna and I think we're poised to improve upon that at Watkins."
Now in his second year on the pro racing trail with BimmerWorld, Jason Briedis, who shares the No. 84 OPTIMA Batteries-sponsored BMW 328i with Clay, reflected on how far he's come since joining the Continental Tire Series in 2014.
"BimmerWorld does a great job making me feel comfortable within the team," he said. "Now that I am familiar with the tracks and the other competitors, I can focus purely on extracting the best out of both my driving, and the car. So far this year, we have qualified in the top 10 at every track, and run in the top 5 at every race. For the next few events, personally I will be looking to continue starting at or near the front, and handing the car over to James in a spot where we can challenge for podiums and the first BMW F30 win in North America."
FOLLOW BIMMERWORLD AT: https://www.facebook.com/bimmerworld
STAY UP TO DATE WITH BIMMERWORLD NEWS AT: http://www.bimmerworldracing.com
ABOUT: BimmerWorld is renowned as a leader in BMW aftermarket and tuning expertise, and competes in the Continental Tire Series with a pair of BMW 328is (F30) where the Virginia-based outfit has become a routine winner and Championship contender.
Tags