BimmerWorld On A Podium Quest In Connecticut
May 21st, 2014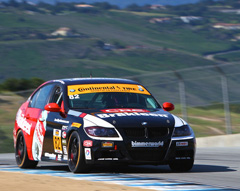 A slight twist for the veteran team as the four-car operation heads to a BMW-friendly track
The BMW aftermarket and tuning specialists at BimmerWorld head into this weekend's race at Connecticut's Lime Rock Park in search of their first Continental Tire Series win of 2014. The tiny bullring circuit has favored BimmerWorld's BMW 328is in the past, with the team scoring notable finishes in the Street Tuner class, and with the Virginia-based outfit off to another strong start to the championship, Lime Rock has been targeted as a venue where the entire four-car program can take another step forward.
Once BimmerWorld leaves Lime Rock, the series takes off on a steadier string of races after long pauses between the earlier rounds. Lime Rock also serves as a circuit where some of the smaller, lighter ST cars could have less of an obvious advantage.
"I think we are all looking forward to hitting a rhythm in the schedule," said BimmerWorld owner and racer James Clay. "It has been a little frustrating for the entire field over the last couple of rounds with both tracks and regulations that favor the Mazda MX-5s so strongly, and I hope even though their winning streak included last year's Lime Rock race, it will be a more neutral track that allows other cars to vie for the ST victory."
BimmerWorld has used tracks like Lime Rock to hone and develop its BMW 328 (E90) platform into a proven winner, and this year the team's brand-new F30-based BMW 328 to race at the picturesque tree-lined facility will join the fray. With Clay and co-driver Jason Briedis at the controls of the No. 84 F30, and BimmerWorld's peerless group of engineers and technicians advancing the car's competitive stance at every round, Lime Rock should serve as another springboard for the turbocharged racecar.
"We certainly have a longer work list after every race as we continue to massage and develop the F30," Clay explained. "I am hopeful we are eliminating more possible surprises and I am looking forward to some momentum and positive results from the new chassis."
The tandem of Corey Fergus, Kevin Gleason–newcomers to BimmerWorld this season–in the No. 80 E90 have shown the pace and patience expected from renowned veterans, and according to Gleason, Lime Rock poses a perfect opportunity to start a charge up the Championship standings.
"Lime Rock should be a good track for Corey and I to get a strong result," he said. "The BimmerWorld team has a successful history here and I don't think there is any reason why we can't continue that trend. We will try to use the contact-friendly track to our advantage by making good decisions and not getting overzealous too early in the race, hopefully to be there at the end and fight for a podium."
Although BimmerWorld is known for its consistency within the cockpit, one of the team's long-time drivers will miss Lime Rock for a very worthy reason.
"Both Seth and I really like Lime Rock – great, classic track," said Dan Rogers, who shares the No. 82 BimmerWorld E90 with Seth Thomas. "This year, there's a twist, though! Seth will have a 'special guest co-driver' to pair with him at LRP. James Colborn, a good friend, and sometime BimmerWorld driver will be subbing for me at this one race only. I have an 18 year old daughter, whom I am very proud of, graduating from Interlochen Arts Academy in Traverse City, MI, on the day of the race. Not much could keep me from Lime Rock during a Continental Tire Series race, but this is one of the few items on the list. Best of luck to James and Seth–go fast, and take chances!"
LIME ROCK LINEUP
No. 80 BimmerWorld BMW 328i (E90): Corey Fergus, Kevin Gleason
No. 81 BimmerWorld BMW 328i (E90): Tyler Cooke, Greg Liefooghe
No. 82 BimmerWorld BMW 328i (E90): James Colborn, Seth Thomas
No. 84 BimmerWorld BMW 328i (F30): Jason Briedis, James Clay
Follow the team as it competes at the fourth round of the Continental Tire Series held in Connecticut by visiting www.BimmerWorldRacing.com
Tags