BimmerWorld Looking To Reignite A Successful Past At Sebring
March 11th, 2014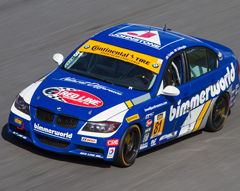 BMW aftermarket and tuning specialists return to Sebring, a site of significant team history
The last time the BimmerWorld team participated in a professional motor racing event at the legendary Sebring circuit, the Virginia-based BMW experts left the Florida road course with the winner's trophy in hand and a yearning to return.
The four-car Continental Tire Series team has finally been granted their wish, and will take part in the feature race ahead of the 12 Hours of Sebring. Coming off of an impressive season debut at Daytona where No. 81 BimmerWorld BMW 328i of Greg Liefooghe and Tyler Cooke finished second and the No. 80 BimmerWorld BMW 328i of BWR newcomers Corey Fergus and Kevin Gleason claimed eighth, the team has used the six-week gap between events to improve their fortunes heading into Round 2.
"We have had a break in the racing action, but we have been hard at work at BimmerWorld since Daytona," said team owner/driver James Clay. "We started the 2014 season with a big suspension upgrade when we moved to the MCS dampers and we have been fine-tuning our platform kinematics now that we have it all working in concert the way we want it to. The guys have been practicing pit work and we have been touching up all the little areas for improvement we uncovered in Round 1 so we are ready for the long season ahead."
Clay and the rest of the team—especially those who raced with the team four years ago at Sebring—hope history repeats itself.
"We have our BMW racecars dialed in at Sebring, having won the last time we were there in 2009 in another series," Clay added. "That track is challenging to set up for, and shakes the cars to death, which tests the build and prep level – both of which play to our team's favor."
Looking back, BimmerWorld has grown immeasurably since the 2009 Sebring event. A move to the Continental Tire Series was met with instant results, and the team has become a perennial championship favorite in the Street Tuner class.
"Since our last Sebring visit, our team's foundation has grown tremendously and I am excited to get back to one of the tracks that started it all for us," Clay continued. "Sebring was the site of some very memorable events in our formative years, which covers a wide range of adventures. It feels like we are coming back to our high school reunion ready to show what we have made of ourselves."
SEBRING PRE-RACE DRIVER QUOTEBOARD
No. 80 BimmerWorld BMW 328i (E90): Corey Fergus & Kevin Gleason
Corey Fergus: "Kevin and I had a good start to the season, earning valuable points towards the championship. Obviously we would have liked to have been on the podium, so that's something we're shooting for at Sebring. I've never raced at Sebring, but I'm excited for the opportunity and look forward to another solid finish."
No. 81 BimmerWorld BMW 328i (E90): Greg Liefooghe, Tyler Cooke
Greg Liefooghe: "Sebring is one of the new circuits on this year's calendar, and I'm excited to go to such a historic venue. It will be the first time for me there. As a proof of the competitive nature of the ST field, there are several 12 Hours winners driving in our class which will make it a challenge, but with thousands of laps around the track on the simulator, I feel ready to tackle it. Car set up will be very important, and I feel it will play into our team's advantage and help us get on the podium again."
No. 82 BimmerWorld BMW 328i (E90): Dan Rogers, Seth Thomas
Seth Thomas: "Sebring is a special track where everything seems to click. I got my first win at Sebring in 2009 after having some close battles the years before. Driving the track in our ST E90 will be the same as before because the track hasn't changed. What has is the car, the weight, the tire and the suspension ever so slightly. The BimmerWorld E90 has received years of tuning since then and is more balanced, the shocks are tuned, and it's better over the race distance than our previous sprint car. All Dan and I have to do is drive the car and have some luck on our side to come out with a quality finish."
No. 84 BimmerWorld BMW 328i (F30): Jason Briedis, James Clay
James Clay: "Save some pesky engine learning opportunities, the F30 performed well at Daytona and I am looking for the next round, regardless of location, to start putting out the finishes we know this chassis is capable of. Sebring has traditionally been a good track for our BMWs with some high-speed turns and critical braking zones, and we now have the new N20 engine on par with the field to come out of the slower corners so we should have a well-rounded platform to race this weekend."
TV TUNE-IN: Live, Friday, March 14, IMSA.com. FOX Sports 1, Wednesday, March 19, 1 p.m. ET.
WEB: Follow the team at Sebring International Raceway this week by visiting www.BimmerWorldRacing.com
Tags