BimmerWorld Looking to Recapture Glory at Road America
August 6th, 2014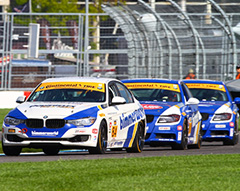 Famed Wisconsin road course holds special significance, performance possibilities for the BMW experts
Wisconsin's 4.0-mile Road America road course located in Elkhart Lake holds a special place for all those who've visited the circuit or had the good fortune to race throughout its 14 swooping turns. For BimmerWorld owner/driver James Clay, Road America represents a milestone in his distinguished racing career as it's the site of his first professional victory.
Personal sentiments aside, Clay's 4-car Continental Tire Series team is locked in a battle for the Street Tuner Championship, and with Road America serving as one of the final stops on the 2014 tour to score valuable points, he's focused on getting his program ready just two weeks after their most recent race at Indianapolis.
"The current schedule of tight turnarounds plays on one of our team strengths," he said. "Our BimmerWorld team is stacked with full-time technicians, and our typical post-event routine lasts about three days, including post-event setdowns on both suspension and chassis dyno, fully going through each car and addressing standard needs and car-specific problems, new setups for the new track, and a final dyno certification. Even in a hectic schedule, we have a few days to implement and continue development or solve problems that show up at the past event or in the setdown. I am very confident that we come to every race with an exemplary level of preparation and ready to maximize our cars' performance."
BimmerWorld's Greg Liefooghe and Tyler Cooke have held a top-3 position in the Championship with the No. 81 BMW 328i (E90), and while they represent the team's best chance at securing the title, the rest of BimmerWorld's fleet also look to the final races at a prime chance to move up in the standings. With a few performance balancing tweaks implemented by the Continental Tire Series, Clay believes his team could be in for a late-season rally.
"As the season wraps up, the series has finally made what we feel are much-needed performance adjustments," he added. "I don't know that it won't be too little and too late, but we are working to both maximize points for the Championship, as well as wrap up the season with some solid finishes. Depending on the specific car, our approach and strategy will vary, but as always, we are focused on doing the best we can with our equipment and I am confident that we will get results from the effort."
Jason Briedis, Clay's rookie teammate in the turbocharged No. 84 BimmerWorld BMW 328i (F30), is returning to one of his personal favorite venues as well. And after a string of races where the BimmerWorld-developed F30 platform has fought among the front runners in Street Tuner, he has high hopes more momentum will follow.
"We are getting better each weekend, so each race I have higher expectations," said Briedis. "The F30 definitely seems to perform well on the higher speed tracks so I am hoping to realize those expectations. A podium would be a great result. Road America is a beautiful track and I always look forward to racing there."
BimmerWorld veteran Dan Rogers shares the No. 82 BimmerWorld BMW 328i (E90) with Seth Thomas and with multiple Street Tuners wins to their credit, wants to add another this weekend.
"Seth and I both love Road America, and we're hopeful, with some of the recent performance adjustments, for the BimmerWorld cars to be more competitive this weekend than we've been all season. The track has historically been kind to the E90s, and we expect it to be so this year. The BimmerWorld BMWs always roll off the trailer prepared for the weekend, and are as good at the end of the race as they are when the green flag drops. All of the reasons we would expect the E90s should be racy up in Wisconsin hold true for the F30, as well. The balance and consistency of the car are its greatest strengths.
"In addition to the great track, we love going up to Road America because we have a great group of fans and friends up there. We look forward to getting reacquainted with the local BMW enthusiasts as we prepare for the race."
UP NEXT FOR BIMMERWORLD: Road America, August 9
FOLLOW: BimmerWorld at www.BimmerWorldRacing.com
ROAD AMERICA TEAM:
No. 80 BimmerWorld BMW 328i (E90), Eric Zimmermann & Tyler Cooke
No. 81 BimmerWorld BMW 328i (E90), Tyler Cooke & Greg Liefooghe
No. 82 BimmerWorld BMW 328i (E90), Seth Thomas & Dan Rogers
No. 84 BimmerWorld BMW 328i (F30), James Clay & Jason Briedis
Tags
Tags not found
RELATED ARTICLES
Related article(s) not found