BimmerWorld Leaves Watkins Glen Focused on Mosport
June 27th, 2015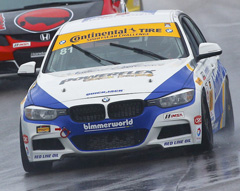 With little to report that could be described as positive, team owner/driver James Clay says his staff of BMW aftermarket and tuning specialists at BimmerWorld have already shifted their focus to fighting for a win in Canada after wet and unpredictable weekend at Watkins Glen with their turbocharged BMW F30s.
"We came into Watkins with high hopes for the No. 84 OPTIMA Batteries BMW and the sister No. 81 car after last year's performance, and especially after the trend we are currently on with these awesome F30 platform BMWs," he said. "Unfortunately the rain wreaked havoc on our plans and outlook, and I don't think anyone is happy with the performance. The next race in Canada at Mosport is another solid track for us and I look forward to getting that first win for this new BMW – hopefully we can put it all together there."
An incident at the start of the race involving Clay's teammate in the OPTIMA Batteries car saw the No. 84 BMW trigger a track-wide caution period moments after the 2.5-hour contest began. Despite an impressive sixth-place qualifying position, the No. 84's day was done as soon as it started.
Once the action resumed, Andrie Hartanto showed his wet weather prowess in the No. 81 BimmerWorld BMW F30 and battled towards the front after starting fifth in class. Visibility issues would eventually hinder his teammate Tyler Cooke in the run to the checkered flag, and he managed to hold on for an unsatisfying 14-place finish.
"The rain always brings its challenges," said Hartanto. "Watkins Glen, in particular, is massively challenging due to the amount of mixed surfaces you drive across. When you incorporate some serious rain into the mix, those grip differences demand that you stay on top of your game.
"This was the first race where we started near the front, so we had high hopes. I've always performed well in the rain, so in spite of how intense the conditions were, I felt my stint went really well. This marks two solid performances in a row for Tyler and me, and I'm hopeful we can continue this into Mosport."
FOLLOW BIMMERWORLD AT: https://www.facebook.com/bimmerworld
STAY UP TO DATE WITH BIMMERWORLD NEWS AT: http://www.bimmerworldracing.com
ABOUT: BimmerWorld is renowned as a leader in BMW aftermarket and tuning expertise, and competes in the Continental Tire Series with a pair of BMW 328is (F30) where the Virginia-based outfit has become a routine winner and Championship contender.
Tags