BimmerWorld Kicks Off the Season Battling Up Front at Daytona
January 29th, 2017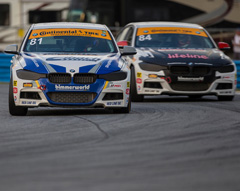 The BimmerWorld team battled for the win in the season-opening IMSA Continental Tire SportsCar Challenge (ICTSC) event at Daytona International Speedway but ultimately came up just short in the Street Tuner (ST) class during the four-hour BMW Endurance Challenge. However, the two-car Dublin, Virginia-based team has a solid foundation to build on for its BMW 328is (F30 chassis) as 2017 gets underway.
The No. 81 Powerflex entry driven by two Californians, Ari Balogh of Menlo Park and Greg Liefooghe of San Francisco, came home in seventh place after fighting for a podium finish with just minutes remaining. Meanwhile the No. 84 OPTIMA Batteries entry piloted by 2012 Olympic swimming gold medalist Tyler Clary of Charlotte, Tyler Cooke of Matthews, NC, and team owner James Clay of Blacksburg, VA lost a water pump belt near the beginning of the second stint. They were relegated to a 14th-place result after being forced to battle uphill for the remainder of the race on the 3.4-mile road course at the World Center of Racing.
Balogh qualified the No. 81 car in 12th position with a time of 2:08.439 and an average speed of 99.7 mph. He steered up to the top five during his stint and was running 11th when Liefooghe took over just past the 100-minute mark. Liefooghe proceeded to rapidly climb the leaderboard. Following a caution for an on-track incident involving another ST class competitor, the green flag was waved again with under five minutes remaining. Liefooghe was running second and in contention for the class win but slid wide in the heavy braking zone of turn one. He recovered to bring the car back for a solid seventh-place result.
Clary, competing in his first race at Daytona, began the race from inside the top 10 after qualifying the No. 84 machine in the 10th position. His best qualifying lap took 2:06.780 to complete with an average speed of 101.0 mph. He quickly climbed through the field and was running fifth when he pitted for tires and fuel and gave way to Cooke behind the wheel. Cooke wasted no time in taking over the lead spot. Soon, however, he encountered rising water temperatures and was forced to bring the car to the pits for quick repairs. He drove for nearly two hours before ultimately turning the controls over to Clay, who completed the race while keeping pace with the lead pack.
Greg Liefooghe finished seventh in class, while James Clay came home 14th.
Greg Liefooghe, driver, No. 81 Powerflex BMW 328i (F30 chassis):
"The car was really good and very fast. We were turning good lap times. The guys caught us because they were in the draft. On the restart, I just made a mistake. My braking was a little too late in turn one, and then I just got a little wide and lost a bunch of positions. The car was good, though. That was definitely the best it felt all weekend and it was good on the long run, too. I feel like we're pretty optimistic about the season. I just wish I could have finished a little higher.
"I think I was in the car for 2 hours and 20 minutes or somewhere around there. It's not that difficult around here (the Daytona circuit), especially because of all the straightaways."
Ari Balogh, driver, No. 81 Powerflex BMW 328i (F30 chassis):
"It was a great race; we got off to a really good start. It was pretty competitive. On my braking into (turn) one, I lost some positions, but it was a good back and forth. Everyone was pretty good on track, and I just had a great time out there. There were a lot of great racers and a lot of challenges. It was just an awesome time."
James Clay, Team owner and driver, No. 84 OPTIMA Batteries BMW 328i (F30 chassis):

"It was a little frustrating for me when we lost a couple laps. We had a belt come off, which is just unbelievable because we had such a good car today. I was able to run with the leaders, and I had a great stint. Fortunately, I was able to be in a position to be able to help my teammate out just a bit. Unfortunately for all of us, we didn't get the result we wanted out of the whole deal."
"I am really proud of all our drivers today. From a very new Tyler Clary, Ari's first full weekend in the BMW, and Greg and Cooke of course, everyone executed. That was really cool to see. And while today wasn't the day, both cars were flawless with the one obvious exception in the longest race they've run to-date, which bodes for a good year."
Tyler Clary, driver, No. 84 OPTIMA Batteries BMW 328i (F30 chassis):
"The race overall was a bit tough for the team. The upside, however, is that both cars showed extreme pace as a factor of our drivers; our drivers did a great job today. That's not tooting my own horn; I'm talking about the other drivers. During my stint, in particular, I was tentative at the start; I was nervous. There were a couple people that got by and that was great driving on their part, but in many ways, I was taking a backseat a little bit because I figured if I was faster I would make up time later on in the stint. I kind of settled in and started racing a little bit and ended up handing over the car in fifth place. I'm very pleased with that. The goal given to me was to bring the car back clean and in the top ten so I'm very happy with that. Unfortunately, we had a mechanical issue in the 84, and the 81 had an issue in the last lap. But that's racing. That being said, the team handled it great. I'm really proud of how everybody did today. Hopefully, this sort of bad luck is out early in the season.
"Certainly getting to swim at a high level for a few years helps me cope with the pressure and the competitiveness of everybody else around me. It doesn't necessarily make the nerves go away; I was really nervous before the race. I think in general, being able to sit down after a swim and review it and look at what went wrong and what can be done better, et cetera, helped me going into this weekend because that's what is done in racing. My speed seemed to pick up pretty consistently every day, and even today I was running times that were faster than my qualifying time. Personally, I'm happy with how I did this weekend. I would've liked it if we had a little bit better luck, but that's racing as they say.
"I know that we're working on at least another race. This year is definitely more of a development year for me. My big goal is to be able to compete for 2018. So we'll have to see what happens, but right now we're definitely talking about one other race."
Tyler Cooke, driver, No. 84 OPTIMA Batteries BMW 328i (F30 chassis):
"It started off as a helluva stint for myself. Tyler did a great job driving the car all the way up to fifth place. The team gave us a great car; Roush gave us a great engine. We had the whole package together. It was great to be able to take the lead, but unfortunately, we lost the (water pump) belt. It caused the water to get super-hot and we lost about three laps. It was a good weekend to learn for the next race, which is Sebring. It's going to keep helping us evolve, keep helping us build. I'm really looking forward to Sebring and looking forward to another race."
Friday's BMW Endurance Challenge will be broadcast on Fox Sports 1 from 1:30 p.m. to 4 p.m. Eastern on Sunday, Feb. 12.
The series' next event is March 15-18 at Sebring International Raceway in Sebring, Fla., highlighted by a 2-hour race on Friday, March 17 that supports the Mobil 1 Twelve Hours of Sebring Fueled by Fresh from Florida.
FOLLOW BIMMERWORLD AT: https://www.facebook.com/bimmerworld
STAY UP TO DATE WITH BIMMERWORLD NEWS AT: http://www.bimmerworldracing.com
ABOUT: BimmerWorld is renowned as a leader in BMW aftermarket and tuning expertise and competes in the Continental Tire Series with a pair of BMW 328is (F30) where the Virginia-based outfit has become a routine winner and Championship contender.
Tags