BimmerWorld Heads To Kansas With Homegrown Talent Zimmermann Added For Remainder Of 2014
June 3rd, 2014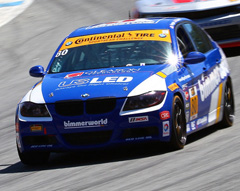 BimmerWorld Development Driver product Eric Zimmermann set for pro racing debut in No. 80 328i
With the first third of the 2014 Continental Tire Series Championship in the books, BimmerWorld heads into the middle third of the season this weekend at the Kansas Speedway "roval" with its sights set on something old and something new.
Starting with the old, the Virginia-based BMW tuning and aftermarket experts have become perennial Championship contenders since joining the series in 2010, and with its driver pairing of Greg Liefooghe and Tyler Cooke currently sitting second in the standings with the No. 81 BimmerWorld BMW 328i, the team will look to the 2.3-mile circuit as another opportunity to strengthen their title bid.
The No. 81 isn't the only BMW from BimmerWorld's four-car stable with a shot at a strong Championship finish as Seth Thomas in the No. 82 328i and Corey Fergus in the No. 80 are also within striking distance. For Fergus, Kansas will mark the first race with his new teammate Eric Zimmermann after contesting the first four rounds with series veteran Kevin Gleason.
"When Kevin Gleason had the opportunity to go GT racing in Europe, I wanted to facilitate the move by filling the open seat in the 80 car, but it is a little tough mid-season to find someone that is the right fit that isn't already on a team," said Clay. "We have a consistent history of putting top drivers in our BimmerWorld cars, and especially with Corey signed on for the year with Championship expectations, I needed a solid guy. Eric was my first call."
Zimmermann, a product of BimmerWorld's Driver Development program, has been groomed through the amateur-to-pro system developed by team owner/driver James Clay.
"BimmerWorld is different from many of our competitors in that we have a fairly expansive operation that includes developing and selling performance parts, building customer cars, and a coaching group to further develop driver talent – basically from the time you buy your BMW we can support your enthusiast goals through the pro ranks," Clay explained. "I remember Eric from 2009 in the BMW Club Race School we sponsor—he was already eager to go racing! Through his progress, we have developed a relationship, and he has rapidly developed his program and abilities.
"Over the past couple of years, we typically talk a couple of times a week and I would like to think he has gotten a lot of good direction along the way to progress so quickly. But really, Eric is a driven guy and has worked hard for his gains, and he and Corey will make a solid team."
For Zimmermann, jumping into the hotly-contested Continental Tire Series Street Tuner class will be far from easy, but he knows he'll be surrounded with the best crew, engineers and teammate possible to ease the transition.
"First, I am flattered and excited to be joining such a successful racing team as that of BimmerWorld and to be sharing a car with someone as talented as Corey," said Zimmermann. "Joining mid-season is unusual, but James and I have been talking about my potentially joining the BimmerWorld team for a while now and getting to start this year rather than in 2015 is a fortuitous opportunity. My initial goal is simple; I want to help Corey continue to succeed and to help him be in a place where he can place the car at or near the front.
"What I need to do in the first race or two is to go out, bring back a sound car and to do so in a position that is reasonably competitive. I know if I can do that, that Corey can perform his magic from there. As we work through the season, I hope to bring the car in closer to the front, which seems reasonable given the experience that I will be gaining from Corey and the balance of our team and from participating in the races and also because the latter part of the season has me on tracks with which I am very familiar."
With Fergus moving to the role of closing driver in the No. 80, he'll have two new adjustments to process at Kansas, yet with his track record as one of the bright young stars in the series, he's expected to flourish as a mentor to Zimmermann and to charge to the finish line with skill and aggression.
"I'm not worried one bit about changing co-drivers in the middle of the season," said Fergus. "Eric and I have a great team behind us and we both have similar goals. We've got eight races to try to get the 80 car back in the Championship and get some solid finishes. I'm looking forward to working together and seeing how far we can go."
Clay is also enthused over the potential within the revised line-up in the No. 80.
"We run equally competitive cars and equipment on our team and Corey is a blossoming pro, and it is a really good opportunity for everyone involved," he said. "I am looking forward to seeing what these guys can do together."
UP NEXT: Practice for the Grand Prix of Kansas begins on Friday, June 6, with the race following on Saturday, June 7.
FOLLOW:
Keep track of BimmerWorld's progress by visiting www.BimmerWorldRacing.com
KANSAS ROSTER:
No. 80 BimmerWorld BMW 328i (E90): Corey Fergus, Eric Zimmermann
No. 81 BimmerWorld BMW 328i (E90): Tyler Cooke, Greg Liefooghe
No. 82 BimmerWorld BMW 328i (E90): James Colborn, Seth Thomas
No. 84 BimmerWorld BMW 328i (F30): Jason Briedis, James Clay
Tags