BimmerWorld Heads North For A Canadian Street Fight
August 10th, 2010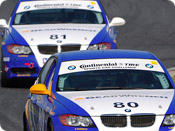 The GearWrench-sponsored team gets ready for the penultimate round of the 2010 championship held on the streets of Trois Rivieres.
With two races to go in the Continental Tire Sports Car Challenge Street Tuner championship, Virginia's BimmerWorld Racing might have been tempted to take it easy in an effort to protect their points lead, but for the hard charging BMW experts, sprinting to the checkered flag is what you can expect to see.
Making their debut in GRAND-AM's hotly contested racing series for production-based cars this January, the two-car BMW E90 effort has found a level of success during their rookie campaign that most teams spend years pursuing. Yet the team's maximum effort approach to this weekend's tough race on the streets of Trois Rivieres, located in Quebec, Canada, is no different than their first Street Tuner race seven months ago.
Despite a small advantage in the drivers' championship held by Seth Thomas and Bill Heumann, drivers of the No. 81 BimmerWorld/GearWrench BMW, the focus for the tight, punishing 1.5-mile street course will be survival. Packed with 10 turns, narrow confines and concrete walls, BimmerWorld's drivers can't afford to take it easy at Trois Rivieres, nor can they take any risks that might jeopardize the No. 81's championship aspirations.
Striking the perfect balance of aggression and self-preservation is what's best for Thomas and Heumann, while the sister car, the No. 80 BMW E90 driven by team owner James Clay and David White, will likely shift towards more of an attacking game plan. Sitting sixth in the drivers' championship, Clay and White aren't racing for championship glory: they want to win.
"I think our two cars come into this weekend with two different approaches," Clay said. "Street courses are by nature demanding on equipment and put the cars at increased risk of damage. For the No. 81 car, we need a solid weekend with no major issues, which I feel our team can facilitate. For my No. 80 car, I think we can push a little harder and maybe take a few chances other guys are more hesitant to. Street courses have always been a lot of fun for me and they suit me as a driver, so I am eager to get to Quebec and do some driving!"
With the No. 81 in the thick of the championship battle, Clay also says that depending on the situation during Saturday's two-hour race, the No. 80 BMW drivers might have to temper their desire to win for what's best for the team.
"If there is an opportunity to help the No. 81 car in their battle, we will certainly take it. Everyone on the BimmerWorld team, including David and I, want the No. 81 to win the championship, but certainly there is a happy medium to be reached and we have hit our stride in the No. 80 car, so our focus is another strong finish in Canada. There won't be any team orders, but we will be working together, rather than fighting each other for every inch on the track. Trois Rivieres is a 'big picture' weekend for us."
For David White, piloting his BimmerWorld/GearWrench BMW through a street track that feels like a lane at a bowling alley will be a new experience, but it's one he's looking forward to.
"Trois Rivieres will be my first race on a street circuit and I'm excited about the challenges it will bring. This season has been all about learning for me and this event provides another unique opportunity for me to continue my growth as a driver. Beyond that, I'm hopeful that James and I can carry the momentum from our 2nd place finish in New Jersey, and turn that in to a strong finish in Canada."
Jason Marks, crew chief for the BimmerWorld/GearWrench team, says that preparing two cars for the bump and grind of a street course requires a slightly different approach from his staff of top-tier technicians.
"It's August, which is traditionally hot in Quebec, so we are doing everything we can to beat the heat. Aside from bringing the cars in a ready to race condition, we are working hard to manage the temperatures our BMWs will face. We've made improvements to both the engine cooling systems and the brake systems, and partners like Red Line Oil and Performance Friction have given us the best tools to handle what we expect to face. Other than that, all of our drivers are really smart and know what the objectives are for the race. The entire team will unload and go racing with our 'game face' on. We like a good fight, and that's just what I expect at Trois Rivieres."
With two wins so far this season and a 13-point lead in the drivers' and teams' championships, the BimmerWorld/GearWrench team will face the biggest test of the year in Canada. If all goes according to plan, Thomas and Heumann will come home with a bigger lead in the championship and Clay and White will move further up the order heading into the final race of the year.
One thing is for sure: Le Grand Prix de Trois-Rivieres 2010 won't be lacking in pressure, drama or excitement for the BimmerWorld/GearWrench team.
Saturday's race starts at 10:30 a.m. ET, and regular updates can be found at www.BimmerworldRacing.com.
###
Courtesy: BimmerWorld Media Services
[email protected]
More information about the team, cars, and drivers can be found at www.bimmerworldracing.com
Information on BimmerWorld's Customer Car Services can be found at www.bimmerworld.com
Details on PowerFlex Suspension Bushings can be found at www.powerflexusa.com
Tags
Tags not found
RELATED ARTICLES
Related article(s) not found